Cyclone Biparjoy intensifies the situation in crisis-hit Pakistan with power shortages and closed ports.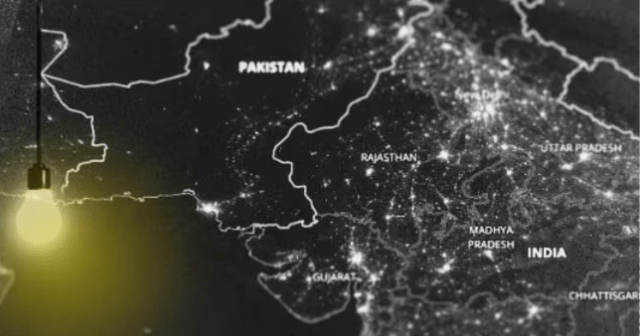 Cyclone Biparjoy is anticipated to make landfall between the Keti Bandar and the Jakhau port of Gujarat on Thursday evening, while various areas of Pakistan remain on high alert, including the coastlines of Balochistan and Sindh, Hyderabad, Shaheed Benazirabad, Sukkur, and Sanghar. Pakistan, which has seen the greatest climatic disasters since 2022 and is now experiencing an economic crisis, is waging a struggle to protect its vulnerable population.
According to Pakistan's Geo News, around 66,000 people have already been relocated to the 75 or so relief camps that have been put up in the districts of Badin, Thatta, Sujawal, Malir, Korangi, and Kemari. Thousands of people in southern coastal districts have already relocated to safer locations. Schools and other governmental structures have served as shelters as well. Sherry Rehman, Pakistan's minister of climate change, has advised citizens not to worry and to work with the authorities. It is anticipated that about 80,000 people would be evacuated. In the days before the hurricane, the Karachi commissioner issued an order for the removal of billboards. Together, the International Rescue Committee (IRC) prepared to send rescue teams to Pakistan. Climate change-related cyclones might cause increased internal migration, according to IRC Director Shabnam Baluch, "and this could have far-reaching implications on the future of Pakistan."
Crisis in Karachi
The devastation caused by the 2022 floods is still being felt in Karachi, Pakistan's biggest metropolis. A dysfunctional sewage system, coastal erosion, subsidence, increasing sea levels, and cyclone Biparjoy are just a few of the problems the area is already facing.
Although Pakistan's energy minister, Khurram Dastgir, issued a warning about power shortages after the hurricane made landfall, the situation is already critical. He said that it was possible that transmission lines would be destroyed and that the government has sent 2,000 engineers to the south to cope with the problem.
India The OSINT (Open-Source Intelligence) team used Worldview, a NASA satellite image analysis tool, today to determine how the storm might affect Pakistan's political system. We obtained nighttime visible infrared pictures of the power crisis in the coasts of Karachi throughout the last week using the Visible Infrared Imaging Radiometer Suite (VIIRS) of the meteorological satellite Suomi-NPP.
NASA and the National Oceanic and Atmospheric Administration (NOAA) jointly manage Suomi-NPP. Previously, photographs of wildfires, gas flares, lava flows, light pollution, and power outages caused by storms were taken using the satellite's night sensor.
What we observed
Since 2022, Pakistan's southern regions have been particularly hard hit by climate change, which has hurt the country's economy. We saw that during the week, cyclonic weather and heavy rain caused domestic lights to dim. By June 13, the city lights had significantly decreased from their peak on June 7. The whole country becoming darker paints a powerful image of the suffering and tenacity of its people in contrast to India, which shines brilliantly. The scope of the humanitarian catastrophe in Pakistan is shown by satellite photographs of city lights flickering out throughout the country. The 2011-launched satellite sensors have excellent night vision and can detect infrared radiation. Thus, the dimming of certain towns is plainly apparent from a height of more than 800 kilometers.
The functioning of ports along the coastline of Sindh has been hampered by Cyclone Biparjoy. According to the Sindh Information Minister, Sharjeel Inam Memon, the most severely impacted ports are Karachi Port, Qasim Port, and Keti Bander Port, where operations have completely ceased as a result of cyclonic conditions.
What is going on?
Pakistan's Balochistan and Sindh regions are still recovering after the disastrous floods of 2022, which swamped major portions of the nation, claimed about 1,700 lives, and forced a sizable number of people from their homes.
With inflation now at over 30%, it is more difficult than ever for Pakistan's poorest citizens—roughly one-third of the country's population—to put food on the table. In order to provide citizens access to "sasta aur muft aata," or inexpensive and free flour, the government established food distribution centers around the nation in March. However, the campaign caused stampedes that left many dead and maimed.
According to a World Bank report, Pakistan's economy is now suffering from low foreign reserves, a declining currency, rising inflation, and foreign loans – an economic model that only encourages more borrowing that might ultimately lead to bankruptcy. Pakistan's foreign debt must be repaid in the amount of almost $80 billion between February 2023 and June 2026.
Through the China-Pakistan Economic Corridor, the Chinese government has helped Pakistan prosper, but the federal government is always having to go back to the Chinese for refinancing and a rollover of loans.
The situation can become worse when Cyclone Biparjoy travels over the Arabian Sea. According to the IMD statistics, the cyclone, whose name translates to "disaster" in Bangla, has decreased to a powerful tropical storm with sustained winds of 110–150 km/h on Thursday morning between Pakistan and India.
The storm was expected to reach close to the Indian port city of Jakhau late on June 15, and the India Meteorological Department issued a warning about the "total destruction" of traditional mud and straw thatched dwellings. While the Sindh region in Pakistan's southeast was expected to see gusts as high as 140 km/h.
Biparjoy is predicted to bring heavy rain, severe gusts, and a potentially hazardous storm that might cause ocean water to surge over typically dry terrain along the coast. In the northern Arabian Sea, tropical cyclones are uncommon and usually weaken considerably before reaching landfall.
Biparjoy is now one of only seven storms in the North Indian Ocean's historical records to have produced 20 or more accumulated cyclone energy (ACE), a metric for a storm's strength and duration. Additionally, of all the June storms in the area, it has generated the highest ACE. The latest tropical storm that hit the region in 2021, Cyclone Tauktae, killed 174 people.
The same area that was impacted by Cyclone Vayu in 2019 in northwest India's Saurashtra Peninsula suffered minor damage. It made landfall as a rather minor tropical depression system, generating some flooding in the region.
Due to issues including tighter policy, the effects of floods, import restrictions, high financing costs, gasoline prices, delayed policy, and political unpredictability, businesses have ceased operating in Pakistan. These climatic disasters have a detrimental effect, particularly for rural regions, disrupting access to essential infrastructures like schools, medical facilities, and sanitation systems, which may have an influence on long-term human capital accumulation.