Pakistan: How the Khan crackdown threatens political women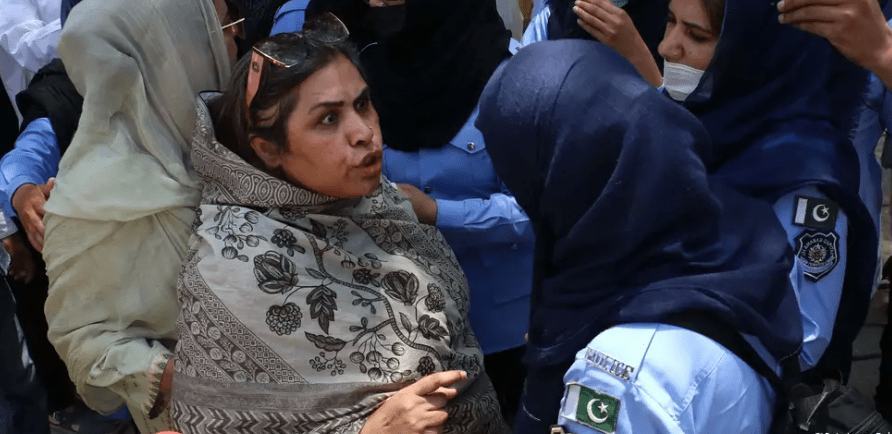 Female supporters claim the government is exploiting the disturbance to create a hostile climate for women in politics as Pakistan's government continues to clamp down on supporters of former prime minister Imran Khan and his Pakistan Tehreek-e-Insaf (PTI) party.
Following Khan's arrest in May on suspicion of corruption, there were violent demonstrations throughout Pakistan. PTI members and Khan backers were accused of damaging military facilities, including Pakistan's army headquarters in Rawalpindi, a garrison city. Authorities have now targeted PTI leaders and sympathizers, pledging to hold those responsible for the disturbance accountable.
Khan asserts that more than 10,000 members and employees of his party have been detained, and he charges that the government is attempting to "dismantle" his party. These allegations are refuted by the government, which places a significantly lower number of arrests. Five thousand PTI members and sympathizers have been detained since May 9, according to Interior Minister Rana Sanaullah, Reuters reported last week.
PTI women discuss the crackdown
Several female PTI employees said that throughout the crackdown, other party members have been harassed, intimidated, detained, and assaulted.
Police abuse was something Kanwal Shauzab, head of the PTI women's branch, saw firsthand, according to DW.
Shauzab said that on May 9, while peacefully demonstrating, the police battered and detained a number of female supporters. She continued by saying that one of her pals had hidden bite scars on her body from her family after returning from detention.
She said, "She comes from a decent family, and the whole family has gone through tragedy.
Many PTI employees have quit their positions out of fear, Tehmina Faheem, the district president of the PTI for the city of Abbotabad, told DW.
She continued by saying that if the employees show up at their places of business, the police would recognize them and may conduct raids.
She said that female party workers who ran marriage agencies, beauty salons, and other small businesses had lost their sources of income.
They are unable to go to work at their enterprises because of their intense dread of raids and arrests, she said.
Journalist and analyst Fauzia Kalsoom Rana of Islamabad told DW that she had seen how officials had visited the houses of PTI women while harassing and intimidating them.
They have had to move about and conceal as a result of this. The fact that they are also being branded traitors and coerced into defecting from Imran Khan is more alarming.
A pro-PTI activist from Pakistan's western region named Yasmin Lehri stated that although the government's actions were brought on by the turmoil, the harsh measures taken, particularly against PTI women, cannot be justified for any reason.
According to Lehri, "the way they were forced out of their homes, their families were beaten, and they were kidnapped is condemnable."
She continued by saying that all political parties have the right to organize nonviolent demonstrations and that the police cannot infringe on the human rights of political employees in the name of repression.
broader influence on the political position of women?
A PTI politician named Zarqa Suharwardy Taimur told DW that authorities are use all methods at their disposal to persuade women to quit politics. In the PTI, he said, women have proved to be more resilient than males, which, in his opinion, has led to harsher punishment.
"PTI women are still staunch, but males are abandoning the party. Even though their homes were searched without a warrant and they were handled horribly when they were arrested, a handful of ladies who have been detained for more than a month have refused to turn on Imran Khan. According to the law, according to Taimur, everyone who has been arrested must go before a judge within 24 hours. But for days or weeks, our ladies sat in jails or police stations without being brought in front of a court.
Many women are credited to the PTI for introducing them to politics, particularly those from the middle, upper, and elite classes.
The party also sent many women to the legislature, several of whom went on to hold significant ministerial positions.
According to PTI district president Faheem, Pakistan's patriarchal culture often disparages women who are sent to prison or police stations.
She told DW that unmarried women would not get marriage offers and married women can have their relationships destroyed. "People taunt them saying cops must have done something with them," she said. According to Faheem, this causes males to ban their wives or other female family members from engaging in politics.
According to Shauzab, the head of PTI's women's wing, politics demands a lot of movement, but in Pakistan, "women are dependent on men economically and financially, even for mobility."
"After this crackdown, they won't take them to participate in political gatherings," she said.
Government disputes reports of a crackdown
The Pakistani government has refuted charges that the crackdown specifically targets women, calling such assertions "PTI propaganda."
No women have been abused, according to Punjab government spokesperson Amir Mir. He informed DW that 300 women had been identified as potential saboteurs; he also said that 46 had been detained and that 29 had been freed on bail. Women were handled in accordance with the law. The restrictions prevented some of them from seeing their family, he claimed.
According to Muhammad Jalal-ud-din, a prominent member of Pakistan's governing Pakistan Democratic Movement (PDM) coalition, the PTI is strictly enforcing the law when it comes to punishing criminals of both genders.
"Laws are clear. When people break the law, men and women alike will be punished," he stated, adding that since women were part in the assault on the military sites, they would face legal action and punishment.
"The PTI is disseminating deceptive information. Women who have been arrested are handled legally. Nobody harassed or tormented any women. He said that Imran Khan was just using it as propaganda to malign Pakistan.