PM Shehbaz: Pak-Turkey bilateral collaboration in several sectors would pave the way for economic growth.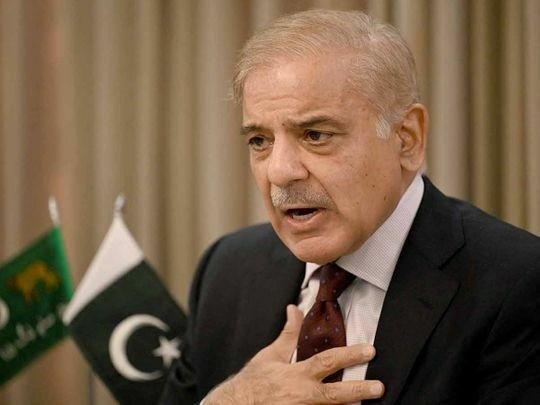 Prime Minister Shehbaz Sharif said on Sunday that the enhanced bilateral cooperation between Pakistan and Turkiye through joint investment and ventures would prove a win-win situation for both countries, APP reported.
In an interview with Haber Global, a Turkish Tv channel, the prime minister highlighted that a target of bilateral trade to the tune of $5 billion, in the next three years, between the two countries was very much achievable.
The prime minister said that the areas of solar and hydropower energy in Pakistan possessed colossal potential, and the Turkish investors could avail of this opportunity.
"As Prime Minister of Pakistan, I want to do everything to facilitate Turkish investors. There is great scope between the two countries to make this wonderful journey more successful," he added.
The prime minister opined that respective sectors of Turkiye had potential in these areas of Pakistan and could play its role.
Our labour was more skilled, and if they have Turkish investment, it would be a healthy combination, thus opening vistas of opportunities for joint ventures, he added.
To another query, the prime minister replied that the railroad network between Pakistan, Iran, and Turkiye could play an essential role in requiring improvisation.
It would result in a reduction of the cost of transportation and make their production of goods very compatible in the global markets, he said, adding that he aimed to make this network more efficient.
Felicitating President Recep Tayyip Erdogan on his reelection, the prime minister said that the president had proved himself as an established statesman and politician.
The prime minister said he was looking forward to working closely with President Erdogan further to cement their bilateral relations and trade and investment ties.
Comparing Pakistan and Turkiye as 'one soul, two hearts,' he said the relations between the two countries dated back centuries.
Turkiye had always supported Pakistan in difficult times i.e., he added that it had gone the extra mile to support them during floods and quakes.
Similarly, different governments of Pakistan, irrespective of the political party in power, always supported their Turkish brothers and sisters. When it came to Turkiye, all the political parties were one.
"This is the journey we have adopted, and we hope to achieve our mission through hard work and sincerity of purpose," he stressed.
The prime minister said that these personal bonds of brothers and friends always helped them through thick and thin.
The prime minister said that Pakistan and Turkiye enjoyed a robust strategic partnership as they had also entered into joint ventures over ship making industry. At the same time, there were other areas in which both brotherly countries had shared interests.
He reaffirmed support for Turkiye's territorial solidarity and integrity and said that Turkiye had always supported Pakistan on the issue of Indian Illegally Occupied Jammu and Kashmir.
Responding to a question, the prime minister said that they had been passing through complex challenges; prices skyrocketed due to imported inflation, and the floods displaced 33 million people. At the same time, crops were washed entirely away, and infrastructure stood damaged, which had cost them around $30 billion in losses.
Still, he reiterated that the people of Pakistan were strong and facing these challenges and expressed his optimism that they would negotiate through these challenges with joint efforts.
To another question, the prime minister maintained that the coalition government had successfully galvanized the international community after the floods last year and arranged a Geneva donors' conference where the intentional community made pledges. Thus it saved the country from the severe dangers of default.
The previous government rescinded its agreement with the International Monetary Fund (IMF), leading to a dire economic situation. The coalition government was able to negotiate with the Financial Action Task Force (FATF), and Pakistan was out of the grey area.
"The credit goes to the coalition government, which was a big achievement," he added.
The prime minister said that despite these challenges, they were focused on improving the economy and cited recent wheat and cotton crop yields, saying that the economy of Pakistan was improving.
The prime minister expressed confidence that the IMF's 9th review would sooner or later be approved as they had met all the points.
Prime Minister Sharif further said that the Indian atrocities and the sacrifices of the Kashmiri people were known to the world.
He said India was adamant and had a hegemonic attitude, stressing, "It was high time for the world to resolve the Kashmir issue as per UN Security Council resolutions and aspirations of the Kashmiri people."
Unless the issue was resolved, peace could not return. He said that only holding peace talks was a way forward for the peaceful resolution of the issue. He added that both countries needed to feed and create jobs for their population and eliminate poverty by spending resources on these areas.
To a question, the prime minister maintained that they had formed a committee to hold discussions with the Pakistan Tehreek-e-Insaf and to arrive at a peaceful settlement of holding elections nationwide. The committees agreed but Imran Khan refused.
He said that national and provincial assembly elections in Pakistan were held together.
The prime minister said that the current National Assembly would complete its tenure, after which elections would be held on time to strengthen democracy. The Election Commission of Pakistan (ECP) would decide about having polls, and they would follow its instructions.
He also dispelled the allegations of provincial hegemony and said that Punjab province always acted like the elder brother of the three provinces. They contributed and shared their bounties and sufferings.
Regarding May 9 vandalism, the prime minister said PTI chief Imran Khan was arrested on severe corruption and graft charges.
During PTI's tenure, he had sent all the political leaders behind bars on false allegations, but the prime minister said they had not protested in this manner.
"His (Imran Khan) bunch of thugs acted on his instructions to attack vital institutions, including the military installments," he said, adding if a serious crime was committed, the law would take its course.
To a query, he replied that he had brought mangoes as a gift to President Erdogan and his spouse.
As it was the start of mango season in Pakistan, he had brought the Sindhri variety, which was very sweet and full of aroma.
He said the Holy Prophet (Peace Be Upon Him) had also advised exchanging gifts to bring more affection and fraternity.