Arab-China Business Conference: As investors pour into Riyadh, China hopes to expand its commercial ties with the region, but politics are becoming "more complex."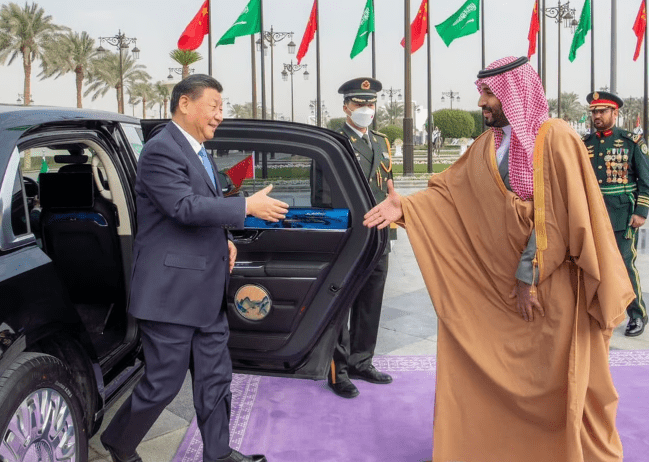 Chinese firms are eyeing more economic opportunities from Beijing's booming ties with the Middle East in an upcoming business forum in Saudi Arabia, but analysts say uncertainties remain over how much can be achieved amid a complex economic and political relationship.
The two-day Arab-China Business Conference, which begins on Sunday in Riyadh, will welcome more than 3,000 business and government representatives from 23 countries and regions, including mainland China and Hong Kong.
The 10th edition of the conference, which first took place in 2005, is expected to be the largest ever held, China's ambassador to Saudi Arabia Chen Weiqing said on his official Twitter account.
Hong Kong stock exchange chairwoman Laura Cha Shih May-lung, Hang Lung Group chairman Ronnie Chan Chi-chung and Bank of China International chief executive Li Tong will lead two delegations of business executives to the conference.
China is not able to, and does not want to, get into the kind of engagement in the Middle East that the US hasJames M. Dorsey
"The success of the first China-Arab States Summit at the end of last year has injected fresh impetus into the development of the China-Arab relations and practical cooperation across the board," said Chinese Ministry of Foreign Affairs spokesman Wang Wenbin on Monday.
Beijing hopes to see "in-depth exchange" and "fruitful outcomes" from the conference, Wang said.
James M. Dorsey, adjunct senior fellow at the S. Rajaratnam School of International Studies under Singapore's Nanyang Technological University, said "there is no doubt" there have been booming economic opportunities for both China and the Middle East countries, but the question is to what degree China can and wants to "capitalise politically".
"That is more complex," Dorsey said. "China is not able to, and does not want to, get into the kind of engagement in the Middle East that the US has.
"It does not want or could not be a security guarantor. Economy is one pillar for the Saudis, security is another."https://platform.twitter.com/embed/Tweet.html?dnt=false&embedId=twitter-widget-0&features=eyJ0ZndfdGltZWxpbmVfbGlzdCI6eyJidWNrZXQiOltdLCJ2ZXJzaW9uIjpudWxsfSwidGZ3X2ZvbGxvd2VyX2NvdW50X3N1bnNldCI6eyJidWNrZXQiOnRydWUsInZlcnNpb24iOm51bGx9LCJ0ZndfdHdlZXRfZWRpdF9iYWNrZW5kIjp7ImJ1Y2tldCI6Im9uIiwidmVyc2lvbiI6bnVsbH0sInRmd19yZWZzcmNfc2Vzc2lvbiI6eyJidWNrZXQiOiJvbiIsInZlcnNpb24iOm51bGx9LCJ0ZndfZm9zbnJfc29mdF9pbnRlcnZlbnRpb25zX2VuYWJsZWQiOnsiYnVja2V0Ijoib24iLCJ2ZXJzaW9uIjpudWxsfSwidGZ3X21peGVkX21lZGlhXzE1ODk3Ijp7ImJ1Y2tldCI6InRyZWF0bWVudCIsInZlcnNpb24iOm51bGx9LCJ0ZndfZXhwZXJpbWVudHNfY29va2llX2V4cGlyYXRpb24iOnsiYnVja2V0IjoxMjA5NjAwLCJ2ZXJzaW9uIjpudWxsfSwidGZ3X3Nob3dfYmlyZHdhdGNoX3Bpdm90c19lbmFibGVkIjp7ImJ1Y2tldCI6Im9uIiwidmVyc2lvbiI6bnVsbH0sInRmd19kdXBsaWNhdGVfc2NyaWJlc190b19zZXR0aW5ncyI6eyJidWNrZXQiOiJvbiIsInZlcnNpb24iOm51bGx9LCJ0ZndfdXNlX3Byb2ZpbGVfaW1hZ2Vfc2hhcGVfZW5hYmxlZCI6eyJidWNrZXQiOiJvbiIsInZlcnNpb24iOm51bGx9LCJ0ZndfdmlkZW9faGxzX2R5bmFtaWNfbWFuaWZlc3RzXzE1MDgyIjp7ImJ1Y2tldCI6InRydWVfYml0cmF0ZSIsInZlcnNpb24iOm51bGx9LCJ0ZndfbGVnYWN5X3RpbWVsaW5lX3N1bnNldCI6eyJidWNrZXQiOnRydWUsInZlcnNpb24iOm51bGx9LCJ0ZndfdHdlZXRfZWRpdF9mcm9udGVuZCI6eyJidWNrZXQiOiJvbiIsInZlcnNpb24iOm51bGx9fQ%3D%3D&frame=false&hideCard=false&hideThread=false&id=1663835429781504000&lang=en&origin=https%3A%2F%2Fwww.scmp.com%2Feconomy%2Fglobal-economy%2Farticle%2F3223591%2Fchina-seeks-more-middle-east-economic-inroads-investors-flock-riyadh-politics-more-complex&sessionId=7427b21f27117821f6cab367b0043ab0359fca7e&siteScreenName=SCMPNews&theme=light&widgetsVersion=aaf4084522e3a%3A1674595607486&width=550px
China's growing interest in the region was marked by President Xi Jinping's visit in December, when he attended the China-Arab Countries summit and the China-Gulf Cooperation Council summit.DAILY, MONDAY TO FRIDAYChina at a Glance NewsletterYour daily must-read of essential stories from China, including politics, economy and current affairs. GET THE NEWSLETTERBy registering, you agree to our T&C and Privacy Policy
Both events were hailed as first of their kind between China and the Middle East countries.
Cooperation between China and the Middle East has grown on all fronts, from trade and energy to defence, while the US' influence in the region has generally been seen by geopolitical analysts as having declined.
China has been Saudi Arabia's top trading partner for five years and has become the top destination of its exports and the source of imports since 2018.
Meanwhile, Saudi Arabia has been one of the biggest oil suppliers with shipments of 87.5 million metric tonnes (641 million barrels) in 2022.
Saudi Aramco, the world's largest oil-exporting company, confirmed a major integrated refinery and petrochemical plant – expected to cost US$10 billion – in northern China's Liaoning province in March.
Saudi Arabia does not need China's money. Chinese companies, however, need that investment opportunityBeijing-based researcher
China also signed a US$60 billion agreement to buy liquefied natural gas from Qatar and is partnering with the United Arab Emirates to send a probe to the moon.
China and Saudi Arabia, in particular, have found strengthened "solidarity" in bilateral relations, Xi said during December's opening ceremony of the China-Arab States Summit, as both countries see growing friction with the United States.
But a Beijing-based researcher on the Middle East, who asked not to be identified as they were not authorised to speak to the media, said the anticipation ahead of the Arab-China Business Conference was "overhyped".
"Business opportunities in the region are not going to grow exponentially just because of the growing interest of Chinese companies in the region. In the end, it creates unnecessary competition and also a waste of resources on both sides," they said.
"Saudi Arabia does not need China's money. Chinese companies, however, need that investment opportunity."
The Arab-China Business Conference, jointly organised by Saudi Arabia's Ministry of Investment, the Arab League secretary general, the China Council for the Promotion of International Trade and the Union of Arab Chambers, will hold panels on cooperation ranging from food security, global trade and supply chains to financing and China's signature Belt and Road Initiative.
Arab League secretary general Ahmed Aboul Gheit is expected to speak at the conference, as well as a host of ministers from Saudi Arabia, including energy minister Abdulaziz bin Salman and foreign minister Faisal bin Farhan.
Tammy Tam, editor-in-chief of the Post, is set to host a plenary interview with Saudi Arabian Minister of Economy and Planning Faisal Alibrahim and Fahad Toonsi, an adviser at the Royal Court.
Essentially legitimising certain Chinese policies, [some Arab] countries would argue, is part of their national interestJames M. Dorsey
Hong Kong is separately stepping up its links with the Middle East, after Chief Executive John Lee Ka-chiu led a group to the region in February, with a delegation of business executives set to visit Dubai and Abu Dhabi this week.
The delegation, led by the city government's Executive Council member Jeffrey Lam Kin-fung, includes Tsangs Group chairman Patrick Tsang, GogoX co-founder Steven Lam Hoi-yuen, Rice Robotics founder Victor Lee and several executives of companies involved in artificial intelligence, family offices and sustainable energy.
Beijing recently arranged a four-day official tour to the Xinjiang Uygur autonomous region for a delegation of 30 officials from 16 Arab countries, including Egypt, Saudi Arabia and the general secretariat of the Arab League.
Essentially, legitimising certain Chinese policies, [some Arab] countries would argue is part of their national interest.James M. Dorsey
It came after a senior official-level strategic political dialogue at the China-Arab States Cooperation Forum, a dialogue platform between China and the Arab League set up in 2004.
Dorsey said the trip looked like "throwing China a bone" and that it has been "mutually beneficial" and "mutually reinforcing" for the predominantly Muslim Arabic-speaking countries, as the two sides have stopped short from criticising each other's policies that claim to crackdown on terrorism.
"The US has all these conditions, engaging human rights and environment and what have you … China has conditions, they are just simply different," Dorsey said. "This includes, 'if you do criticise us, there are economic consequences to that'.