Pakistani Americans continue to draw attention to problems at home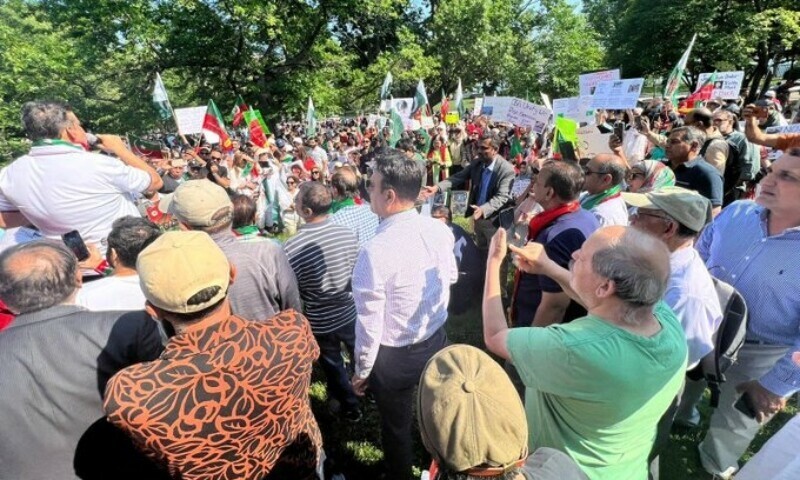 Next month, the Pakistani American community is organizing a bipartisan gathering of US senators on Capitol Hill to discuss Pakistan's current crisis.
"The situation is getting worse by the day and it's beyond the scope of only letters and tweets," said Dr. Asif Mahmood, a California Democrat who proposed the action.
The next step is a conference or hearing on Capitol Hill that I, Rep. Jim Costa, and Rep. Brad Sherman will cosponsor in the third week of June.
He said that the goal of this hearing and other initiatives of a similar kind is "to curtail these atrocities by raising those at the highest levels or they will never stop".
A PTI official claims a protest would take place in Washington to express "support for democracy" in Pakistan.
In addition, Dr. Mahmood organized the 69 legislator signatures on a letter to Secretary of State Antony Blinken that demanded unrestricted democracy in Pakistan. He now intends to send Mr. Blinken another letter including the signatures of well-known US Senators.
The'mysterious disappearance' of journalist Imran Riaz Khan and Khadija Shah's arrest and detention in solitary confinement are two more issues that Dr. Mahmood has started a campaign to highlight.
Sheila Jackson Lee, the head of the congressional Pakistani group, joined the legislators last week in voicing alarm over allegations of human rights violations in Pakistan.
In particular, the actions taken against the former Pakistani prime minister, "I am extremely concerned about these reports," said the founder and head of the Congressional Pakistan Caucus.
The PTI will assemble between 5,000 and 10,000 people in Washington, D.C., next month to "show our support for democracy in Pakistan," according to Texas-based PTI leader Atif Khan, who spoke with Dawn.
Michael Kugelman, a South Asia expert at the Wilson Center in Washington, commented on PTI USA's actions and noted that the Pakistani diaspora in the US has been staunchly pro-Imran Khan for years.
"PTI has a sizable membership and support base here, including some important leaders. With the flight of Insafians from Pakistan, many of whom are moving here, this tendency is expected to worsen. It may turn into a party in exile in the US, he tweeted. However, the community's leaders point out that as Pakistanis establish more roots in the US, they are also becoming more involved in American politics.
These folks want to remain. They will now have a voice in all important decisions, according to another researcher, Arif Jamal. "The Pakistani government will have to learn how to deal with them."
Pakistani-born doctors are the most powerful group among Pakistani Americans; estimates of their numbers range from 15,000 to 30,000.
Political activist Khawar Mehdi said, "They have the resources to court US lawmakers, hold fund-raisers, and solicit votes for them." And in exchange, they want and get their support on the subjects that matter to them.
PTI has created a new organization called Physicians for Khan after Imran Khan was removed from office, and according to him, 1,800 Pakistani doctors have already joined this organisation.