How Project Imran is being dismantled by a united Pakistani military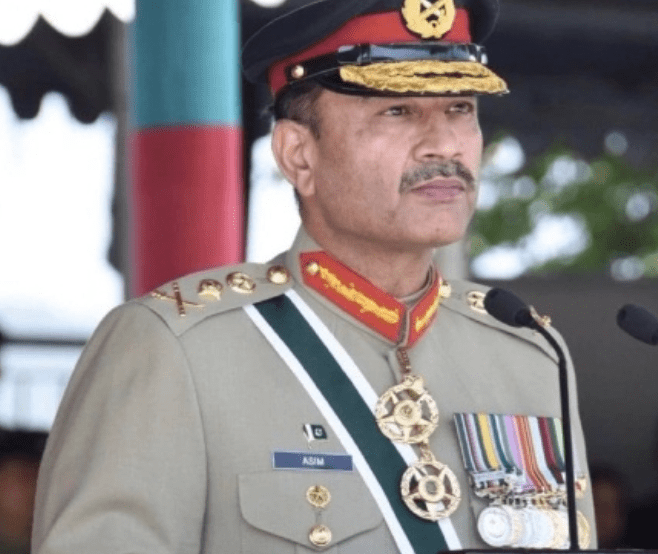 In terms of its psychological effects, the vandalism is being seen by Pakistani military circles and those who support it as the state's 9/11. The Pakistani army, which has always portrayed itself as an invincible force and a last resort via its media apparatus, especially the ISPR, is in a state of shock. It is perplexed as to how a small group of rioters could dare to harm its emblems of power and honor.
Unsurprisingly, the Pakistan Army has decided to undertake trials of all PTI officials and cadres who were directly engaged in the assaults as well as its masterminds under the harsh Army Act and the Official Secrets Act in light of the unique scenario. Salman Fayyaz Ghani, the former corps commander of Lahore, is now undergoing a court martial on charges that he and his wife supported PTI and Imran Khan, which led to them allegedly enabling rioters to enter the Corps Commander House in Lahore. His wife is said to be the relative sister of Pakistan's Chief Justice (CJP) Umar Ata Bandial, who has publicly backed the former PM by giving him bail. Imran Khan, the primary conspirator, is reportedly subject to court martial as well.
The May 9 event has however helped the Pakistani army regain its cohesiveness at all levels. There were earlier rumors of a possible internal insurrection. In reality, Sahir Shamshad Mirza, the chairman of the Joint Chiefs of Staff Committee, was often predicted to remove Gen. Asim Munir by pro-Imran groups, including Vloggers outside. The destruction of the Saber jet replica outside the Mianwali Airbase and the desecration and destruction of Captain Carnal Sher Khan's statue at the Punjab Regiment Center Mardan, which the PTI rioters had deemed to be metaphors for bravery and gallantry, have deeply grieved and infuriated all ranks and files of the army.
Even many who had previously tended to sympathize with Imran, such as mid-ranking commanders in the Pakistani army, now saw the May 9 error as an unpardonable transgression. They consider the Pakistan People's Party (PPP) and the Pakistan Muslim League-Nawaz (PML-N) to be the political forces responsible for Pakistan's constitution, nuclear program, highway system, and CPEC. But only the PTI can claim "historical credit" for waging frontal assaults against the army. The PTI has betrayed the state by carrying out this crime, and as such, it is not deserving of any clemency or indulgence.
Imran Khan had underestimated the mentality of the Punjabi people. He believed incorrectly that young people, particularly girls and women from affluent families of active and retired judges, generals, bureaucrats, and members of the business class, along with other participants, primarily hired people from Khyber Pakhtunkhwa, Pakistan occupied Kashmir (PoK), and Gilgit Baltistan (GB), would incite a revolution and bring the army to its knees. He overlooked the possibility that this would lead to a backlash organized by young people from the wealthy Punjabi families.
The military establishment has started a scheme to deconstruct PTI and isolate Imran Khan after vigorously launching "Project Imran" in 2011 to reduce in size the then-mainstream political parties, PPP and PML (N). As they deal with new realities on the ground, some PTI leaders close to Imran and in high positions in the party have either left PTI or are set to do so in the near future. Leaders like Shah Mehmood Qureshi and Asad Umar may leave Imran Khan at any time, and it is thought that their arrest was done on purpose.
To now, the Pakistani establishment's plans call on splitting PTI into several groups without Imran. Jahangir Tareen has been activated to create a powerful group that includes the majority of electable MNAs and MPAs who may have a significant impact on any future political structure. Pervez Elahi, Fawad Chaudhry, and Shah Mehmood Qureshi would also be given a significant role in Punjab. In Khyber Pakhtunkhwa, Pervez Khattak and Asad Qaiser will play significant roles in the new system. Together with Ali Zaidi, Faisal Wavda, who quit PTI a few months ago, will perform a similar role in Sindh.
Since May 18, Punjab police have been enforcing a siege on Imran Khan's sprawling Zaman Park estate, which covers many acres, in order to apprehend the approximately 40 terrorists who have sought refuge there, according to the interim administration in Punjab. Police and the government have not yet been given entry to the major residential area by Imran Khan. With the aid of 400 cops, the government plans to conduct a search operation at his home and the homes close. In the last several days, police claimed to have detained 14 PTI miscreants as they fled Zaman Park. The once-off-limits to non-PTI individuals area, which was consistently populated by PTI activists till May 16, now seems vacant.
PTI claims that more than 7000 of its employees, including leaders, have been detained as a result of the current widespread crackdown, whereas the government puts the number closer to 3600–4000. According to reports, the authorities have created a list of 2200 individuals thought to have been engaged in the violence.
The real face of the so-called PTI tigers who were detained by Pakistani security forces and law enforcement in relation to the violence and vandalism on May 9 has been revealed. They are heard yelling "Pak Fauj Zindabad" and "Punjab police Zindabad," and they look to have been pushed into acquiescence.
Imran himself attempts to put on a brave front but seems bewildered and terrified. Despite the existence of audios and recordings revealing PTI officials and cadre, including Yasmeen Rashid, Murad Saeed, Sheharyar Afridi, Hassan Niazi, Aleema Khan, and Ijaz Syed, he astonishingly continues to deny PTI's participation and is blaming Pakistani authorities for the violence. Imran Khan has begun to play the "victimhood card," focusing on the alleged violent governmental mistreatment of the party's female cadres. Additionally, he is frantically attempting to appeal to global opinion, notably that of American politicians. Ironically, he has persistently promoted the myth of an American plot to overthrow him and spread the phrase "Kya Hum Ghulam Hain" over the last year.