The development of human resources is crucial for Pakistan's future, says Ahsan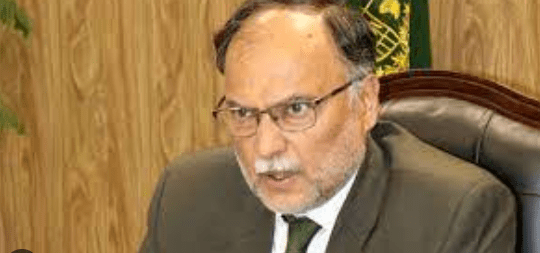 Professor Ahsan Iqbal, the federal minister for planning and development, said on Friday that the development of human resources was crucial to the future of the nation. Representatives from the ministries of Education, Overseas Pakistanis, and Information Technology, as well as other stakeholders, were present for the Task Force for Human Resources and Skills Development's first meeting, which he was presiding over.
According to Ahsan Iqbal, the fourth industrial revolution and contemporary technologies have given the labor new obstacles.
Robotics and artificial intelligence have fundamentally altered the nature of labor.
According to him, current technology is predicted to have an impact on more than 25% of jobs in ten years. Only by receiving training and professional capabilities in contemporary technology will one be able to meet future obstacles, he stressed. A road plan, according to the minister, should be created to fully use Pakistan's youthful population's potential.
In order to provide final recommendations for the use of human resources in accordance with current needs, subcommittees of the task force should be established, he said. According to Ahsan, provinces should take part in raising the effectiveness and caliber of the labor force. To match the youth's talents to the demands of the global markets, a comprehensive strategy should be developed.
He said that integrating the export industry with growth was the key to solving Pakistan's economic issues.
Muqam blasts PTI Chief for attempting to incite a civil war in the nation: Engineer Ameer Muqam, the prime minister's advisor for political and public affairs, said on Friday that the events of May 9 have shown Imran Niazi to be a foreign agent who is pursuing a foreign goal to incite civil war in the nation.
The PM's assistant said in a statement that Imran Niazi is pursuing a foreign goal to destabilize the nation and inflame tensions among its citizens. He said that Imran, who devoured 60 billion rupees, is stirring up opposition to the nation via false slogans. He said that the country wants that those responsible for the events of May 9 and 10 be hauled before a court and subjected to exemplary punishment for their sabotage and wrongdoings.
The May 9 arson attacks by Ameer Muqam will go down in history as crimes committed by criminals. Imran Niazi, he said, is a liar who has a persistent tendency of changing his story after making it and fooling others with his well thought-out strategies.