Pakistan's situation worsens as former Prime Minister Khan prevents home searches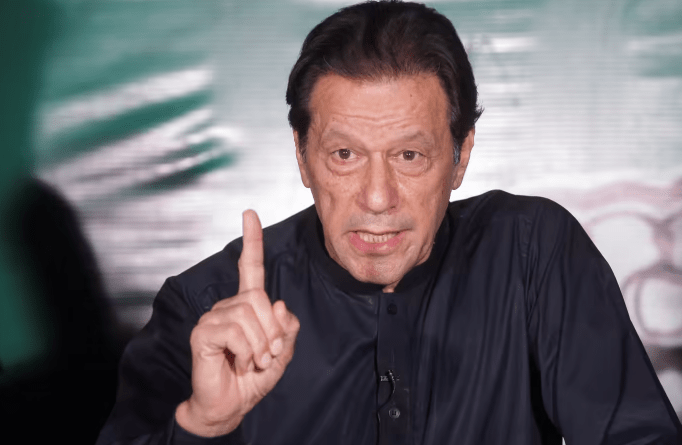 Pakistan's political situation is becoming worse as a result of Imran Khan's reluctance to allow police to investigate his residence for potential culprits after a wave of violent demonstrations.
The government's demand to the former cricket star to turn up supporters it holds responsible for assaults on military facilities marked the start of the most recent chapter in a drama that has lasted for weeks as a result of Khan's detention on fraud accusations.
The 70-year-old Khan refuted allegations that he was hiding suspects at his Lahore residence on Friday. Khan has previously warned that authorities are preparing to dissolve his opposition Pakistan Tehreek-i-Insaf (PTI) party.
Because Khan believed the authorities would plant evidence, he refused to let them investigate his home. He insisted that a female officer and PTI representatives be present during any search.
He told reporters, "They first said there were terrorists [inside], but then they claimed there were wanted guys. I told them they could check inside to see if there were any wanted guys, but they insisted on searching my house, which I couldn't let them do.
If a search is necessary, it will be done according to a court order, as was previously stated, and people from both sides, including a lady, will be present.
Khan's PTI is shaken by the authorities' promise to trial those connected to the disturbance in military tribunals rather than the nation's civil courts.
In recent days, a number of party officials have resigned.
Khan tweeted last week, "A complete crackdown will follow, after [my] arrest, against the PTI leadership and employees." Finally, they will outlaw Pakistan's only and biggest federal party.
According to Interior Minister Rana Sanaullah, banning the PTI is "the only solution" to curb "Khan's behavior" after the former leader was accused of arming, training, and recruiting thousands of followers to participate in violent rallies.
The gathering has not yet been prohibited.
Following his detention on the corruption accusations last week, Khan was given bail until the end of this month, which caused massive rallies by his followers and forced the government to bring in the army.
While the PTI claims at least 50 people have died in confrontations with police forces, the government reports that at least eight people have perished nationally throughout the rallies. Nikkei was unable to independently verify either statistic.
Khan has refuted accusations that he instigated the unrest and instead places the responsibility on Pakistan's security service, claiming there is "ample evidence" that fires and killings were done by officials "who wanted to cause mayhem and blame it on PTI so the current crackdown would be justified."
In addition, Khan maintains that his legal issues are a political ploy by the governing coalition to stifle his demands for early elections, which he has made several times since being deposed in a no-confidence vote a year ago. Midway through 2018, Khan entered office.
The country of more than 230 million people, which is simultaneously engulfed in an economic crisis characterized by soaring inflation and perilously low foreign reserves, has been fascinated by the drama.
According to some analysts, a ban on Khan's party may not have much of an impact on its popularity.
According to Shuja Nawaz, a Senior Fellow at the South Asia Center of the Atlantic Council, "the ideas behind the movement will be hard to erase even if the PTI disintegrates with Imran Khan's ouster."
The Hudson Institute's Husain Haqqani said further, "Historically, the military has not been able to completely drive political parties with grassroots support out of politics, but it has unquestionably managed to weaken them."
Former Pakistani ambassador to the United States Haqqani said that although the PTI would probably survive the crackdown, some members will leave out of concern for severe governmental repercussions.
By Thursday night, at least five mid-level party officials had resigned, and more are anticipated.
However, Nawaz of the Atlantic Council warned that the threat to trial PTI members or sympathizers in covert military tribunals might backfire on the government and harm Pakistan's reputation overseas.
"The Pakistani polity and economy are fraying badly," he said. "The army will then have to take responsibility for the ensuing chaos and possibly even be shunned by the international community."