Canadian lawmakers draw attention to Pakistan's human rights problem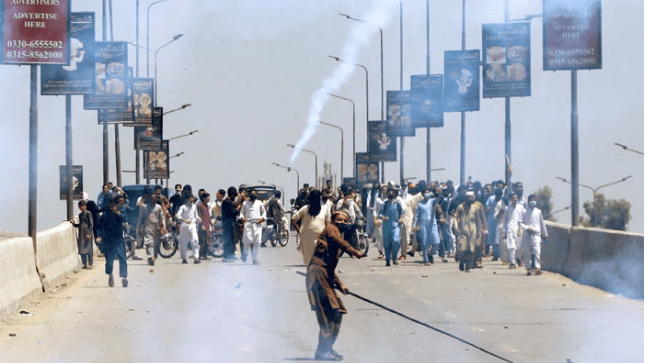 Letter comes amidst an ongoing crackdown by the govt on PTI.
MPs demand that those facing charges be granted fair and transparent trials in civilian courts.
Canadian MPs pledge to closely monitor situation in Pakistan.
---
A group of Canadian lawmakers on Friday expressed "grave concern over the situation unfolding in Pakistan" and sent a letter to Prime Minister Justin Trudeau, urging him to address the escalating human rights violations in the country.
The lawmakers' concerns come amidst an ongoing crackdown by the Pakistani government on leaders and workers of the Pakistan Tehreek-e-Insaf (PTI) party. PTI chief Imran Khan's residence in Zaman Park, Lahore, was violently raided twice, and he said that over 7,500 PTI workers, including women, have been arrested by the police
The letter, signed by 16 lawmakers who are members of the Canada-Pakistan Parliamentary Friendship Group, highlights the importance of the right to peaceful protest and strongly condemns all acts of violence, arbitrary arrests, and the urgent need for fair trials in civilian courts in Pakistan.
Voicing concern for democratic principles
As representatives of their constituents, particularly thousands of Canadians of Pakistani heritage, the lawmakers stressed the fundamental nature of democracy, the rule of law, and freedom of expression in any society, underscoring the importance of upholding these principles without compromise in Pakistan.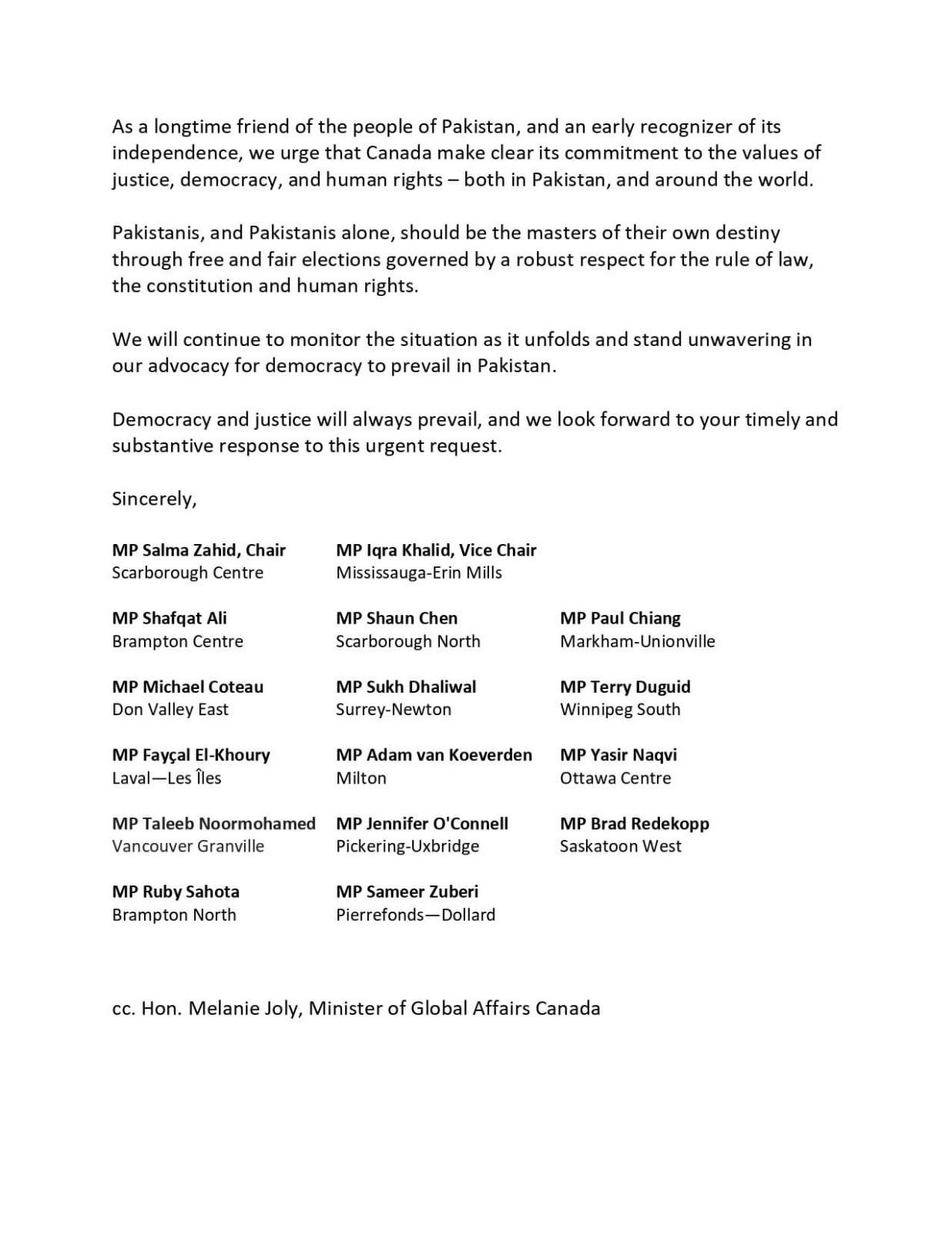 Concerns against arbitrary arrests
The Canadian lawmakers denounced all forms of violence in Pakistan and expressed distress over the unlawful arrests of innocent civilians, journalists, activists, and political leaders. They draw attention to the targeting of women and children, emphasising the need for their rights to be protected. The lawmakers demanded that individuals facing charges be granted fair and transparent trials in civilian courts, ensuring due process and upholding the independence of the legal system.
Concerns surrounding Imran Khan's arrest
The letter also highlighted a recent ruling by the Supreme Court of Pakistan, which deemed the arrest of former prime minister Imran Khan illegal and unjust. While the lawmakers refrained from commenting on the veracity of the charges against Khan, they emphasised the importance of prompt and transparent court proceedings, allowing the independent legal system to carry out its duties.
Canada's commitment to democracy, human rights
Recognising the longstanding friendship between Canada and Pakistan, the lawmakers urgeed Prime Minister Trudeau to reaffirm Ottawa's commitment to justice, democracy, and human rights, both within Pakistan and globally. They stressed the significance of Pakistanis having the autonomy to determine their own destiny through free and fair elections, governed by the principles of the rule of law and respect for human rights.
Monitoring situation and advocating for democracy
The Canadian lawmakers pledged to closely monitor the situation in Pakistan and maintain unwavering advocacy for democracy. They anticipated a timely and substantive response from Prime Minister Trudeau, acknowledging that democracy and justice will ultimately prevail.
The letter from Canadian lawmakers reflects the growing international concern over the human rights situation in Pakistan.