Congressman from the US worried about 'human rights breaches' in Pakistan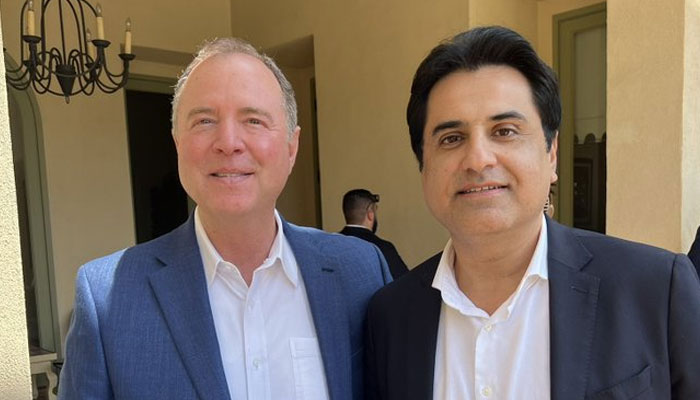 US Congressman Adam Schiff has expressed concern over the "violation of human rights" in Pakistan and the developments that have been taking place in the country in the last year or so.
In a video shared by Pakistan Tehreek-e-Insaf (PTI) leader Aitf Khan during the congressman's conversation with overseas Pakistanis, the lawmaker showed concern about the "human rights issue".
Schiff said that Pakistan is a "hugely important" nuclear-armed country in a "very challenging region" that has been on the "frontlines of the fight for democracy".PauseUnmuteLoaded: 0%Progress: 0%Remaining Time-4:23Fullscreen
"I am deeply concerned and worried about the developments over the last year or so," said Schiff. He also asked overseas Pakistanis present in the meeting to give him insight into what is happening in Punjab, the timing of elections, and the Supreme Court.
"For a long time, these concerns have only grown more prevalent. I have been worried about human rights in Pakistan [and] there's been a long tradition which is I think have become worse of forced disappearances, extra-judicial killings, suppression of speech," said Schiff. He added that the United States needs to be a "powerful advocate" of its "values and human rights".
"That needs to always be on the table whenever we have a conversation with other countries," said Schiff.
Earlier in a tweet, Atif had shared that the meeting was hosted by Pakistan-born Dr Asif Mahmood at his residence.
"Yesterday had a 15-minute discussion with Congressman Adam Schiff over the phone and today flew to Los Angeles to meet him in person," said Atif. He added that in the meeting he briefed the congressman on the developing situation in Pakistan.us-congressman-concerned-over-human-rights-violations-in-
"Congressman showed serious concern both on human rights violations, rule of law and democratic values," said the PTI leader.
This is not the first time that a US lawmaker has expressed concern about the situation in Pakistan. The PTI has been reaching out to US lawmakers and briefing them about the situation in Pakistan.
Recently, Congressmen Ted Lieu and Brad Sherman had also spoken about the human rights "violations" in Pakistan.
Last month, Congressman Brad Sherman had written a letter to US Secretary of State Antony Blinken highlighting issues related to human rights and democracy in Pakistan.
In his letter (dated April 12), which he also shared on his official Twitter handle, Sherman while mentioning US support to Pakistan during times of need urged the country's top diplomat to support human rights in Pakistan as it is also in the US national interest.
"I know human rights are a priority for you, and I recognised your commitment and the Administration's work on democracy, human rights, and rule of law. The United States does not involve itself in Pakistan's internal governmental matters — I respect its Constitution and its democratic process — but we must not shy away from raising our voice when the human rights of the Pakistani people are at stake," he wrote.
In his three-page letter, the congressman asked Antony Blinken to reaffirm the US position that the Pakistani government should respect the right to speak, organise, and demonstrate peacefully.
"It is critical that we see a calm, orderly, democratic, and prosperous Pakistan where Pakistanis can have a free and open political dialogue."