The Economic Crisis in Pakistan: What Went Wrong?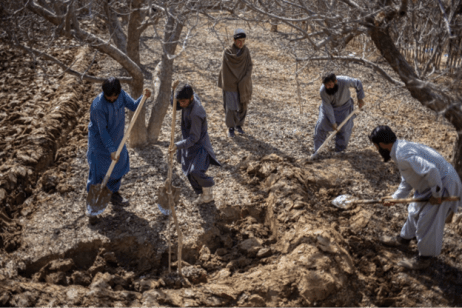 In March and April, the Pakistani government established distribution points all throughout the nation to provide citizens sasta aur muft aata (cheap and free flour) to lessen their burden in the face of rising costs and the nation's continuous economic crisis. However, the campaign generated difficulty rather than good in a number of locations when stampedes started, killing and wounding people.
For something as simple as a bag of flour, Pakistanis are risking their lives. It exemplifies how the growing cost of food and other needs is affecting the general public and fueling desperation.
Putting food on the table for Pakistan's poorest citizens, who make up one-third of the country's population, has never been more difficult due to inflation, which is now at a 50-year high of over 30 percent.
Deeper queries such, "How did the country get here?" saturated social media with the current food-related stampedes. What are the implications of this economic crisis for the majority of Pakistanis and for the country's foreign initiatives, particularly those with China under the China-Pakistan Economic Corridor (CPEC), which Pakistan regards as being essential for its future economic development? Only the war-torn Afghan economy is poorer than Pakistan's current GDP, per capita income, and GDP growth, which are the lowest in its area. Additionally, it has some of the highest inflation and unemployment rates in the area. Pakistan was ranked 161st out of 185 nations in 2022 according to the Human Development Index, which evaluates a nation's accomplishments in three fundamental areas: health, education, and living conditions. Pakistan is thus one of the 25 nations with the lowest levels of human development worldwide.
Do you like this article? For full access, click here to subscribe. $5 a month is all.
The present state of affairs in the nation is the result of a number of factors, including bad economic management generally, corruption, and excessive expenditure on the military and defense. When you invest in young people's education and technical skills, you may create prospects for a more sustainable economy in a nation where half the population is under 22.
Many also link the recent economic downturn to last year's floods, which severely damaged farmland, cattle, thousands of kilometers of roads, and other infrastructure, as well as the spike in the price of basic foods. This is somewhat true, since a record high in inflation was reached during the August 2016 floods. However, the conflict in Ukraine also cut off grain supplies to other nations, including Pakistan, pushing up the cost of foodgrains significantly.
However, the environment was unstable even before these catastrophes. A World Bank research on inflation and development in Pakistan found that increases in gasoline and oil subsidies as well as transportation issues brought on by the floods and the conflict in Ukraine that affected imports of crucial grains were both major contributors to the inflation. Pakistan is a big importer of oil. Every time oil is imported, the country's currency is devalued, resulting in substantially higher levies.
The inability of Pakistan to pay back its foreign debt has caused the value of its currency to continuously drop over the last several months. Pakistan is primarily supported by foreign loans, which is an economic strategy that simply encourages more borrowing and ultimately leads to insolvency. Pakistan's foreign debt must be repaid in the amount of almost $80 billion between February 2023 and June 2026.
Pakistan owned $126.3 billion in foreign debt and liabilities as of December 2022, of which 30% is owing to China. The federal government must often resort to the Chinese for refinancing and a rollover of loans, despite the Chinese government's backing for Pakistan's infrastructure development via CPEC, which Pakistan is committed to economically profit from in the future.
Although the Chinese government and commercial banks have aided Pakistan in the past by delaying or rolling over loan payments, it is difficult to say if China would do so going forward.
Only a small number of the several projects agreed upon under CPEC have been completed so far. China has been reluctant to engage in new projects as a consequence of its unhappiness with the protracted delays in project completion, the stopping of projects, and the security concerns to its citizens working in Pakistan. Pakistan is still one of the countries that most benefits from Chinese loans.
numerous accuse China of burdening numerous developing nations, including Pakistan, with excessive interest rates on loans. China's funding may have exacerbated Pakistan's economic woes rather than bringing about the projected economic prosperity via CPEC. However, it is still too early to say if the CPEC loans would harm Pakistan's economy or provide room for future expansion.
Transparency in government expenditure is now a must, coupled with a shift in the country's economic model away from one that heavily depends on high-interest foreign debt and excessive spending on military institutions.