Baloch National Movement stages protests in London against increasing cases of enforced disappearances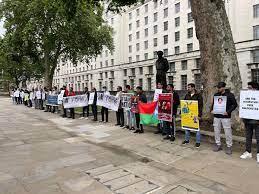 The Baloch National Movement (BNM) organized a demonstration in London on Saturday to raise awareness about the rising number of enforced disappearance cases in Balochistan, a southwestern province of Pakistan. The protest was attended by members of the Baloch community residing in the United Kingdom and other human rights activists.
The demonstrators carried placards and chanted slogans demanding an end to the practice of enforced disappearances, which they claim is being carried out by the Pakistani security forces in Balochistan. They also urged the international community to take notice of the situation and put pressure on the Pakistani government to address the issue.
According to the BNM, more than 45,000 Baloch people have been forcefully disappeared since the start of the insurgency in the province in 2003. The organization alleges that most of the disappeared persons are either killed in custody or subjected to torture and ill-treatment.
The BNM has been calling for the independence of Balochistan, which it claims was illegally annexed by Pakistan in 1948. The group accuses the Pakistani government of carrying out a systematic campaign of repression and human rights violations against the Baloch people.
The protest in London follows similar demonstrations held by the BNM in different parts of the world, including the United States and Canada, to highlight the issue of enforced disappearances in Balochistan. The organization hopes to draw the attention of the international community towards the situation in the province and to garner support for their cause.