Pak economy facing its worst crisis, grim scenario ahead in 2023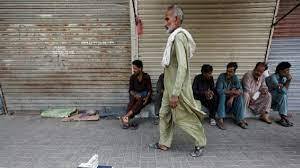 Pakistan is facing its worst economic crisis since its birth and a grim scenario dodges Islamabad in 2023 amid rising foreign debts, inflation, and falling foreign exchange reserves, writes Federico Giuliani in Insideover. Moreover, Pakistan is not yielding any sign, internal or external,
of an early improvement.
The country's exports decreased, imports rose, inflation reached double digits, and the State Bank of Pakistan's (SBP) foreign exchange reserves continued to decline in value during the year, decreasing by USD 584 million to USD 6.1 billion.
According to the central bank's data, this is the lowest level of reserves since April 2014. Pakistan is worse off even among economies currently doing badly and has reserves only to last 30 days' imports.
It also saw multiple postponements by the International Monetary Fund (IMF) to evaluate and disburse USD 1.6 billion,
which is only a fraction of the six billion Pakistan has been seeking for many months.
It now says the figure is well-nigh inadequate and needs USD 33 billion to tide over its current economic crisis, said Giuliani. Adding to the woes of successive governments in Islamabad, the IMF remains cold to the urgent needs of Pakistan even as it stipulates – and secures – the imposition of stringent measures to make the economic recovery.
These measures, especially rising fuel prices, have contributed to high inflation and politically, have proved the most unpopular. Amidst all this, while the Shehbaz Sharif Government makes tall
claims and promises, the Imran Khan-led opposition that had contributed in no mean terms to the worsening of the situation, baits the government with anti-American and anti-West rhetoric, knowing well the money would have to come only from them.
Such rhetoric is the staple of Pakistan's politics, reported Insideover. Meanwhile, Khan ended the year painting a grim economic scenario – except that he posed as the only messiah who can resolve the issues. His own four-year record, however, was just the opposite.
He delayed going to the IMF and banked hopefully on China, which did not oblige and the Saudi royalty whom he
successfully managed to annoy, enough to demand a loan back and went back on concessional energy supplies.
The UAE money has not made a significant change in stabilizing a fretful economy. He also bit the military hand, that of the former army chief, Gen Qamar Javed Bajwa, his principal benefactor, who had lobbied for funds with some success, said Giuliani.
When positioning Pakistan as a refuge for international investors in early December, Foreign Minister Bilawal Bhutto Zardari was unable to guarantee political stability or security from terrorist organisations, two prerequisites for any investor. His hosts, the US, which he visited twice, and
other major cities throughout the world, were unsuccessful in securing investments for Pakistan.