Pakistan's Economy: Looking Into the Abyss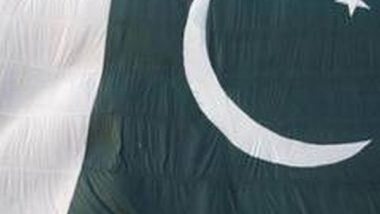 In its recently released report 'Asian Development Outlook 2022 Supplement', the Asian Development Bank (ADB) has predicted that Pakistan's economic outlook for the fiscal year ending in June 2023 has "deteriorated under heavy flooding" while the "economy was already struggling to regain macroeconomic and fiscal stability". The report further suggested that the impact of this year's unprecedented monsoon floods will have spill over effects on Pakistan's local industries — notably textiles and food processing — and on services, in particular wholesale trade and transportation. The ADB's negative future outlook of Pakistan's economic situation has come at a time when the country is facing acute energy crisis, record low foreign exchange reserves, declining remittances and limited harvesting of essential crops — rice, wheat, and cotton.
With falling forex reserves, Pakistan's default risk has worsened. The foreign exchange reserves held by the State Bank of Pakistan (SBP) fell another USD 784 million to a precarious level of USD 6.715 billion as of December 2 following the payment of USD 1 billion Sukuk bonds. This is the lowest level of SBP-held reserves since January 2019. According to some reports, Pakistan's diplomatic missions in several countries are facing acute financial crisis after the SBP and the Finance Ministry have stopped all payments, including letter of credits. Pakistan's missions in the European Union and across the world have reportedly written to the foreign ministry in Islamabad, requesting it to release salaries and allowances as soon as possible.
On the other hand, foreign remittances have declined by 14 per cent in November this year. The inflows fell by 9.6 per cent during the first five months of the current fiscal year (FY23). The SBP has released a new data which suggests that the remittances kept falling and declined to USD 2.1 billion in November from USD 2.5 billion during the same month last year. Several business experts in Pakistan have been warning that the 'artificial' low dollar rate in the interbank market could cost the country heavily. The current dollar rate in Pakistan's interbank market stands at approximately PKR 224.71, but the open market offers much higher rate. The grey market in Pakistan is reportedly offering PKR 255 per dollar, while local banks provide PKR 224.71 for a dollar.
Several analysts are now putting the blame on the Pakistan Democratic Movement (PDM) coalition government, especially Finance Minister Ishaq Dar, for failing to stabilise the country's shrinking economy since it came to power in April this year. The PDM government's top leadership has been trying to instil confidence in local businesses and global investors on their efforts to improve Pakistan's economic situation. On December 12, Prime Minister Shehbaz Sharif claimed that "Pakistan will not default."Furthermore, Sharif explained that his administration was forced to accept tough International Monetary Fund (IMF) loan conditions because the IMF did not trust Pakistan after the previous Imran Khan government failed to honour commitments. Federal Minister for Planning and Development Ahsan Iqbal made a plea in a press conference that "everyone [in Pakistan] has to gather on a single-point agenda for strengthening the national economy".
On the other hand, former prime minister Imran Khan has increased attacks on the PDM coalition for failing to control Pakistan's economic downfall. This is one of Khan's main weapons against the incumbent government and the powerful military establishment. In his recent statement, Khan said that former army chief General (retd) Qamar Javed Bajwa "did to Pakistan what no enemy could do to the country", and warned that if Pakistan defaults, then the country's national security was the first area to get affected. It is noteworthy that Pakistan's western front with Afghanistan is witnessing growing militancy and frequent border clashes with the Taliban fighters. Any new military operation will add immense burden on Pakistan's economy, which is also facing severe energy crisis.
The government officials in Pakistan are blaming the ongoing Russia-Ukraine war for the energy crisis as there is dearth of energy tenders available in the international market at an acceptable price range. Moreover, the ongoing political instability, inconsistent government policies, internal security issues, among other reasons have also added to the problem. It appears there are possible internal rifts or misunderstandings within the PDM alliance government on the energy issue. Recently, Minister of State for Petroleum Musadik Malik rubbished claims by his colleague, Foreign Minister Bilawal Bhutto, and reiterated that Russia will in fact give Pakistan oil at discounted rates.
On December 13, former finance minister Miftah Ismail warned that chances of Pakistan heading towards default have increased, urging the incumbent government to take steps to avert the looming threat. Understandably, there are no immediate solutions for Pakistan's problems. Additionally, the present energy crisis and increasing prices of essential commodities will severely impact the local population, especially small businesses in Pakistan. Any new military operation in tribal agencies or ceasefire violations on borders with India will prove costly for Pakistan's economy. Lastly, Pakistan is staring at an imminent financial burden of holding general elections in the coming months, which will unlikely bring any political stability.