China and Pakistan are to perform coordinated naval drills in the Arabian Sea amidst the Israel-Hamas conflict.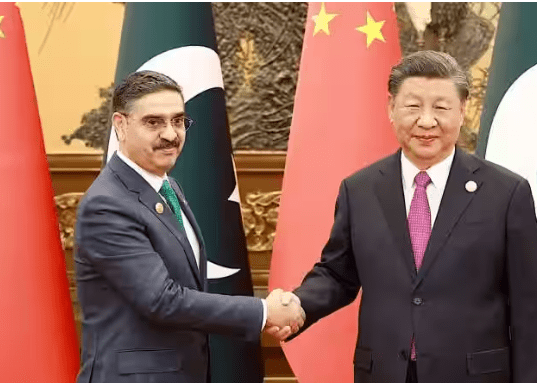 Chinese defence ministry said on Thursday (Oct 27) that China and Pakistan will hold their third joint naval exercises in November in the Arabian Sea.
The exercises, The Sea Guardians-3, "will focus on formation movements, inspection and capture, mutual landing of helicopters, joint search and rescue, as well as anti-submarine operations," the Chinese ministry said.
"The theme of this joint exercise is 'jointly responding to maritime security threats'," said ministry spokesman Senior Colonel Wu Qian at a press briefing.
The announcement comes shortly after a meeting between Pakistan's interim Prime Minister Anwaarul Haq Kakar and Chinese President Xi Jinping that took place at the sidelines of the Belt and Road Initiative (BRI) summit held in Beijing last week.
The two countries are aiming to further deepen the "China-Pakistan all-weather strategic cooperative partnership and traditional friendship", and improve the level of actual combat training between the two militaries, Qian said.
Previous exercises between China and Pakistan
In September, the Chinese PLA Air Force's J-16 fighter jet joined Pakistan's J-10C and JF-17 fighters in a joint air exercise called Shaheen-X, conducted in northwest China. This exercise aimed to test their ability to work together effectively in "realistic modern air combat scenarios."
The first Sea Guardians exercise was held in the Arabian Sea in January 2020, and the second joint naval drill took place in waters near Shanghai in July of the following year.
Why is the naval exercise important?
The most recent joint naval exercise comes at a time of increased tensions in the Middle East, following a surprise attack by Hamas militants on Israel earlier this month and the counteroffensive by Israeli forces in the Gaza Strip.
China has reportedly deployed up to six warships to the region since the outbreak of the conflict.
Among them, the 44th naval escort task force, which includes the Type 052D guided-missile destroyer Zibo and the frigate Jingzhou, recently visited Oman and Kuwait.
China has officially denied any connection between the deployment of these warships in the Middle East and the Israel-Gaza conflict.