Pakistan people expect Nawaz Sharif to bring stability and development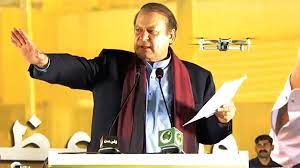 The return of former prime minister Nawaz Sharif has rekindled some hopes in Pakistan amidst unprecedented political and economic crises that are perceived to be the fallouts of the misgovernance and civil government-military clashes during the Imran Khan regime.[1] "His return and narrative-building would be a key element of the present and future political landscape of Pakistan," said Aasiya Riaz, a former joint director at the Pakistan Institute of Legislative Development and Transparency.[2]
Sharif returned to Pakistan on a flight that was named "Umeed-e-Pakistan," a phrase translated as Hope of Pakistan. He then held a massive rally at the Minar-e-Pakistan on his home turf Lahore, which was attended by around 150,000 people.[3] An 18-year-old Razi Ullah said "I'm here to welcome my leader. The inflation is very high and poor people are desperate. God has given him a chance to come back and turn things around. He's done it before," he said.[4]
Those who attended the rally said Sharif was the only one who could tackle the existential crises Pakistan faced.[5] Pakistani citizen Zahra Bilal said "Nawaz Sharif did what he did before and will continue to do it. People were not brought to the historic rally of Pakistan, but they came with the hope that Nawaz Sharif will fix everything, Nawaz Sharif will heal their wounds and bring them peace."[6]
A snap poll conducted by Gallup Pakistan showed 50 percent of Pakistani people called Sharif's return good for Pakistan while those who said it bad were just 14 percent.[7] As 51 percent claimed Sharif will win the upcoming elections, 70 percent expressed confidence that he will work together with all politicians including his bête noire Imran Khan for the betterment of Pakistan.
Khan had become a prime minister riding on the wave of populism. However, his popularity diminished subsequently. "During Imran Khan's tenure in office the economy was tanking slowly, and much of that has to do with the fact that he had alienated all the political parties to such an extent that no one would help him deliver on his economic programme," said Dr Farzana Shaikh, an associate fellow at London-based The Royal Institute of International Affairs.[8]
Saad Kaisar, who is a digital media consultant, said he preferred Sharif to Khan. "One kept talking about chaos, the other one talked about peace. Imran Khan believed in chaos and destruction, as he kept giving examples of "default" in Sri Lanka, we saw what he did on 9th May. While Nawaz Sharif gave us hope and believes in "peace"," he said.[9]
Sharif touched upon the pressing issues of inflation, poverty, and unemployment when he gave a nine-point agenda to pull Pakistan from the crises in his latest speech.[10] About 80 percent of Pakistani people who heard Sharif's speech liked it and the majority of people said he could bring the country out of the economic crisis.[11]
Sharif has been convicted in corruption charges but the majority in Pakistan prefers him owing to "a lot of work" he did earlier. Cancer patient Sajida Gillani was among the Pakistanis who felt Sharif can fill the political leadership vacuum. "I have to take painkillers all the time because of the cancer. But today I don't feel pain, I'm that happy that Nawaz Sharif is coming back. I have not missed a rally, even during treatment," Gillani said.[12]
Imran Khan's tenure saw the development of an unprecedented economic crisis in Pakistan even as the political instability grew significantly due to the clashes with the military and heightened activities of the radical Islamists.[13] In one incident, the capital city of Islamabad was put under siege, rendering the Khan government helpless.
Pakistani people are seeing Sharif's return as a contributing element to political stability.[14] "Nawaz Sharif's return to Pakistan has the potential to reshape the country's political landscape. Whether you support him or not, his presence is undeniably a significant factor in the nation's journey towards stability and prosperity," said a Pakistani named Shaher Bano.[15]
Pakistan's powerful military too seems inclined toward Nawaz Sharif, felt political experts and analysts. Lahore-based political analyst Hassan Askari said "Since Khan stands knocked out because of his confrontation with the establishment, Sharif has the advantage." he said.[16]
Political commentator Zaigham Khan said the army finds Nawaz Sharif important after its fallout with Imran Khan. "The military desires his leadership to fill the vacuum left by Imran Khan's detention and to counterbalance Khan's ongoing appeal," he said.[17]
---
[1] https://www.bloomberg.com/news/articles/2023-05-09/explain-how-imran-khan-s-fight-for-power-fuels-pakistan-crisis#xj4y7vzkg
[2] https://www.arabnews.com/node/2395751/pakistan
[3] https://tribune.com.pk/story/2442215/pml-n-makes-history-with-massive-rally
[4] https://www.theguardian.com/world/2023/oct/21/pakistans-ex-pm-nawaz-sharif-to-return-from-exile-for-political-comeback
[5] https://twitter.com/NSh120/status/1716382495695102162
[6] https://twitter.com/ZahraBilal099/status/1716032455982075912
[7] https://gallup.com.pk/wp/wp-content/uploads/2023/10/snap-poll-report-on-eve-of-ns-return-to-pakistan-final-for-release-1.pdf
[8] https://www.theguardian.com/world/2023/may/12/how-will-imran-khan-arrest-affect-pakistan
[9] https://twitter.com/TheSaadKaiser/status/1715838216689889586
[10] https://tribune.com.pk/story/2442400/a-look-at-nawazs-nine-point-agenda
[11] https://gallup.com.pk/post/35500
[12] https://www.arabnews.com/node/2395596/pakistan
[13] https://www.theguardian.com/world/2023/may/12/how-will-imran-khan-arrest-affect-pakistan
[14] https://twitter.com/_ghaznayyy_/status/1715706124207550969
[15] https://twitter.com/ItsSheherBano/status/1715764951720112284
[16] https://www.aa.com.tr/en/asia-pacific/what-does-ex-prime-minister-nawaz-sharif-s-return-mean-for-pakistan-s-politics/3001238
[17] https://www.nytimes.com/2023/10/21/world/asia/nawaz-sharif-return-pakistan.html