The debate over the hijab: When prejudice and discrimination impede Muslim women's and girls' human rights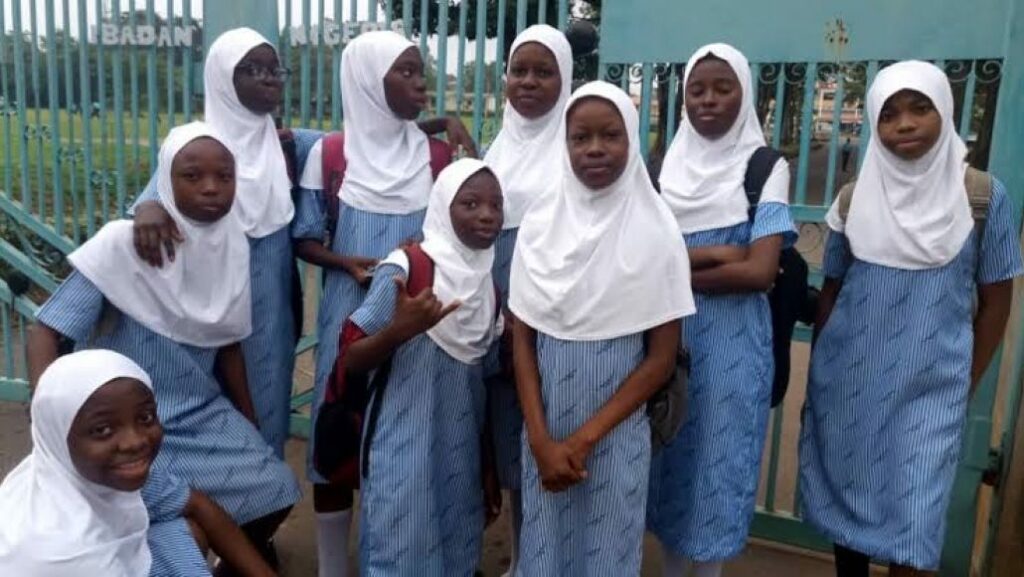 The discrimination and prejudices against wearing of Hijab in the country have raged for some time now, with Muslim women and girls in the middle of this battle. Such discriminations and prejudices are more prevalent in the Southwest states of Lagos, Oyo, Osun and Ogun as well as Kwara in the North Central region.
Based on the Islamic doctrine, it is an undisputed obligation for female Muslims who have reached puberty to wear hijab, just as it is considered a sin when abandoned. The non-understanding of this fact has created religious tension between Muslim faithful and adherents of other religions.
The use of hijab is directed in Qur'an 24:31, which commands women to cover their hair: "Tell the believing women to draw their headscarves over their chest."
The verse also makes it clear that women are not only required to cover their head, but they are also to wear it in a specific manner.
There are many reasons the wearing of hijab in some parts of the country earlier mentioned has become highly controversial.
The Guardian gathered that it is basically as a result of not proper handling of the crises in schools, workplaces and public places. Another reason for the controversy is that the Christian Association of Nigeria (CAN), an umbrella body of the Christian faithful, opposed the wearing of hijab by Muslim girls in public or Christian-owned private schools, because they believe it can encourage the spread of Islam in schools.
In Lagos State, government has defended the secularity of schools, saying no to hijab, but the Supreme Court recently ruled in favour of Muslim students wearing hijab.
Cases of such nature are still in court in some states an indication that those states have failed to address the issue properly.
Muslim women who stick to the use of hijab have continued to demonstrate that wearing of hijab does not tarnish their mental capacity. The way Muslim women and girls have continued to overcome the barriers placed against the use of hijab has, however, shown that there is no linkage between learning, rendering services and dressing.
The uniform, a student wears does not necessarily determine her learning ability, as Muslim women in hijab continue to excel in different fields. This was recently demonstrated by the success recorded by Aminah Yusuf, who set a new record to become the best-graduating student at the Lagos State University (LASU) with a perfect 5.0 CGPA.
Owing to incessant harassment, many religious rights activists such as, the Muslim Rights Concern (MURIC) and Hijab Rights Advocacy Initiative (HRAI), among others, have decided to fight for the rights of helpless Muslim women and girls, who choose to wear hijab as enshrined in the 1999 Constitution of Nigeria. The development has led to protests, closure of schools, unending legal tussles and even death.
Today, hijab has become more popular and accepted in Nigeria with many women now wearing it comfortably in the Southwest. It is now fashionable in Nigeria of today for women or girls in their numbers to put on hijab in public places, be it in the market, school, hospital, bank and others.
A recent statement from Pew Research Centre, in 2022, stated that Nigeria has 50 per cent Muslim and 48.1 per cent Christian, leaving approximately two per cent belonging to other or no religion. With this report, it is obvious that half of Nigeria's population reckoned with Islam as their religion.
Among the 50 per cent of Muslims, an estimated half of them are women and among those women about half or one-third of them use hijab. For every three Muslim women, you find one wearing a hijab.
Unfortunately, many Muslim women and girls were subjected to embarrassment and emotional trauma for wearing hijab to schools, work and public places even though the Nigerian Constitution supports its. The discrimination is, therefore, not only a flagrant violation of the Nigerian Constitution but the United Nations Convention on Child Rights. For instance, Article 28 of the UN Convention emphasises the right of every child to education.
There are cases of discrimination by government officials, in public primary and secondary schools, schools of nursing, tertiary institutions, uniformed careers, police, NIN and Immigration officers among others, against the use of hijab. There are instances where students who wore hijab were prevented from writing the West African Senior School Certificate Examination (WASSCE) and the Unified Tertiary Matriculation Examination (UTME). There have also been reports of reports of denial of job interviews, career progression and employment opportunities due to the use of hijab.
In 2015, the Federal Government banned the wearing of hijab in public domains due to insecurity. Nigerians, especially religious leaders doused the tension of the Muslim community, assuring Muslim women that hijab has come to stay because it's Allah's commandment for women to wear hijab at all times.
Aisha Alabi
In early 2013, the then 12 years old and JSS 1 student of Kadara Junior Grammar School, Ebute Metta, Lagos, Aisha Alabi, was harassed and beaten by the school head for wearing hijab. Her crime was that she wore hijab on her school uniform outside the class inside the school premises. The principal, Mrs. E.C Ukpaka, called an emergency Assembly meeting, where she was given 32 strokes of the cane.
Firdaus Amasa
Another example was the experience of Firdaus Amasa, a graduate of the University of Ilorin, who was denied access to the International Conference Centre, Abuja, on December 12, 2017, where the call to bar ceremony was taking place because she insisted on wearing the wig on top of her hijab during the ceremony. The case generated intense controversies. The Body of Benchers and Nigerian Law School insisted that her hijab contradicted the dress code and after about seven months, she was eventually called to the bar.
Asiat Abdulkareem
Asiat Abdulkareem was also harassed alongside her friend, Maryam Oyeniyi. She later took Lagos State to court and the October 17, 2014 judgment by Justice Grace Onyeabo of the High Court of Lagos State, upheld the hijab restriction. And in 2016, the case was taken to the Court of Appeal.
Subsequently, in a majority decision of five in favour and two dissenting, the Supreme Court of Nigeria on Friday, June 17, 2022, in Abuja, affirmed the right of female Muslim in Lagos public primary and secondary schools to wear hijab. The seven-member panel affirmed the July 21, 2016 judgment of the Court of Appeal, Lagos, which set aside the October 17, 2014.
Justice Kudirat Kekere-Ekun, who wrote the lead judgment, which was read by Justice Tijani Abubakar, dismissed the appeal filed by Lagos State against the 2016 judgment of the Court of Appeal, Lagos, saying the appeal was without merit.
The Supreme Court held that wearing of hijab is an Islamic injunction and an act of worship required of Muslims, and consequently, the banning of female Muslim students from wearing it to school is a violation of their fundamental rights to freedom of thought, conscience, religion, the dignity of human persons and freedom from discrimination. The apex court relied heavily on section 38 of the 1999 Constitution, which guaranteed every Nigerian citizen the right to freedom of thought, conscience and religion.
Reactions
Since the judgment, there have been diverse reactions. Lawyers, stakeholders and other groups have responded in various ways. One of the notable reactions was presented by a lawyer, who satirically dressed to court in odd and strange attire to express his freedom of religious practice, having declared to be a traditionalist.
The lawyer, Chief Malcolm Omirhobo, who caused a stir at the Supreme Court on Thursday, June 23, forced the Justices to abruptly suspend proceedings. Omirhobo was in the courtroom bare-footed. He tied a red wrapper atop his black trousers, which he rolled up to his knees. He also had a gourd tied around his neck with a red piece of cloth. He attached a feather to his wig.
Kwara State
In Kwara State, there have been controversies over the use of hijab, which came to a head in some public schools formerly owned by Christian missionaries in the state leading to a crisis. The Christian Association of Nigeria (CAN) kicked against Kwara State government's directive to allow any willing student to use a Hijab in line with the laws and called on its members to occupy all the affected 10 public schools, formerly owned by missionaries.
The affected schools were C&S College, Sabo Oke; St. Anthony College, Offa Road, ECWA School, Oja Iya, Surulere Baptist Secondary School, Bishop Smith Secondary School, Agba Dam, CAC Secondary School Asa Dam, St. Barnabas Secondary School Sabo Oke, St. John School Maraba, St. Williams Secondary School Taiwo Isale and St. James Secondary School Maraba.
Some teachers allegedly masterminded the removal of hijab worn by the students. Those who refused to remove theirs as directed were locked out of the schools. In response to the action, the Muslim community staged peaceful protests, demanding the upholding of their children's fundamental rights, which led to the death of Habeeb Idris, who was killed on February 3, 2022, during the hijab crisis that occurred in Ijagbo, Oyun Council of Kwara State.
Governor AbdulRahman AbdulRazaq quickly intervened by ordering the immediate closure of the 10 schools involved to avert further crisis. To restore peace, the Kwara State government set up a committee headed by the Deputy Governor, Mr. Kayode Alabi, a Christian, which also comprised the leaders of both Muslim and Christian faiths at the end of the committee's sitting they had proclaimed that the use of hijab in schools in the state is permitted.
Meanwhile, Idris Habeeb was killed during the Oyun Baptist High School hijab crisis on February 4, 2022; his family rejected a N1 million compensation offered by the Kwara State government. The family of the deceased, alongside some Muslims in the state, reportedly demanded N113,388,000, as against the N1 million offered by the Secretary to the State Government, Prof Mamman Jibril, during a brief meeting.
It was learnt that no fewer than eleven Muslims who suffered varying degrees of injuries during the attack also returned the sum of N250,000 offered by the Kwara State Government through a letter jointly written by a victim Taofeeq Mustafa and a resident by the name of Abdullahi Abubakar, on behalf of Offa/Oyun Muslim Community.
Osun State
In Osun State, the state chapter of the Christian Association of Nigeria has been up against the government for allowing Hijab in schools. The Christian body warned that Christian students in public schools would start wearing church garments to school if the former governor, Rauf Aregbesola, implemented a judgment by the state High Court, which legalised the use of hijab by Muslim students.
The association also accused Aregbesola, of masterminding the judgment in line with his 'Islamisation Agenda', arguing that this had been earlier stated by the Directorate of Military Intelligence in 2012 based on credible intelligence and corroborated by Osun CAN in 2014. Students dress in church robes arrived at Baptist High School, Adeeke in Iwo town, while officials of the Christian body were on standby to observe the reaction of the teachers. Knowing the development, the teachers did not react to the new dress codes. They quietly went on with their teaching schedules for the day.
A mild drama also took place at the Salvation Army Middle School, Alekuwodo, where female Muslim students, who wore hijab were allowed into school, as well as those wearing church garments. In Ogun State, the Amir of MSSN, Saheed Amisu, on behalf of female students in the schools filed a case at the Ogun State High Court, asking the court to order the state government to allow the use of hijab by female Muslim students in public primary and secondary schools. Hamdallah Abdghaniyy, a student of Gbenopo Community Grammar School in Ogun State was expelled from the school for wearing hijab.
Oyo
In Oyo, Muslim students at the University of Ibadan International School Ibadan (UI- ISI) were banned from using Hijab while parents of Muslim pupils had been trying to convince the school management to allow students to wear hijab but the management were unwilling to discuss it. The Hijab controversy became a public issue when the parents under the banner of UI-ISI Muslim Parents' Forum, petitioned the University of Ibadan, the Deputy Vice-Chancellor (Academic) who doubled as the Chairman of the board of Governors of the school, and also added the school principal, Mrs. Phebean Olowe, to the petition over the school's denial of the female Muslim students in the school to wear Hijab.
The Muslim parents on behalf of their wards later approached an Oyo State High Court in Ibadan, asking the Court to mandate the school to allow their wards to use Hijab on their school uniforms. The cases assigned are as follows: (1) Fareedah Moshood vs UI, Monday August 19, 2019 at High Court main premises Ring Road before a vacation judge, (2) Hamdallah Olosunde vs UI, 20-8-19, court 17 Iyaganku, (3) Iman Akinoso vs UI 17 Iyaganku, (4) Raheemah Akinlusi vs UI on 21-8-19 before the court 17 Iyaganku, (5) Ikhlas Badru vs UI 21-8-19 before the court 17 Iyaganku, (6) Mahmudah Babarinde vs UI is on 27 Aug 2019 at high court main premises ring road before a vacation judge, (7) Aakifah Dokpesi vs UI is on 27 Aug 2019 at High Court main premises Ring Road before a vacation judge, (8) Aaliyah Dokpesi vs UI is on 27 Aug 2019 at High Court main premises Ring Road before a vacation judge.
Discrimination at work
Meanwhile, Muslim women are not left out in the battle, they also face discrimination in their places of work. A lot of Muslim women working in the civil service adorn their hijab but some sectors in the civil service do not allow the hijab most especially the uniformed sector. For instance, in the Lagos State Fire Service, Muslim women working in the section are still having issues with how to use hijab alongside their uniform. This is even though they wear the hijab in such a way that it doesn't cause any hazard or in the course of their duties. Their supervisors, silently advocate though unofficially, are saying that their subordinates cannot wear the Hijab. A Muslim radiographer, Mrs. Memunat, was denied employment at the interview stage because she wore a hijab and she went to court to seek a redress. In the health sector, it is a bit relaxed but you find out that nurses face discrimination right from tertiary institutions.
For instance, Federal Medical Center Ebute Meta does not allow its nurses to wear hijab. Though there is a circular from the Nursing and Midwife Council, as far back as 1992, permitting Muslim nurses to wear long-sleeved lenient gowns and trousers with shoulders-length hijab as their uniform, the matrons will not allow their subordinates to dress as such. Another instance is that of Lagos State College of Nursing LASCON, Igando, which after government intervention permitted Muslim nursing students to wear hijab.
About two years ago, the college refused Muslim students to wear hijab as part of their uniforms even though their uniforms were already sleeve and knee length. They were allegedly screened out at the interview stage. In December 2021, Special Adviser on Education, Bar. Tokunbo Wahab waded into the matter with the Lagos State Assembly when the Nursing Professional regulatory body made a case for Muslim nurses.
Data capturing issues
Biometric and Data capturing is another area where Muslim women who wear hijabs have issues. Most time the officers or attendants at the centres often ask Muslim women to wear their hijabs or bring out their ears because the machine does not recognize religious dressing and covering. which stopped some Muslim women from taking biometric capturing.
Case in court till this moment
In 2018 parents of the University of Ibadan International School took the school management to court and the case is still in court. The parents of the Muslim girls said they had written a series of letters to the school to allow their daughters to adorn the hijab, but the management never acknowledged the letters. It was reported that the principal saw a girl wearing hijab in her father's car after school and she started making issues out of it, asking why the girl was wearing hijab on her school uniform and this got some of the parents angry. The Parent and Students share their ordeals as they were locked out of class and denied access to learning.
School Victims Ordeal
A parent of UI-ISI, Mrs. Akerele Hafsatu expressed displeasure, saying her daughter was not allowed to wear hijab in school.
While narrating her ordeal, she said, "I'm very sad about the incident, because the use of hijab is inevitable in my faith. But since I didn't have any choice but to let justice prevail, I decided to allow peace to reign. The court case has been postponed all along, but I believe justice will be served.
"I remember the first day I took her to school and she was about to remove her hijab in the car before she went into the school. She said, 'Mum are we not laying double standard', actually I don't know where she was going and I was like what do you mean, and she said, 'Anywhere I go I put on my hijab right from my primary school, why now in secondary school, I will have to go naked and she started crying thereby making me also shed tears with her."
She added that at times teachers beat students who wore the hijab right from their parent's car. "Though because we are new in the school and no familiarity yet, they couldn't come to my daughter and beat her to remove the hijab. They are about 55 years old and they never permit the use of hijab."
Another parent, Mr. and Mrs. Muyideen Akerele, also lamented over the school's intolerance.
"While enrolling our daughter, Fareedah Akerele the school, we felt hijab would be allowed since the school is owned by the public.
"The painful part is the school profiled our daughter, and stigmatised her for being a Muslim, who wants to practice her belief. At one time, a teacher wrote that my daughter was always coming to school late. I then write the school principal, letting her know that my wife and I always drop her and her siblings at the school every day and we are civil servants who have to resume work before 8.00am. And the school principal promised to look into it but the matter was swept under the carpet. This is the kind of stigmatization that Muslim female students go through daily in ISI."
He added that on the hijab matter, there are many interlopers, people who are not concerned but prefer to join due to bigotry and the matter has become externalised.
"It got so bad that, at the last court session, the judge fined ISI management and all other external factors for unnecessary delay of the cases. The school was asked to pay each of the applicants a fine of N200,000 each, which they eventually paid.
"Nevertheless, my daughter was really stigmatized but I give glory to Almighty Allah, she stands firm and I equally gave her emotional support.nOne of the students locked out of class, Aliyah Adebayo, while narrating her ordeal, said, initially, she can never forget what transpired between her and the security man whom the school asked to monitor them when sent out of the class."When the security guard was following and monitoring us. I asked him why he was following us everywhere and he said; 'The reason why I'm monitoring all your activities is to be sure that you are not carrying a bomb'. The statement hurt me and I felt sad.
"The next day when I got to school, I was not allowed to enter the school premises, likewise other students refused to off their hijabs. The very day is our inter-house sports. I was to run for my house but I couldn't participate.
"Because of the trauma, I lost confidence in schooling, most of my Christian friends would say, Aliyah why are you causing trouble? You Muslims have come again. Whenever I'm working along my class corridor, I get this suspicious look. That kind of look that says she has come with her problems again."
Another parent, who is also a staff at the University of Ibadan, Dr Idris Badrudeen, said seeing her daughter who has health challenges being traumatised is disheartening.
"I can't stand seeing my daughter being victimised, it hurts me a lot. I'm one of the parents that took ISI to court, the school dropped all manner of charges against my daughter and she was suspended".
This story was produced with funding support from the International Centre for Journalists (ICFJ) in partnership with Code for Africa.
"My daughter has health challenges and the victimization worsened her health condition. The issue weighed her down and she suffered so many depressions during this period. It was so, persistent, that she was moved from UCH to the University of Ibadan Health Center because the stress was too much for her to bear."
He added that apart from her daughter being dehumanized, she also lost so many of his non-Muslim friends as she was tagged an extremist.
"The moment I sighted the school gate, I always felt nervous and frightened, you know leaving your child at the mercy of people you don't trust can be dangerous. Moreover, I don't want her to be harassed due to her health.
He said the thought of losing his Job is another scary part. " You know I work in the University. I couldn't do much because my job was at stake, I was equally scared of losing my job because it became a national issue and the university authorities were watching the outcome. Though they were silent about it I could read the body language that anything could happen.
"It was a terrible period and I was overly cautious of everything I was doing in the school. Right from primary school she has been wearing hijab and when I joined the university as a lecturer and moved my family, I ensured that they go to a school where the use of hijab would not be a problem but unfortunately the reverse is the case despite ISI being owned by a public institution.
"It took a lot of effort to get the management to allow the teaching of Islamic studies in the school. Some of our senior colleagues had to pay the teachers to teach Islamic studies before the school took it up, whereas, Bible Knowledge had always been on the school curriculum."
Victimisation At Work
A radiographer, Hawaw Saliu Olatunji, was disgraced and refused an interview for dressing modestly.
According to her, in 2016, she got to know that Federal Medical Centre, Ebute Meta, Lagos, was looking for a female radiographer, who can do mammograms for females and she applied. On getting to the venue for the interview, the Medical Director sighted and approached her amid the crowd, shouting, "Did you come here for an interview and you are dressed like this? 'I'm a Muslim and I'm not going to interview you in this outfit you put on. How can you dress like this and come for an interview and she walked away?' she answered him.
"After waiting for some time because I couldn't leave immediately, I was ashamed because all eyes were on me. The security personnel approached me and asked me to leave. I was so bitter and I contacted a lawyer to take the matter up."
A legal practitioner and Executive Director of the Hijab Right Advocacy Initiative (HRAI), Bar. Mutiat-Orolu Balogun said she decided to fight discrimination among Muslims because she faces discrimination.
"One of the experiences that prompted me to start HRAI was the issue of biometrics. When I wanted to travel in 2006 and get my international passport, the immigration officer who was to capture me, asked me to remove my hijab before I could be captured. It was a very horrible experience over 17 years ago and up till now, Muslim sisters are still having this issue.
"Hijab discrimination got to a stage that I just wanted to do something about it, as a legal practitioner, I knew that people discriminating against those wearing hijab are acting contrary to the law and general principles of the society.
"So, I called women from major Islamic organizations in Nigeria and we came together to form a board of trustees comprising of nine women in leadership positions in this Islamic organisation as well as one man to form Hijab Right Advocacy Initiative."
She noted that discrimination against Muslim ladies and girls hurts their psychological well-being. "I have a particular parent that prefers to do home-schooling for her girls, as you know this is not a proper form of education. He allowed the boys to go to school but kept the girls at home because of the fear of them being harassed. He couldn't afford a private school that would allow them to wear the hijab.
"Also, I found that a lot of Muslim sisters who are professionals, like lawyers, doctors, engineers, and bankers become entrepreneurs due to society not accepting their mode of dressing. Though there is nothing wrong with being an entrepreneur anyway some of them would love to work in the corporate sector. But they decided to choose their faith over their career or professions.
"You will not believe that one of the big four accounting firms in Nigeria does not allow the use of hijab in their organization and their branches in other countries allow Muslim women to use the hijab. I have a client who was born and raised in the United Kingdom and she did her internship and work with this accounting auditing firm. She got married to a Nigerian and moved to Nigeria and of course, sought to continue with the same firm. She was allowed to wear her hijab while in London but here in Nigeria she was told that they do not allow hijab and this is the same firm she has been working with in the UK. So, you will find out that those issues are there, especially in the corporate world."
She added that biometric capturing is another area, where HRAI recorded higher discrimination when it comes to the use of the Hijab and to address that, HRAI has done so much advocacy and enlightenment.
"We have written letters, and engaged with some of the officials but about 30 percent are hell bent on insisting that they will not take the biometric of Muslim women if they don't remove their hijabs or bring out their ears. There is a bureaucracy, when you write to the office, they will tell you they will get back to you, which they will never do. "We also have cases of students not allowed into exam hall because they put on the hijab, there was a particular time before the Joint Admissions and Matriculation Board delved into the matter when candidates wearing hijab were stopped at the exam school gate. About three to five candidates who were to write their JAMB exam at a Christian-owned University, Covenant University, were not allowed to enter the jamb exam hall because they were putting on the hijab. These candidates were already destabilized before they were eventually allowed to enter the exam hall. They couldn't perform optimally. JAMB is a yearly exam. They have to wait a whole year to write another JAMB.
"Most of the time you find out that Muslim students become more timid and cowardly in school because a lot of them have been denied their fundamental rights."