Pakistan's Deepening Role In The Global Drug Trafficking: A Growing Menace And Urgent Concern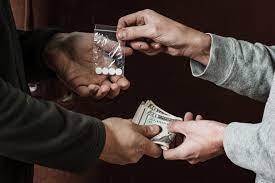 A few days ago, the State Special Operations Cell (SSOC) wing of the Punjab Police arrested 18 Pakistani citizens for operating a cross-border drug smuggling network using drones and riverine routes along the Pakistan-Punjab border. What makes this development particularly alarming is the discovery that the profits from these illegal drug sales were intended for a more sinister purpose: financing anti-India activities, including the support of sleeper cells not only in Punjab but also in other strategic locations across India. Even more troubling is the revelation that the funds were traced back to the Inter-Services Intelligence (ISI), Pakistan's intelligence agency which has a track record of directing its resources for its clandestine and subversive activities aimed squarely at destabilizing India's security and interests.
This is not an isolated incident rather it reflects a clear pattern wherein Pakistan utilizes drug smuggling into India as a tool to destabilize Indian society. Simultaneously, it seeks to utilize the proceeds to advance its nefarious agenda aimed at harming India in any possible manner. Recently, both the Tarn Taran and Amritsar police have successfully dismantled two drug smuggling and hawala modules, resulting in the seizure of narcotics worth INR 2 crore. The investigations have uncovered that the illicit gains were intended to be transferred to Pakistan through the hawala network.
Drug smugglers have become the economic backbone of Pakistan, where the harvests are brought to Balochistan and from there to the rest of the world. These smugglers operate with impunity as they are protected by the political system in Pakistan, and supported by Pakistan's intelligence service, namely the Inter-Services Intelligence (ISI).[1] The heroin production became an industry in Pakistan right after 1979 with ISI Directorate promoting raising money by running drugs to the jihadist groups. As per David R. Winston, Pakistan began to foster an ecosystem of government protection for heroin suppliers, government officials who allowed the heroin trade, and politicians having nexus with heroin syndicates under the regime of General Zia-ul-Haq.[2]
Pakistan is now becoming a transport hub for opium supply, with drug networks operating from the country and the supply reaching not only India and other South Asian countries but also the rest of the world. According to the United Nations World Drug Report, Pakistan serves as a vital transit route for the smuggling of drugs worth over USD 30 billion.[3]
As per a report from the US Department of State in 2019, Pakistan exported approximately 160 metric tonnes of heroin. The report also indicates that Pakistan has exported an unknown quantity of morphine base, opium, and hashish to various global markets. According to a report from the European Monitoring Centre for Drugs and Drug Addiction (EMCDDA), Pakistan ranks as the second most reported country of origin for heroin seizures within the European Union.[4] These reports illuminate the extensive reach of Pakistan's drug trade, which extends far beyond India and neighbouring countries, spreading its influence across distant regions.
Drug trafficking serves as a lucrative source of funding for terrorism and organized crime. The proceeds generated from this illicit trade often find their way into financing acts of terrorism and other violent activities. Pakistan, in particular, has been known to utilize funds acquired from drug trafficking to support terrorist organizations like Lashkar-e-Taiba and Jaish-e-Mohammad etc. These terrorist networks pose a grave threat not only to India but to the entire Indian subcontinent. Furthermore, in Pakistan and transit countries, drug trafficking contributes to social instability, human rights violations, and widespread corruption.[5]
In an interview with a journalist published in Pakistan's Geo News, Malik Muhammad Ahmad Khan, the Special Assistant on Defence to former Pakistan Prime Minister Shehbaz Sharif has admitted that Pakistani smugglers are using drones to smuggle illicit drugs, mostly heroin into Indian Territory. Indian security and law and order agencies have been continuously facing this menacing challenge, trying to bring down such contraband-filled drones coming from across the border to Indian Territory.[6]
As a part of the Golden Crescent, Pakistan is not only one of the major producers of drugs but is also a major transit hub. Large-scale opium production and poppy cultivation, and its processing into hashish (charas) is carried out in Pakistan, especially in areas such as Tirah district in Khyber Pakhtunkhwa and other erstwhile FATA regions. A recent UNODC report underscored that about 40 per cent of the drugs (heroin & hashish) produced in Afghanistan are transited through Pakistan generating a considerable opiate supply for export as well as for domestic use. Other than cannabis and opium poppy, available data points to an emerging supply of amphetamine-type stimulants (ATS), ecstasy, and cocaine as well.[7]
Moreover, a staggering 90% of the world's opium is cultivated in the neighbouring Helmand province of Afghanistan. Most of the drugs are smuggled to the Gulf States, Iran, and various European countries through the remote and concealed routes that crisscross Balochistan's rugged terrain, turning it into a hub of global narcotics trade.[8] Reports indicate that the web of drug trafficking spreads across Balochistan with as many as seven critical drug trafficking paths traverse the province forming the arteries of this illegal network. The Zhob route has earned the notorious distinction of being one of the principal drug trafficking highways in South Asia.[9] This route accentuates the significance of Balochistan in the intricate web of international drug trafficking operations. The state's inability to effectively monitor its international borders, both maritime and terrestrial, has facilitated a thriving drug smuggling trade and smuggling from Afghanistan.
Pakistan's involvement in the drug trade is a serious issue that needs to be addressed on an urgent basis. The Pakistani state, its dispensation, and smuggler-political nexus are all hand in glove with the drug menace being spread in India and the rest of the world. It is high time that Pakistan be made accountable for its illicit activities. In conclusion, Pakistan's involvement in the global drug trade is deeply troubling. The recent arrests of Pakistani nationals for operating a cross-border drug smuggling network using drones and riverine routes along the Pakistan-Punjab border have revealed its complicity in a network that funds sleeper cells across India, with the ISI adding to the complexity. Pakistan has become a significant hub for drug production and transit, particularly for opiates from Afghanistan. Its intricate trafficking routes underscore its pivotal role in this global issue. Urgent action is needed to address Pakistan's entanglement in the drug trade, as it threatens not only India but also regional stability and security. Persistent allegations of political protection for traffickers and their links to terrorism heighten the concern. Reports confirm Pakistan's substantial narcotics exports to global markets, underscoring its critical position. Tackling this multifaceted problem is essential for disrupting the global drug trade and bolstering global security.
---
[1] Swami, P., Afghan, Pakistan cartels survived empires. Now they are drowning Indian Ocean region in drugs, May 28, 2023, https://theprint.in/opinion/security-code/afghan-pakistan-cartels-survived-empires-now-they-are-drowning-indian-ocean-region-in-drugs/1598666/ accessed on September 25, 2023.
[2] Winston, D. R., The Convergence of the Narcotics Underworld and Extremists in Afghanistan and Pakistan and its Global Proliferation, Defence Education Enhancement Programme, https://deepportal.hq.nato.int/eacademy/wp-content/uploads/2022/05/Narco-Insecurity-Inc..pdf accessed on September 25, 2023.
[3] Country Profile, UN Office on Drug and Crime, https://www.unodc.org/pakistan/en/country-profile.html accessed on September 26, 2023.
[4] European Drug Report: Trends and Development, 2022, European Monitoring Centre for Drugs and Drug Addiction, https://www.emcdda.europa.eu/publications/edr/trends-developments/2022_en accessed on September 27, 2023.
[5] Marhoon, H. A., Pakistan's Drug Habit is Endangering the Region, The Diplomat, https://thediplomat.com/2020/10/pakistans-drug-habit-is-endangering-the-region/ accessed on September 27, 2023.
[6] Editor, Drones being used to smuggle drugs across border into India, admits Pakistan PM's advisor, July 28, 2023, https://www.thehindu.com/news/national/drones-being-used-to-smuggle-drugs-across-border-into-india-admits-pakistan-pms-advisor/article67130616.ece accessed on September 28, 2023.
[7] Khosa, T., Drug Trafficking in Pakistan: An Analysis, National Initiative against Organized Crime (NIOC), https://docs.google.com/viewerng/viewer?url=https://nioc.pk/wp-content/uploads/2020/01/Drug-Trafficking-in-Pakistan.pdf&hl=en accessed on September 28, 2023.
[8] https://tribune.com.pk/story/2354413/800-drug-addicts-rehabilitated-in-balochistan
[9] https://www.globalvillagespace.com/why-balochistan-needs-a-cure-for-its-drug-addiction/