Pakistani people slam government for massive fuel, energy, food price hike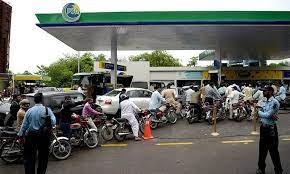 People in Pakistan have slammed the government for "criminal governance" as the prices of petroleum products soared exponentially even as the inflated power bills and high food inflation have disrupted livelihoods. Business activities have been affected, and more people are falling into the poverty trap. All this has led to widespread protests across Pakistan.
Common people, who are most affected, have been joined by traders, industry and politicians in expressing their anguish. "It is the matter of the entire country as the common man is being badly affected," said Abdul Rehim Kakar from Balochistan.[1] According to the World Bank, the number of people living in poverty has shot up to 95 million following the addition of 12.5 million more people in one year.[2]
Petroleum product prices have smashed all previous records in Pakistan. The prices of diesel have skyrocketed to PKR 330 in September 2023 from PKR 247 a year ago, which is going to add further to the unprecedented food inflation in the country. Similarly, the price of petrol too has been hiked by over 40 percent to PKR 332.[3][4]
People and traders are resorting to protests and strikes against inflated power and fuel bills, highlighting the "unjustified taxes".[5] In Sindh province, people parked their cars on the road and honked horns to express their displeasure. Atiq Mir, chairman of the All Karachi Tajir Itehad, said "Worst inflationary pressure, unemployment and the rising cost of petrol, gas, and electricity are factors that forced shopkeepers in the city to keep their businesses closed in protest."[6]
Jamaat-e-Islami's Ameer Hafiz Naeemur Rehman called the Islamabad government a "cruel regime" that inflicted "great hardships" on the people.[7] "The oppressive rulers of the country, through embezzlement, have pushed the nation towards default, and now they have put the burden on the 225 million people of Pakistan," he said.[8]
Taking a dig at the "criminal governance", people and opposition parties have demanded the Islamabad government not to transfer the cost of "failed economic policies" onto the shoulders of the public. A spokesperson of the political party Pakistan Tehreek-e-Insaf said the energy and fuel hikes were aimed at stocking civil unrest in Pakistan.[9] "Hunger can bring out the worse in people," Mir said.[10]
Food inflation remains high at 38.5 percent in Pakistan year-on-year, according to the Pakistan Bureau of Statistics (PBS) data. It is 42.79 percent for non-perishable food items while 99.68 percent for wheat.[11] Irshad Bibi, a labourer living in a small room with a fan and a bulb, got PKR 9,000 electricity while she has to struggle every day to get food. "There are days my children and I go to sleep without anything in our stomach except water and maybe one piece of bread," she said.[12]
Public transport, goods vehicles, and[13] Thus the hike in diesel prices is going to worsen the inflation, putting tremendous pressure on the common household budgets. "More than 60 to 70 percent of my salary is spent on bills and petrol. Where will we get basic staples from? This is why people are contemplating suicide," said Waseem Ahmed, a banking professional from Islamabad.[14]
Poor people are the most affected as unchecked hoarding and smuggling of essential commodities continues amid the economic and food crisis.[15] People have expressed frustration over the inability of the government to respond to their calls for help and relief. Islamabad resident Saqib Abbas is worried if he should have a meal or buy medicine for his ailing mother.
"I am always angry and frustrated, but I don't even know if protesting can help. I don't know what more can we do," he said. Babar Mahmood, an electronics trader from Lahore, said "There is a growing disconnect between the general public and those in positions of power."[16] Economist Ammar Habib Khan said the ongoing inflation has caused a drop of 40 percent in the disposable income of poor households in Pakistan. "There is no reason why the consumers need to be bridging the fiscal deficit of the government, which is a result of the government's inefficiency and unabated spending," he said.[17]
---
[1] https://www.reuters.com/world/asia-pacific/market-traders-strike-pakistan-over-power-bills-inflation-2023-09-02/
[2] https://tribune.com.pk/story/2437352/95m-pakistanis-live-in-poverty-world-bank
[3] https://tribune.com.pk/story/2377717/govt-hikes-petrol-price-by-rs145-per-litre
[4] https://www.dawn.com/news/1775833
[5] https://www.reuters.com/world/asia-pacific/market-traders-strike-pakistan-over-power-bills-inflation-2023-09-02/
[6] https://www.arabnews.pk/node/2365591/pakistan
[7] https://www.dawn.com/news/1776753
[8] https://tribune.com.pk/story/2436785/hike-in-fuel-electricity-prices-sparks-citywide-protests
[9] https://tribune.com.pk/story/2436240/calls-for-action-grow-louder-over-pol-prices
[10] https://www.theguardian.com/global-development/2023/sep/05/pakistan-uproar-violent-protests-soaring-fuel-electricity-prices
[11] https://www.dawn.com/news/1773464#:~:text=According%20to%20data%20released%20by,averted%20a%20sovereign%20debt%20default.
[12] https://www.aljazeera.com/news/2023/9/8/how-will-i-pay-steep-power-bills-rising-inflation-hit-pakistans-poor
[13] agriculture machinery operate on diesel.
[14] https://www.dawn.com/news/1773464#:~:text=According%20to%20data%20released%20by,averted%20a%20sovereign%20debt%20default.
[15] https://tribune.com.pk/story/2436337/govts-failure-to-curb-inflation-criticised
[16] https://www.aljazeera.com/news/2023/9/2/pakistan-traders-hold-nationwide-shutdown-over-electricity-bills-inflation
[17] https://www.aljazeera.com/news/2023/9/8/how-will-i-pay-steep-power-bills-rising-inflation-hit-pakistans-poor