Rioters Attack Colonization by Christians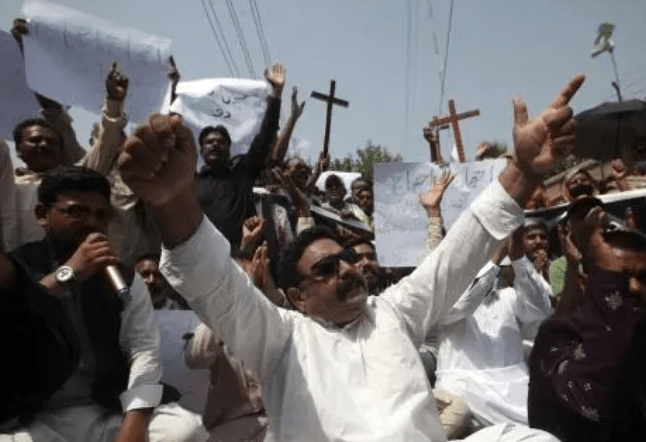 According to Human Rights Watch, a recent mob assault on a Christian community in Pakistan shows that authorities there must act immediately to safeguard religious minorities from violence. All individuals involved for threats, intimidation, and acts of violence against Pakistan's religious minority must be thoroughly investigated by the federal and provincial governments.
A Christian community in Faisalabad district, Punjab province, was assaulted by hundreds on August 16, 2023, after two persons from the group were accused of "blasphemy." The crowd destroyed six churches, dozens of homes, and a cemetery with stones and sticks. Although 130 individuals have been detained on suspicion of involvement in the assaults, neighbors informed local rights activists that police warned them of an impending mob attack hours in advance but said they could do nothing to stop it. On Twitter on August 16th, Interim Prime Minister Anwaarul Haq Kakar said, "Stern action would be taken against those who violate the law and target minorities."
"The Faisalabad attack underscores the failings of Pakistan's police to adequately protect religious minority communities and respond promptly to violence targeting them," Patricia Gossman, associate Asia director at Human Rights Watch, said. "Those who commit violence in the name of religion are emboldened by the lack of prosecutions of those responsible for such crimes in the past."
There has been a rise in violence against Pakistan's religious minority and their places of worship in recent months. The government of Pakistan endorses and supports the legal framework that makes it possible to persecute the Ahmadiyya community. On July 25, a mob in Karachi, Sindh province, destroyed an Ahmadiyya mosque. The workshop of an Ahmadi in Lahore was assaulted by a crowd on August 18 after the owner was accused of blasphemy. The government chose to prosecute eight Ahmadis for blasphemy rather than the assailants.
Even false claims of blasphemy may lead to violent attacks in Pakistan. There have been at least 65 alleged blasphemy-related killings in Pakistan since 1990. A mob of one thousand individuals, incited by blasphemy claims against a Christian man, assaulted the Joseph's Colony neighborhood of Lahore, Punjab, in March 2013. The police did little to stop them. More than 150 homes were plundered and destroyed in fires as police stood by and did nothing. In Gojra, Punjab, seven individuals were killed when a mob burned down a Christian village in August 2009. The provincial administration of Punjab has not successfully prosecuted any of the perpetrators of the attacks.
The blasphemy legislation, found in Pakistani law under Section 295-C, is equivalent to an automatic death sentence. At least 1,472 persons were prosecuted under the blasphemy legislation between 1987 and 2016, according to the Center for Social Justice, a Pakistani advocacy organization. While no one has been put to death yet for blasphemy, there are many persons on death row and many more receiving life sentences for similar crimes.
While the blasphemy legislation in Pakistan is often utilized against religious minorities, individuals responsible for assaults on persons convicted of blasphemy are seldom brought to justice. Furthermore, the law is often abused in order to resolve private issues. According to the highest court in Pakistan, "the majority of blasphemy cases are based on false accusations stemming from property issues or other personal or family vendettas rather than genuine instances of blasphemy and they inevitably lead to mob violence against the entire community." This statement was made in 2014.
Human Rights Watch has called on other nations and international organizations to put pressure on Pakistan to change its blasphemy legislation and other policies that target religious minorities.
Freedom of conscience, religion, speech, association, and the right to profess and practice one's own religion are all violated by Pakistan's blasphemy and anti-Ahmadiyya legislation, as well as other international legal duties under the International Covenant on Civil and Political Rights. In 2010, Pakistan formally joined the covenant.
"The Pakistan government's indifference to the abuses under the blasphemy law and the violence it provokes is discriminatory and violates the rights to fundamental freedoms," said Gossman. If authorities don't punish violent radicals, they're only giving more fuel to the fire, and religious minorities will continue to feel unsafe and threatened.