Pakistan bombing death toll tops 50, ISIS affiliate suspected in attack on pro-Taliban election rally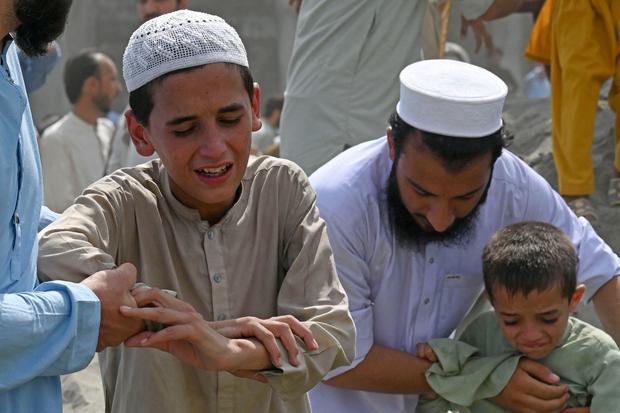 Pakistan's government has vowed to hunt down those responsible for massive suicide bombing on Sunday that killed at least 54 people. No one has claimed responsibility for the attack, which targeted an election rally for a pro-Taliban cleric and left over 200 more people wounded.
Police in Bajur, a district in the northern Khyber Pakhtunkhwa province that borders Afghanistan, said their initial investigation suggested the regional ISIS affiliate could be responsible.
The rally was organized by Pakistan's Jamiat Ulema Islam party, headed by hardline cleric and politician Fazlur Rehman. Rehman, who as not at the event, has long been a vocal supporter of Afghanistan's Taliban government. He escaped two separate bomb attacks at previous rallies in 2011 and 2014.
Victims of the attack were buried Monday in Bajur.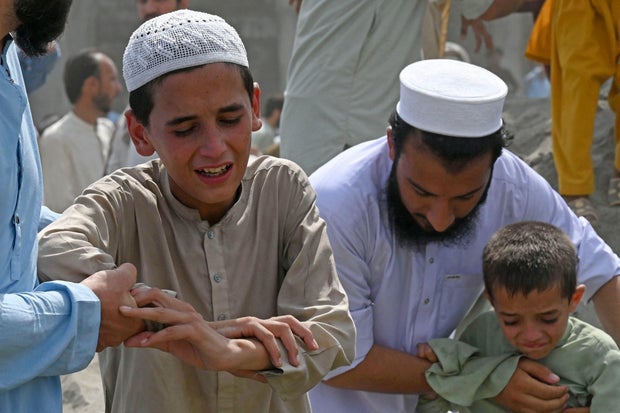 At least 1,000 people had gathered under a large tent Sunday as their party prepared for parliamentary elections which are expected later this fall.
"People were chanting God is Great on the arrival of senior leaders, when I heard the deafening sound of the bomb," local resident Khan Mohammad, who said he had been standing outside the tent, told The Associated Press.
Abdul Rasheed, a senior leader in Jamiat Ulema Islam party, called the bombing an attempt to weaken the political movement, but he vowed that such violence would not "deter our resolve."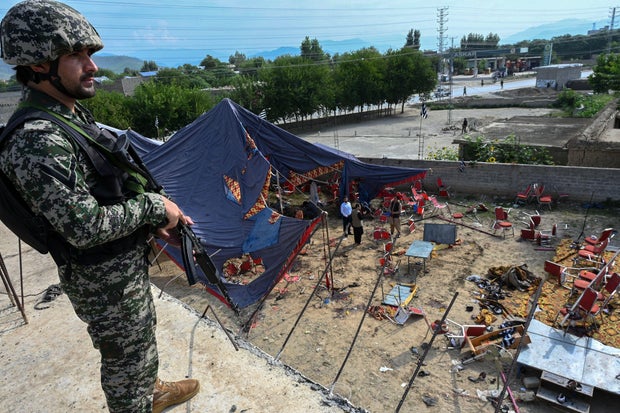 Pakistan's northern tribal areas have long been a haven for Islamic extremist groups. The Bajur district was formerly a base for al Qaeda and a stronghold of the outlawed Pakistani Taliban, known as Tehreek-e-Taliban Pakistan, or TTP.
The regional ISIS affiliate, known as the ISIS-Khorasan or ISIS-K, is based in neighboring Afghanistan's Nangarhar province and is a rival of the Afghan Taliban and al Qaeda.
Pakistani security analyst Mahmood Shah told the AP that breakaway TTP factions could also have been behind the weekend attack, to cause "confusion, instability and unrest ahead of the elections."
The bombing drew nationwide condemnation, with both ruling and opposition parties offering condolences to the families of the victims.
The U.S. Embassy in Islamabad also condemned the attack.
Sunday's bombing was one of the worst attacks to hit northwest Pakistan since 2014, when 147 people, most of them school students, were killed in a Taliban attack on an army-run school in the city of Peshawar.
In January, a bomb blast tore through a mosque in Peshawar killing at least 74 people, and the next month more than 100 people, mostly police, were killed in a bombing at a mosque inside a police compound in the same city.