Internet users react to a Pakistani guy begging for money on a flight by saying, "Maangne mein world champions hai."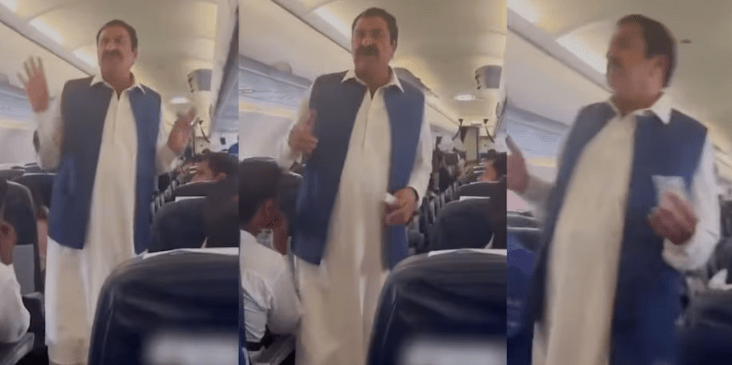 A video capturing a Pakistani man begging for money from fellow passengers on a flight has been widely shared on social media, attracting significant attention. The incident has gained particular significance as Pakistan grapples with a major economic crisis.
Notably, Pakistan's top leadership, along with their military, has recently sought funds from the International Monetary Fund (IMF) and other friendly countries. The nation approached the United Arab Emirates (UAE) and Saudi Arabia for financial assistance as it faced deepening economic woes.
However, the man in the video claims that he is not begging but rather soliciting donations. He emphasises that he is seeking funds to build madrasas in Pakistan and invites individuals willing to contribute to do so.
This incident sheds light on the challenging economic conditions in Pakistan, where people are struggling to afford basic necessities such as food. Even the government finds itself compelled to seek financial aid, either from the IMF or other friendly nations.
The viral video of a Pakistani man asking for donations on a flight has not only captured widespread attention but has also ignited a wave of humorous commentary on social media platform Twitter. Netizens took to Twitter to share their witty and light-hearted remarks on the incident, adding a touch of humour to the situation.
One user wrote, "#Pakistanis at it yet again. Is this acquired talent or does it come naturally to them. A man 'begging' in a flight or seeking 'contribution' as he calls it."
Interestingly, this is not the first time such a video has emerged from Pakistan. In 2018, another viral video showcased a frail man begging for money on a flight, with the crew attempting to prevent him from doing so. The incident elicited sympathy for the man from some quarters, while others used it to comment on Pakistan's embarrassing situation.
Meanwhile, Pakistan is set to hold elections later this year. Prime Minister Shehbaz Sharif has announced that the current parliament's term will conclude on August 14, after which an interim government will assume power before the scheduled elections.
Prime Minister Shehbaz highlighted that the country received $3 billion in aid from the IMF, which helped avert the risk of default. He also criticised the previous government, stating that they had violated the IMF agreement, leading to the country's financial turmoil.