Camels for Eid have few customers as Pakistan experiences record inflation.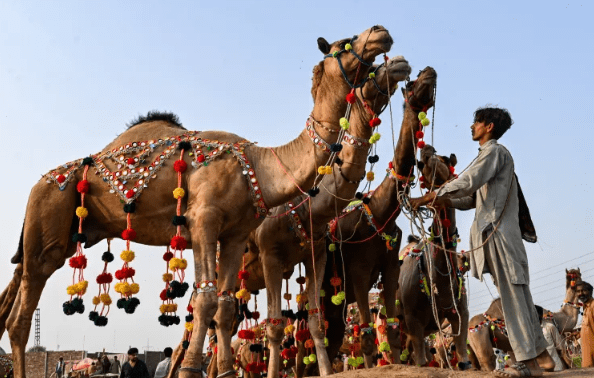 "While our income is the same, prices are quite high. Where would we acquire that kind of cash? Builder Ali Akbar, the customer, inquired in his 46th year.
Zerak Ali, a different client, arrived to inquire about the cost of a camel, which might run as much as 1 million rupees ($3,500).
"It is worth 700,000 [rupees] for you," Zakaria haggles. However, Ali, a 56-year-old shopkeeper, departs, guiding his two grandkids toward the pen containing less expensive bulls.
Lahore livestock market vendors getting ready to transport sacrificial animals for Eid in Pakistan [Arif Ali/AFP]
Although camel sacrifice is uncommon in Pakistan, some affluent customers prefer the animal because, according to Islamic law, 11 households may split its flesh.
The Islamabad market has received thousands of bulls, cows, goats, lambs, and more than 250 camels.
Goats are priced between 50,000 and 150,000 rupees ($175) whereas bulls may cost up to 500,000 rupees ($1,750).
Market taxes, increased feed and truck rental costs, as well as employee pay, reduce Zakaria's profitability. He gloomily forecasts, "I'll lose millions of rupees this year." Pakistan hurriedly enacted a recent flurry of policy changes in an effort to secure the outstanding money under the Extended Fund Facility (EFF) program inked in 2019, including a revised budget requested by the IMF and an off-cycle increase in interest rates.
With little time left, Finance Minister Ishaq Dar said on Tuesday that the two parties were attempting to come up with a "mechanism" to guarantee Pakistan received the whole $2.5 billion and not just the roughly $1.1 billion owed under the current review.
Dar made no more mention of the method.
Pakistani camels for Eid
Customers see 'henna'-decorated sacrifice camels at a cattle market outside of Islamabad. AFP/Aamir Qureshi
The ninth review is appropriate in light of recent revisions, but Pakistan is eager to obtain the full amount that hasn't been paid, which can only happen under a new program, according to a report in the Express Tribune daily, which cited sources.
According to the report, IMF Managing Director Kristalina Georgieva and Prime Minister Shehbaz Sharif spoke about establishing a new standby agreement (SBA) for $2.6 billion for a brief period of six months.
The SBA was one among the options proposed to access outstanding monies when the EFF expired, according to Pakistan's Dawn newspaper.
The South Asian country, which is in desperate need of foreign finance, has budgeted $2.5 billion for IMF assistance, which will also be essential to opening other financial doors.
The lender said that it was undertaking discussions with the goal of "quickly reaching an agreement on financial support from the IMF" on Tuesday, when Sharif stated that he anticipated an agreement in a day or two.
A farmer from the northwest of Pakistan named Bakht Zaman claims to have taken 10 camels to market so far, but has only sold one for 500,000 rupees.
Buyer Haq Nawaz claims that "the value of the Pakistani rupee has decreased." Who will purchase such pricey animals?
Teenager Amanullah Khan teeters on his tiptoes, daubing towering camels with festive henna patterns to entice Eid al-Adha customers at a market near the Pakistan capital.
Hundreds of farmers have camped at livestock markets across Pakistan for weeks, hoping to sell animals before the annual holy festival, starting on Thursday.
But with rampant inflation – reaching a record 38 percent in May – markets are attracting smaller crowds.
The Muslim festival begins a day before the deadline for Pakistan to secure a $6.5bn bailout programme with the International Monetary Fund (IMF) expires on June 30.
Local media reports on Wednesday said the Pakistani government is discussing a $2.5bn "standby arrangement" for six to nine months with the global lender to prevent a default.
'Prices are sky high'
Khan's cousin Zakaria brought 18 camels to market after good profits last year but has sold only one so far.
"People's purchasing power is over. Customers are not coming to the market, and those who come prefer to return empty-handed due to the high prices of the animals," Zakaria, 21, told the AFP news agency.
During the festival, Muslims around the world will slaughter an animal – a goat, sheep, bull or camel – keeping a third for themselves before giving a third to friends and relatives, and a third to charity.
The ritual commemorates the readiness of Ibrahim – Abraham in the Christian and Jewish faiths – to sacrifice his son to show obedience to God.
The centuries-old festival is guided by tradition. But this year, many middle-class Pakistanis will not be able to perform a sacrifice.