Award-winning environmentalist in Pakistan encourages female cotton pickers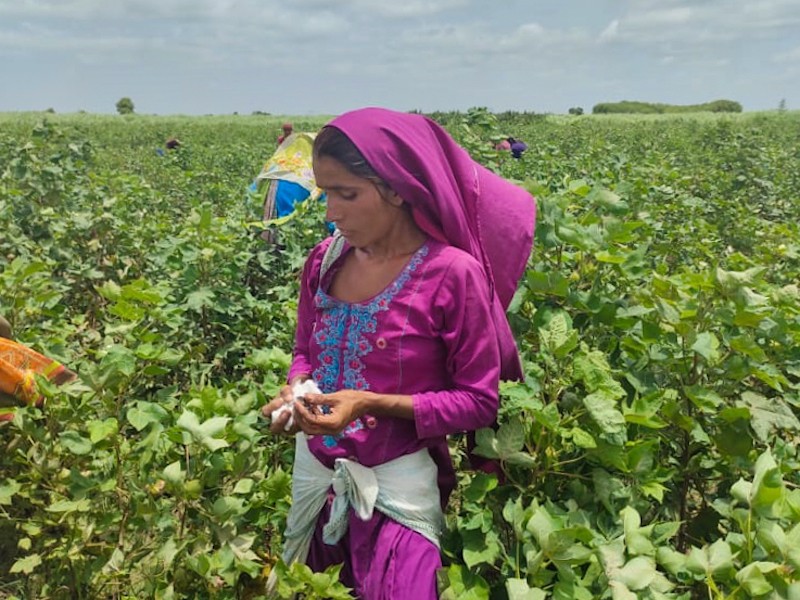 Pakistan is the fifth-largest cotton grower in the world, and all of the country's cotton is produced in the two provinces of Sindh and Punjab. In Pakistan's Sindh region alone, more than 500,000 women pluck cotton. But due to their poor literacy and numeracy, women typically experience exploitation and are paid disproportionately less by cotton growers.
When Javed Hussain, an environmentalist from Pakistan, won the renowned "Gender Just Climate Solution Award" at the Climate Conference COP27 in Egypt for his initiative titled "Advancing the labor rights of women cotton pickers in Pakistan," he accomplished a remarkable achievement. Hussain has been working relentlessly for years as a Project Lead at the nonprofit Sindh Community Foundation (SCF) to protect the rights of women cotton pickers, who deal with the simultaneous difficulties of severe weather events and increasing temperatures. Javed Hussain was contacted by email by Global Voices to do an interview about his efforts to advance the rights and literacy abilities of Pakistani women cotton pickers. To make it shorter and clearer, the interview has been modified.
GV: Global Voices You are the first environmentalist from Pakistan to get the 'Gender Just Climate Solution Award'. Tell us about your path to international acclaim.
Javed Husain (JH): The prize was granted in honor of stepping up efforts to address climate change. This involved developing a training curriculum on climate awareness, climate justice, and labor rights defense for female farm workers. Only three groups were chosen for recognition by The Women and Gender Constituency, UNCTCN, and Women Engage for a Common Future out of 259 organizations from 119 countries, including Pakistan, who submitted their bids for the awards.
GV: Tell us about your initiatives with Pakistani women cotton workers.
JH: In the Matiari District, a prominent cotton-producing area in Pakistan's Sindh province, the Sindh Community Foundation (SCF) is committed to safeguarding and enhancing the working conditions of women cotton workers. The initiative aims to increase reading levels, human rights knowledge, and networking possibilities for cotton picking women so they can negotiate better pay and working conditions. The initiative is being carried out in 10 communities within the region and is being supported by the international aid organization Feed the Minds.
GV: How does SCF promote climate justice for women who work in agriculture?
JH: The principal source of income for almost 1.5 million smallholder farmers is cotton farming. The most widely farmed crop in the nation is cotton, which takes up 15% of the area that is used for agriculture. Over 500,000 women pick cotton in Sindh alone, and 50,000 of them work exclusively in Matiari, hence the burden of the cotton business disproportionately falls on women. They are nonetheless exploited and impoverished despite their sacrifices. Their health is also harmed by the toxic pesticides that are used excessively in their dangerous workplace. Additionally, the negative consequences of increasing temperatures, which may exceed 49 degrees Celsius, have had a significant negative influence on their general well-being, work productivity, and standard of living. For these employees, occupational health and safety is subpar.
Affected were almost 12 million individuals in Sindh, who were negatively impacted by the recent floods. To successfully address the climate catastrophe, these individuals lacked the adaptation expertise and climate literacy needed. The Sindh Community Foundation (SCF) has taken proactive steps to address these problems by developing climate change awareness in five villages within the Matiari area. Through these initiatives, SCF has reached out to 359 female cotton workers who live in these communities both directly and indirectly. Following the training, SCF discovered that the female cotton workers were more self-assured, had improved adaptability skills, had safer working circumstances, and were more engaged in efforts to adapt to climate change.
GV: Could you kindly explain how SCF implements its projects using a feminist participatory action research approach?
JH: The Sindh Community Foundation (SCF) supports the demands of female agricultural workers, especially cotton pickers, to campaign for better working conditions and health services in response to increasing temperatures by using a Feminist Participatory Action Research (FPAR) strategy. The Foundation, which is based in Pakistan's Matiari District, created a cutting-edge advocacy approach combining social and climate justice with the goal of enhancing climate adaption strategies. Establishing a training program to provide 100 female farm workers with information on climate awareness, climate justice, and labor rights protection is a primary goal. SCF's ultimate goal is to persuade decision-makers to put the Sindh Agriculture Women's Protection Act of 2020 into effect.
SCF conducted training courses using the feminist participatory action research methodology to empower women leaders. During these sessions, participants participated in focus groups with female cotton workers. At the advocacy level, we engaged with decision-makers to advance climate safety, enhance working conditions, safeguard occupational health and safety, and provide employees with health insurance and protection. The consequence was the passing of the Sindh Women Agriculture Workers Protect Act 2020 by the Sindh government. Despite significant delays in the act's execution, we could modify a policy if we spoke with one voice.
GV: What are your long-term goals for stepping up Pakistan's climate adaption efforts?
JH: We are committed to enhancing the knowledge and adaptability of female cotton workers in Sindh as well as their climate resistance.
By establishing 600 literacy centers, our project intends to empower a sizable number of women, with around 30,000 people receiving literacy training as a result. Along with enhancing basic literacy, these centers will raise awareness of workplace health and safety, increase climate literacy, and support programs to reduce poverty off-season. Similar to this, we continue to put emphasis on starting a women-led movement for climate justice, gender change, climate justice, and resilience, as well as protecting the labor rights of female cotton workers. Advocacy for the execution of laws, commitments to policies, social safety nets, and alignment with the Nationally Determined Contributions (NDCs) is another crucial component.