More than 100 Pakistanis have been prosecuted in military tribunals over the May 9 violence.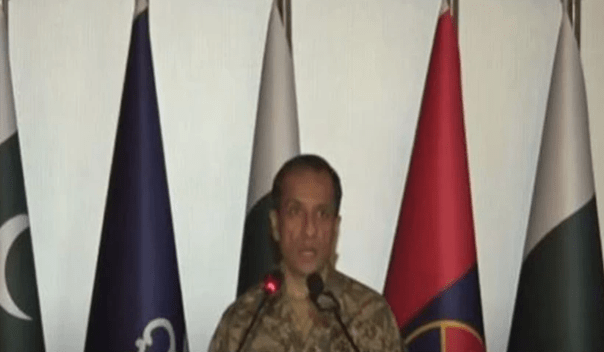 According to Maj-Gen Ahmed Sharif, director general of Inter-Services Public Relations (ISPR), up to 102 persons are now being prosecuted in military tribunals for their roles in the May 9 violence in Pakistan, according to the news source Dawn. The military's "self-accountability process" investigating the incidents, he said, resulted in the dismissal of three army leaders, among them a lieutenant general.
It has to do with the unrest that followed Imran Khan, the leader of the Pakistan Tehreek-e-Insaf (PTI), being detained on May 9 in connection with the Al-Qadir Trust case. Maj-Gen Sharif said at the press conference that the army had finished its process of "self-accountability," adding that two thorough investigations into the violent incidents that occurred at army garrisons on May 9 Dawn reported were performed by major generals.
"Disciplinary procedures were started against individuals who failed to maintain the security and honor of garrisons, military sites, Jinnah House, and General Headquarters after a careful accountability process, keeping the requirements of in-court enquiries in mind. "Three officers, one of whom is a lieutenant-general, have been demoted. Three major generals and seven brigadiers were the targets of strict disciplinary actions, he said.
According to Sharif, these punishments demonstrated that accountability in the Pakistan Army was carried out without regard to rank or social standing. "As of right now, a granddaughter of a retired four-star general, a retired four-star general's son-in-law, a retired three-star general's wife, and a retired two-star general's wife and son-in-law are facing this process of accountability due to irrefutable evidence," the statement said.
Maj-Gen Sharif said that standing military courts were in operation and that "trial of 102 miscreants is underway and this process will continue" while referring to cases under the Army Act. The DG ISPR said that the accused facing trial in military tribunals are fully protected by the law, including the ability to file an appeal with the Supreme Court and high courts.
He said that these individuals will experience "penalties" according to their crimes. The Pakistan Army has repeatedly decided that the Constitution is sacrosanct to us and a representation of the will of the people, he added.
Maj-Gen Sharif said that the "narrative" around claims of human rights abuses against people in jail or prison was produced via phony films and images shared on social media. "False statements are posted to give the impression that the State of Pakistan is engaging in torture, and within a short period of time it became evident that these videos and audios were fake," he stated.
Additionally, he said that similar stories have been made up in the past and that "such voices typically come from outside the country." However, Sharif said, "There are also instances when groups from inside the nation support these assertions. Typically, these elements are terrorist organizations who cover their tracks when confronted with legal action by claiming that human rights have been violated.
According to Geo News, the government decided to try civilians in military tribunals after people allegedly connected to the Pakistan Tehreek-e-Insaf (PTI) attacked military outposts on May 9 in protest over the party president's imprisonment. Imran Khan and a number of other past and present party officials had non-bailable arrest warrants issued by a Lahore Anti-Terrorism Court in connection with the May 9 riots, according to Dawn.
After the PTI head was detained by the National Accountability Bureau in the Al-Qadir Trust issue, riots broke out, resulting in at least eight fatalities and over 290 injuries.