Eid Al Adha 2023: Pakistan's first livestock market run by women raises the bar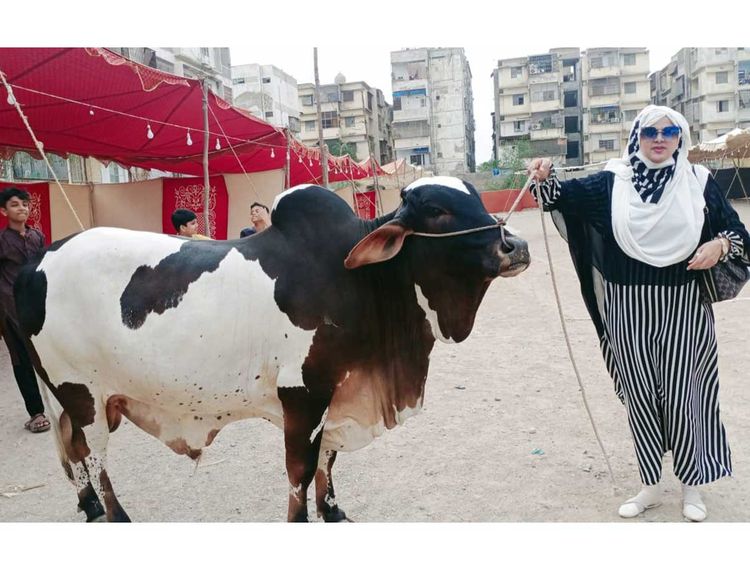 In rural Pakistan, women have long been engaged in animal rearing but they are often excluded from the selling process. However, this trend is expected to change soon. A first-of-its-kind cattle market exclusively run by women vendors in Karachi city has opened its doors in the Shadman Town of Karachi city ahead of Eid Al Adha. This pioneering market empowers women to confidently participate in the cattle-selling business in a country where livestock markets are mostly crowded by men buyers and sellers.
The 'Ruqya Fareed cattle market' has been named after its organiser, who owns her own cattle farm. "This is the first cattle market set up for women by women," said Ruqya Fareed, an artist and a seasoned livestock trader, whose family is in the business of rearing cattle and goats. She said that the market serves as a vital platform for women whose male family members are residing abroad or not with them for any reason, depriving them of the opportunity to fulfil their religious obligation of sacrifice.
Opportunity for women entrepreneurs
The cattle market offers a transformative space where women can take control of their own livestock trade and reclaim the rewards of their hard work. "This market offers a platform and opens up new avenues for those women who rear sacrificial animals all year but often see someone else reap the benefit of their efforts," said Fareed.
"This market is for all those women livestock farmers who take care of and rear animals at farms or backyards, or on their rooftops or gardens themselves," she said, inviting them all to sell their animals at the women-led cattle market. Some of the women are sole breadwinners but many are helping their families who are in the business of rearing and selling animals.
Women-only cattle market attract families
As the Eid Al Adha festival approaches, cattle markets that are locally called Bakra Mandi have been set up all across Pakistan. This annual spectacle attracts a large number of buyers who can be seen negotiating prices and inspecting the finest goats, cows, sheep and camels, adorned with colourful accessories.
However, this women-led cattle market in Karachi stands out as the only one that is designed to be women and family-friendly. Among the key attraction at the market were a gorgeous white bull named 'Babloo' and a red cow named 'Laali' that attracted potential buyers and especially kids who were seen petting the animals.
Hira Shams, a customer, expressed her delight at the diverse range of livestock. "I am thrilled to personally select our sacrificial animal. Previously, we were deprived of this experience as only our male family members used to go to cattle markets". She added that it is a refreshing change to see women leading the way. Another satisfied buyer shared their experience, saying: "Initially, the vendor asked for Rs 55,000, but after some bargaining, we managed to purchase the goat of our choice for 40,000."
Bargaining special discount for women buyers
With Eid just around the corner, the market is buzzing with families busy choosing their sacrificial animals, reflecting the festive spirit and traditional customs associated with Eid Al Adha.
Rani, a vendor hailing from Karachi, has already sold 12 goats in less than a week, with prices of her goats starting from Rs 50,000. Taking charge of her father's business following his demise, she is one of the first women vendors in the market.
At the Shadman Town cattle market, women have the freedom to choose animals themselves at bargain prices. Ruqya Fareed, the market organizer, said the rates are reasonable and that they have "special discounts exclusively available for women buyers." The response has been "overwhelming" and "we recently sold a remarkable batch of 50 goats in one go", Fareed said. "Some animals are en route from Punjab and will be delivered directly to customers' homes" she added.
With women at the forefront, this unique cattle market not only celebrates the spirit of the Eid Al Adha festival but also serves as an example of the potential of women in Pakistan.