US legislators urge that Blinken handle Pakistan's human rights concerns.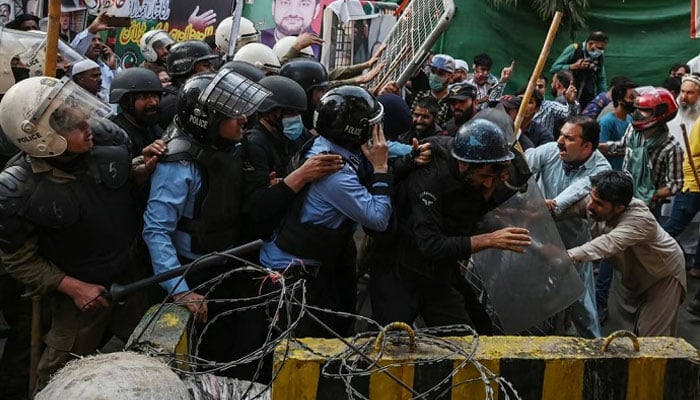 In a letter, more than 60 US congressmen urged Secretary of State Antony Blinken to put pressure on the Pakistani government to address the country's deteriorating human rights situation.
Following the efforts of the Pakistani-American Political Action Committee (PAKPAC), the letter was drafted. 65 additional politicians who are very concerned about Pakistan's human rights violations and democratic backsliding signed the letter, which was co-written by Congresswoman Elissa Slotkin and Congressman Brian Fitzpatrick.
On May 9, the day that the nation saw violent demonstrations, Khan—who had been removed as prime minister via a no-confidence motion in April of last year—was taken into custody. He was imprisoned in connection with the Al-Qadir Trust corruption investigation, but a judge eventually ruled that his detention was illegal and released him bail.
At least ten people were killed and several more were wounded during the violent demonstrations, while hundreds of PTI employees were also detained by the government in addition to the party officials.
The letter's timing is critical since it comes only a few days after the arrest of former prime minister Imran Khan, which sparked widespread disorder and sizable rallies throughout the country.
These events have worried the Pakistani-American community, who are calling for quick action to defend Pakistan's democratic institutions, independent judiciary, press freedom, and human rights.
The PAKPAC National Board President, Asad Malik, emphasized the need of bipartisanship at this pivotal time for Pakistani democracy. He applauded party members from all sides for banding together to voice their concerns and preserve the core values they cherish.
He emphasized that the letter's bipartisan support demonstrates the elected officials' unshakable dedication to protecting democracy and human rights, which transcends party divisions.
The letter written to Secretary Blinken emphasizes how urgent it is for the United States to demand that Pakistan stop regressing toward democracy and stresses the need of taking decisive action to protect human rights, freedom of expression, press freedom, and the rule of law.
The PAKPAC applauded the members of Congress who signed the letter and shown extraordinary leadership and devotion to democracy and human rights. Their dedication to defending Pakistan's democracy and human rights is proof of the effectiveness of group effort.
Over 2,000 Pakistani Americans were inspired by the PAKPAC to write to their individual members of Congress in the last three weeks, pleading with them to endorse the letter and push Secretary Blinken to hold the Pakistani government responsible for its deeds.
The letter claimed that the Pakistani American community's grassroots organizing illustrates both its expanding political impact and its capacity to be heard via civic activism.
Calling on Secretary Blinken and the US government to provide unflinching support to guarantee a bright and democratic future for Pakistan, the PAKPAC and the Pakistani American community remain steadfast in their pursuit of justice and democratic principles.