Is General Munir thinking of a coup?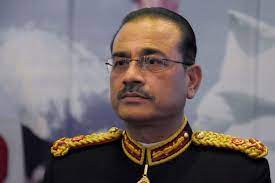 Pakistan is today a step away from a military coup with the army summoned to maintain law and order in Punjab following the arrest of former Prime Minister Imran Khan.
Khyber Pakhtunkhwa has also asked for military assistance. Sindh has issued ban orders. Several big cities, like Rawalpindi, Lahore, Quetta and Peshawar, have been witnessing unprecedented violence following the arrest. There are reports of mob attacks on military installations. Fear and doubt reigns across Pakistan.
There is clear indication of an increasing panic within the top army leadership. This was reflected in an unprecedented statement issued by the ISPR on the arrest of Imran Khan, calling the events of arson and violence that followed the arrest as a "dark chapter" in the history of Pakistan. The spokesperson admitted that army properties and installations were targeted and anti-army slogans were raised. The statement warned of a conspiracy to push Pakistan into a `civil war`.
Earlier, the army had been quick to send out the message that it was not behind the former Prime Minister's arrest, a clear sign that it was. The army had been waiting for a chance to contain Imran Khan's ceaseless campaign against the top leadership, including the present army chief. Khan has been relentless in his criticism of the retired chief, General Qasim Javed Bajwa, and even called for his court martial. A couple of years ago, Khan and Bajwa were on the `same page`; both fell out in 2021 end, resulting in the unceremonious ouster of Khan as the Prime Minister.
The army's denial carries no weight as the present National Accountability Chairman is a former Army General, Lt Gen (retd) Nazir Ahmad who has held key positions including that of Peshawar Corps Commander. He was appointed in March this year, with the obvious concurrence of General Asim Munir. NAB has been used in the past as an instrument to punish political leaders like Nawaz Sharif.
The army has taken over reigns under less troubled times in the past and remains alert to the possibility of taking charge if everything else fails. The arrest of Imran Khan under dramatic circumstances is one such turn in the tumultuous cycle of events that have been keeping on the teetering edge of disaster for over a year now.
Former Prime Minister Shahid Khaqan Abbasi, a few weeks ago, had warned of the imminent possibility of a military takeover if the situation did not improve. Imran Khan's unfolding saga is a turn for the worse, deepening the divide between a large section of the people and the army.
Scenes unfolding in Pakistan today show that Munir has already lost his game on public support. Journalist Asad Ali Toor posted a complete video of PTI protesters moving towards a military commander's house in Lahore, breaking furniture and damaging the house. The video termed the house belonged to Corps Commander's. But it was not so–it was a military guest house.
Another journalist, Mariana Babar wrote that spontaneous reaction from Khan supporters included very ordinary citizens including women trying to break open GHQ maingate at Rawalpindi. But, she wondered, why these protesters did not face resistance at any of the military installations. It could be part of a calculated plan.
Well known South Asia expert, Michel Kugelman said "public fury was being directed at the Army on levels that haven't been seen in a very long time." He wrote that images of people storming and burning military property would have been unthinkable a few years ago. Could it mean that Munir will take the ultimate step of calling out the Coup Brigade, Brigade 111, sooner ?