Arrest of former prime minister Imran Khan in Pakistan Deepens Political Crisis – OpEd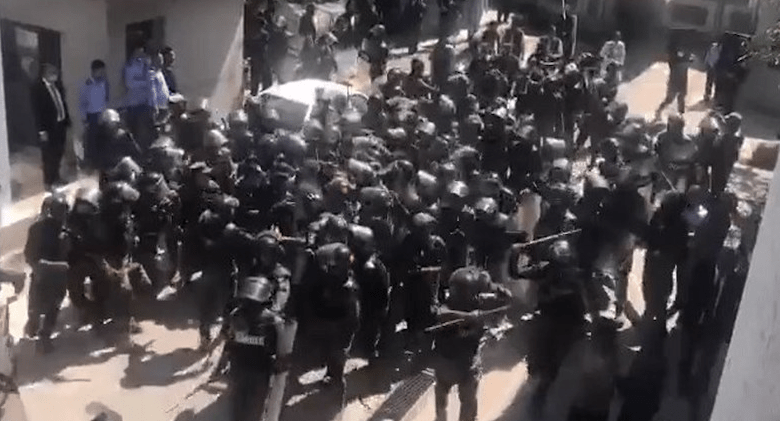 Imran Khan, the leader of Pakistan's biggest opposition party and a former prime minister, was detained by paramilitary forces on Tuesday on suspicion of corruption, precipitating a political crisis in the nation. His supporters have called for widespread demonstrations and denounced the detention as the result of a "political vendetta" by the military and the present administration.
Imran Khan, who was removed from office in April 2022 after losing a vote of no confidence in parliament, has been at the forefront of a popular campaign against the military and the government, accusing them of conspiring to get rid of him, engaging in massive corruption, and meddling in political affairs. If he comes back to power, he has also threatened to hold them accountable for their crimes.
The anti-corruption and other authorities have brought many graft charges against Imran Khan, which he claims are politically motivated and unfair. He is suspected of selling presents he received from foreign dignitaries while in government unlawfully, which he denies. In addition, he has disobeyed various arrest orders that have been issued against him and engaged in several altercations with both the police and his followers.
In Pakistan, Imran Khan is largely regarded as a sincere leader and an advocate against corruption. In addition, he founded and serves as the party's head, Pakistan Tehreek-e-Insaf (PTI), which the most recent polls indicate is the nation's biggest political party. He was a former cricket player who captained Pakistan to the World Cup victory in 1992. He afterwards turned to philanthropy and social activism. His honesty, charm, and commitment to a wealthy and democratic Pakistan are well recognized.
The brother of previous Prime Minister Nawaz Sharif, who was also ousted from office in 2017 on corruption accusations, Prime Minister Shehbaz Sharif leads the coalition government of Pakistan now. A delayed IMF rescue program, a revenue shortage, a severe economic crisis, high inflation, low foreign reserve levels, and escalating militancy have all been challenges for the administration.
In addition, the administration and Supreme Court are locked in a constitutional impasse over the conduct of Punjab provincial elections, which might lead to legal action against the government. Two prime ministers have previously been dismissed by the court.
Imran Khan was apprehended a day after the military made an unusual statement condemning him for leveling accusations against an active-duty officer. For more than 30 of Pakistan's 75 years of existence, the military has held power and often meddled in domestic politics. Political turmoil has been followed three times by military coups.
People from all walks of life are outraged by Imran Khan's imprisonment and have come to the streets to protest and call for his release. To further cripple the nation, they have also called for a countrywide strike for Wednesday. The administration has sent out security personnel to uphold the rule of law and has issued warnings against any acts of violence or unrest.
The political crisis in Pakistan has alarmed Pakistan's partners and neighbors, who worry that unrest and bloodshed may have an impact on cooperation and regional security. The United States, China, Iran, Afghanistan, and other nations have encouraged all sides to exercise caution and engage in discussion in order to find a peaceful and democratic solution to the crisis.
Pakistan's political crisis has brought to light the nation's problems—corruption, extremism, intolerance, poverty, and inequality—as well as its opportunities—for democracy and prosperity. The authorities of Pakistan should respect the will and aspirations of their people and provide greater governance and accountability.
However, a lot of commentators think that Pakistan's army, which has been meddling in political affairs unlawfully and beyond its authority, is really in charge of the country's political unrest. Imran Khan is not the preferred candidate for prime minister by the army because of their hidden agenda. The nation is on the verge of bankruptcy as a result of army meddling.
Imran Khan has established a government with the backing of the army and exposed the corruption of all parties that have banded together to oppose him. These parties' coalition administration is engaging in unprecedented levels of corruption while remaining untarnished by court-registered charges of wrongdoing.
Nawaz Sharif, Shahbaz Sharif, Asif Zardari, and other members of the current administration have been shown in court to have transported billions of money obtained via corruption to other nations.
The current situation is mostly due to corruption perpetrated by former army head General Bajwa. During his tenure in power, he has accumulated fortune via the vast family business empire. By keeping tight links to China and India, he has further attempted to have an impact on foreign policy.
The army's effort to quiet Imran Khan and his followers, who are calling for justice and responsibility from both civilian and military officials, is considered as the reason behind Imran Khan's incarceration. The Imran Khan party has pledged to keep fighting until he is freed and Pakistani democracy is restored.