China promises to assist Pakistan in overcoming its economic difficulties.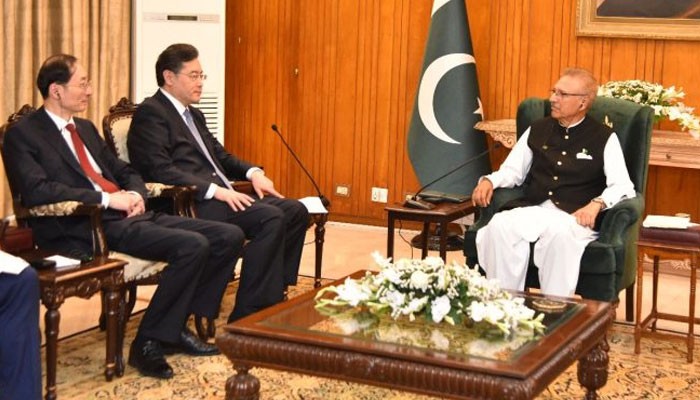 Foreign Minister of China Qin Gang said on Friday that his nation was aware of Pakistan's economic challenges and that aiding Islamabad was a top concern for his nation.
He said so while speaking with President Dr. Arif Alvi at the Aiwan-e-Sadr. Both parties underlined throughout the conference their commitment to cooperating to further regional peace and development and to cooperatively address external concerns.
For the mutual benefit of the two nations, both parties emphasized the need to further promote and deepen bilateral cooperation in the fields of commerce, economics, culture, and defense.
To further strengthen bilateral relations, the two parties also advocated for boosting bilateral exchanges, people-to-people interactions, and collaboration in the industries of culture and tourism.
At the meeting between the president and the dignitary who was in town with members of his entourage, the bilateral issues were also covered.
Senior government representatives from Pakistan and China also attended the meeting, along with Secretary of State for Foreign Affairs Hina Rabbani Khar and Vice Minister of Foreign Affairs Sun Weidong of China.
Speaking at the event, the president said that ties between Pakistan and China were built on mutual trust, understanding, and goodwill, and both sides strongly backed one another on important issues. In view of recent events in the regional and global spheres, he emphasized that Pakistan-China collaboration was taking on even greater importance.
The completion of the China-Pakistan Economic Corridor (CPEC) and the opening of the Gwadar port, according to President Alvi, would significantly promote bilateral commerce while also improving regional connectivity and trade.
In order to protect the security of the Chinese employees working on different CPEC projects, he promised that Pakistan will take appropriate action.
He expressed hope that the recent opening of the Khunjerab Pass will make it easier for products to go from Xinjiang to Gwadar and vice versa.
The President emphasized the need for more economic and commercial cooperation, especially in the agricultural and IT sectors, and he said that Chinese companies could profit from Pakistan's policies that are welcoming to business and investment.
He voiced worry over India's intention to host G-20 Summit activities in Indian Illegally Occupied Jammu and Kashmir (IIOJK) and described it as an effort on India's behalf to deflect attention from the situation on the ground and the atrocities committed against the residents of IIOJK. He said that Pakistan backed China in all of its major disputes, such as the South China Sea, Taiwan, Tibet, Xinjiang, and the "One-China policy."
Additionally, he was grateful for China's assistance amid Pakistan's catastrophic floods and the COVID-19 outbreak last year.
According to Chinese FM Gang, the relationship between China and Pakistan is "as solid as a rock" and the two nations are "all-weather friends."
According to him, Pakistan and China needed to further deepen and enhance their bilateral cooperation in light of how quickly the world was changing in order to address new regional and global concerns. He urged forging on with collaboration in all areas of shared interest, particularly on initiatives of strategic significance.