10 Hindu households with 50 members each convert to Islam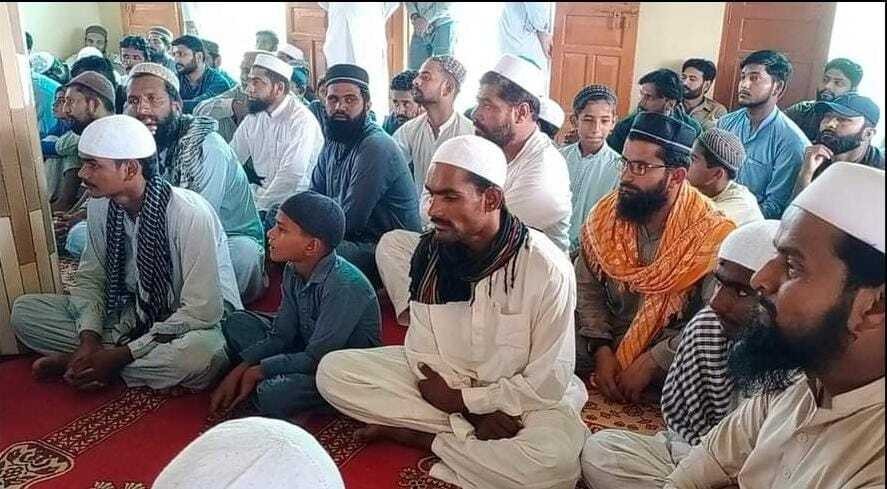 The Express Tribune discovered on Thursday that at least 50 members of ten Hindu households living in various parts of the Mirpurkhas division had converted to Islam.
Son of the Minister for Religious Affairs, Senator Muhammad Talha Mahmood, Mohammad Shamroz Khan, attended the event at the neighborhood seminary Bait-ul-Iman, New Muslim Colony.
One of the organization's managers, Qari Taimur Rajput, verified to The Express Tribune that 50 members of 10 households had converted to Islam.
All of them voluntarily converted to Islam. No one has coerced them, according to Rajput, who quoted Khan. At the conversion ceremony, which was attended by numerous locals, he allegedly asked the new converts whether they had made the decision voluntarily. Rajput stated that the converts would reside in a local facility created in 2018 just for the newly converted Muslims.
The organization will supply the new converts with clothing, food, and medication throughout their four-month stay at the center, where they will study and learn their new faith.
According to Rajput, hundreds of individuals have converted to Islam during the last five years. "We extend all possible support that these people need," Rajput said.
Additionally, he said that only families were converting to Islam. "We do not convert an individual as that could create issues," he said.
Rajput stated that when the converts have spent four months at the center, they would be free to go anywhere they choose.
Hindu campaigners, on the other side, voiced their sorrow and anger at the widespread conversions. Faqir Shiva Kucchi, a Hindu activist who speaks out against the practice, expressed his rage by claiming that "it seems that the state is involved in these conversions."
He continued by saying that for the last five years, people of the neighborhood community had been pleading with the government to pass laws outlawing the practice.
The federal minister's son is involved in the conversion, he claimed, adding that this is a big problem in Sindh that has to be addressed.
"We [Hindus] are all really concerned about it. We are feeling powerless right now, he remarked.
The majority of converts, according to Kuchhi, were poor and the local religious authorities took advantage of their situation.
"They offer them financial support and convert them easily," he said.