Residents of Jammu and Kashmir are pouring billions into Pakistan ahead of the G20 despite the country's economic problems.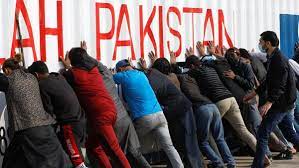 In the midst of an ongoing economic crisis, scores of Jammu and Kashmir inhabitants are allegedly investing billions in their nation, according to a Pakistani news story.
In the midst of Jammu and Kashmir's preparations to host the G20 meeting, a Pakistani news story asserts that J&K citizens are sending billions of rupees to Pakistan, despite the latter's severe economic difficulties.
In spite of the country's devastating financial crisis, inhabitants of Jammu and Kashmir are reportedly spending billions of rupees in Pakistani cities like Islamabad, Karachi, and Lahore, according to the local media outlet Siasat.
The Pakistani media outlet also said that due to the country's extensive mafia presence, many investors are also losing money left and right. This is immediately after the G20 summit, which is the first major international event scheduled to take place in Jammu and Kashmir.
Furthermore, according to the Pakistani dialect Siasat, organized groups have recently killed dozens of Kashmiris in the Valley, but the Pakistani, Gilgit-Baltistan, and PoK authorities have refrained from prosecuting the perpetrators.
These allegations, however, are solely based on the information published by the Pakistani media and have not been validated by the Indian media or authorities.
Pakistan's economic crisis began in 2022, and the country's citizens are still struggling with exorbitant food, gasoline, and oil costs. Political upheaval in the nation and increased gasoline costs as a result of the Russia-Ukraine conflict were the two main causes of the economic crisis.
This year's Ramadan festivities in Pakistan were also severely hampered by the terrible economic situation, which prevented many families from fully observing the holiday because of astronomically high food costs.
In the meanwhile, the Centre made a historic decision to have part of the G20 summit's festivities held in Jammu and Kashmir in an effort to show the world that life had returned to normal in the Valley years after Article 370 was removed from the Union Territory.