Eid festivities are impacted by Pakistan's 47% all-time high inflation rate.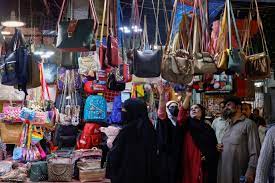 By the week ending April 19, 2023, Pakistan recorded a rise in inflation based on the Sensitive Price Indicator (SPI) of 47.23% on an annual basis. Many Pakistanis have found it difficult to purchase necessary items during the Eid celebrations due to the high inflation rate.
According to a report by pkrevenue, data from the Pakistan Bureau of Statistics showed that prices for wheat flour climbed by 144%, high-speed diesel by 103%, tea by 104%, potatoes by 99%, bananas by 98%, eggs by 99%, and gas by 108%.
Many citizens in the crisis-stricken nation are reducing their non-essential spending and exploring alternative strategies to save money on necessities. According to economists, the present high costs are the result of a number of variables, including the supply side's highest-ever shipping cost.
To unlock the International Monetary Fund (IMF) rescue package, the federal government has been implementing strict measures including raising gasoline costs, electricity tariffs, removing subsidies, switching to a market-based currency rate, and increasing taxes.
The financial promises from Saudi Arabia and the United Arab Emirates helped the country get closer to IMF assistance and prevent a default.
To make sure Pakistan has met the requirement of securing the $6 billion finance to achieve a staff-level agreement, the lender is still looking for further guarantees.
The discussion between the Pakistani team and IMF officials resulted in an agreement on the need of maintaining strong financial policies and securing enough finance, according to Nathan Porter, the IMF's mission chief in Pakistan.
In order to open the rescue package, he said, the IMF is eager to have crucial financial guarantees as quickly as possible.
In response to recent comments from the IMF, Pakistani Prime Minister Shehbaz Sharif stressed that his nation has now satisfied all of the financial organization's "tough" requirements and that there is "no justification" for delaying the state-level agreement at this time.
"Pakistan was not created to run on debts and act like beggars because their forefathers and different generations had given sacrifices for the motherland," PM Shehbaz said.