Inflation and haphazard wheat distribution are to blame for the stampede in Pakistan.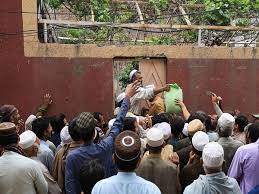 Due to the unorganized distribution of free flour, there have been several stampede occurrences around Pakistan, which have resulted in the deaths of numerous inflation-affected individuals who congregated to receive food.
According to the Dawn, there have been several stampede situations around Pakistan as a result of the haphazard distribution of free flour, which has caused many inflation-affected individuals who flocked to collect food to pass away.
A big group of individuals affected by inflation came to a plant to acquire flour, but owing to the rush, the majority of them ultimately ended up at the morgue.
On Friday, heartbreaking sights were seen as the remains of those who had died in the SITE industrial disaster were laying across stretchers in the morgue of the Abbasi Shaheed Hospital and their loved ones were grieving their loss.
The morgue was filled with a horrible and filthy scent of death. According to Dawn, people were loading the remains of their loved ones into ambulances and transporting them to their homes for funerals.
It is extremely tragic that several fatalities were brought on by inflation and improper distribution of free wheat.
He said that she had gone there to collect free wheat because of the country's soaring inflation while sweating heavily from anxiety.
According to Geo News, a stampede that occurred on Friday during a ration distribution campaign at a factory resulted in at least 12 deaths in Karachi, including 9 women.
Three children were also slain, according to the local police and rescue personnel.
Six individuals also fainted amid the rush, according to rescuers, who told Geo News. A significant crowd had formed at the spot when the ration was being distributed, according to police officials.
Rescue workers reportedly reported hearing about a manufacturing fire that was started by a gasoline leak. Water was also found in the winding streets, which seems to suggest that factory employees tried to put out the fire.
Following the event, Sindh Chief Minister Murad Ali Shah stated on Friday night that each victim of the SITE stampede will get Rs500,000 in compensation for their legal heirs, according to Dawn.
Additionally, he declared Rs. 100,000 for each victim of injury.
The CM instructed the chief secretary to promptly get information on the dead and wounded in order to distribute compensation among them.
According to Dawn, Sindh Information Minister Sharjeel Inam Memon said that the factory administration failed to notify the police or the district administration about the distribution of charity.