India and Turkiye Still Searching for a Breakthrough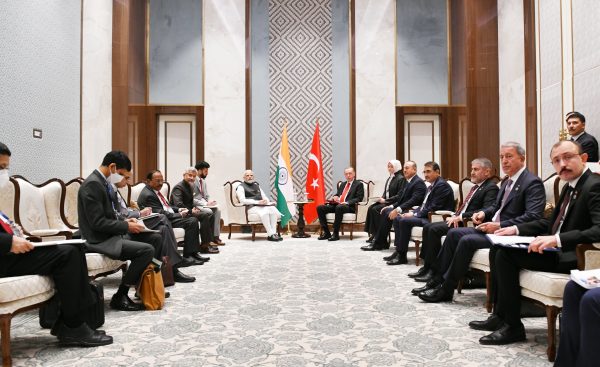 The recent high-level engagements between India and Turkiye (formerly Turkey) were a shift from the past three years of deteriorating relations. On September 16, Indian Prime Minister Narendra Modi unexpectedly met Turkish President Recep Tayyip Erdogan on the sidelines of the Shanghai Cooperation Organization (SCO) Summit in Samarkand, Uzbekistan. Both the leaders discussed the ways to strengthen bilateral relations, in particular giving a thrust to economic cooperation. However, this engagement is unlikely to provide a positive push to the relationship, since India and Turkiye are finding it hard to come out of the pattern that has come to define their relations since the last three years.
After the abrogation of Article 370 in 2019, which abolished the special status of Jammu and Kashmir, India-Turkiye ties have deteriorated. Since then both the countries have countered each other, mostly indirectly, at various international forums.
During his speech at the United Nations General Assembly (UNGA) in 2019 Erdogan raised the issue of Kashmir. To this, Modi responded by holding meetings with the leaders of Armenia, Cyprus, and Greece, three countries with which Turkiye has disputes. Further, Modi was slated to visit Turkiye and Saudi Arabia in October 2019. But he cancelled his visit to Turkiye and visited only Saudi Arabia, thereby sending a message to Ankara about India's diplomatic preferences.
Erdogan again raised the Kashmir issue at the UNGA during his speeches in 2020 and 2021. On these two occasions as well, India slammed Erdogan's remarks. In 2020, India's Permanent Representative to the United Nations T.S. Tirumurti stated that Turkiye first needs to respect the sovereignty and territorial integrity of other nations. In 2021, Indian External Affairs Minister S. Jaishankar met the foreign minister of Cyprus and called for adhering to the United Nations Security Council (UNSC) resolution on Cyprus.
Diplomat Brief Weekly Newsletter N Get briefed on the story of the week, and developing stories to watch across the Asia-Pacific. Get the Newsletter
The same pattern has continued in 2022. Despite his meeting with Modi a week prior, Erdogan brought up the Kashmir issue during his UNGA speech, following which Jaishankar held a meeting with Turkiye's Foreign Minister Mevut Cavusoglu and raised the issue of Cyprus. Jaishankar also met with Greek Foreign Minister Nikos Dendias.
Enjoying this article? Click here to subscribe for full access. Just $5 a month.
The Modi-Erdogan meeting created expectations for the improvement of India-Turkiye ties, but Erdogan's remarks on Kashmir ensured that the expectations were short-lived.
The stalemate in India-Turkiye relations stems from Turkiye's inability to decouple itself from Pakistan and the Kashmir issue and conduct relations with India independently. Turkiye's consistent support to Pakistan, particularly on the Kashmir issue, has been a major impediment in development of India-Turkiye ties. In return for its support over the Kashmir issue, Pakistan has supported Turkiye on the issues such as gas exploration in the eastern Mediterranean Sea and the Armenia-Azerbaijan war.
For Turkiye, support to Pakistan is also a subset of Ankara's rivalry between the Middle Eastern countries. For a long time, Turkiye has been competing with the Arab countries, particularly Saudi Arabia and the UAE, for a leadership position the Muslim world. The growing proximity between Turkiye and Pakistan has thus also been the result of India's strengthening and diversifying ties with the Arab countries in the past one decade. Once Pakistan enjoyed close ties with the Arab countries. But with India gaining prominence in the Arab world, Pakistan drew close to Turkiye. Further, with Saudi Arabia and the UAE supporting India's position on Jammu and Kashmir after the abrogation of Article 370 in 2019, Turkiye has intensified its activities with regard to Jammu and Kashmir.
Turkiye has fast emerged as a hub of anti-India activities. Turkiye follows a three-pronged approach to in this regard – employment of Kashmiri journalists, providing scholarships to Indian Muslims, and funding NGOs in India to influence Indian Muslims. A Turkish NGO, Insan Hak ve Hurriyetleri ve Insani Yardim Vakfi (IHH), has ties with the Popular Front of India (PFI), a controversial Islamic organization that has been accused of promoting radical Islam and maintaining ties with terrorist groups.
Turkiye also encourages radical Kashmiri youth to shift base to Istanbul and Ankara. Moreover, Turkiye-made pistols were recovered from Pakistani terrorists earlier this year.
The Modi-Erdogan meeting at Samarkand had raised hopes for a thaw in bilateral relations. Turkiye is looking for avenues to strengthen its dwindling economy, which improved ties with India would facilitate at least to some extent. As a part of addressing economic concerns, recently Erdogan has sought to mend ties with Saudi Arabia and the UAE.
However, considering Turkiye's record of antagonizing allies and friendly countries such as the United States and the European countries, there is room for doubt as to how long the rapprochement with the Arab countries would last. This implies that Turkiye may not seek to mend ties with India any time soon.