Ron Klain had the perfect résumé. His first year showed the limits of that experience.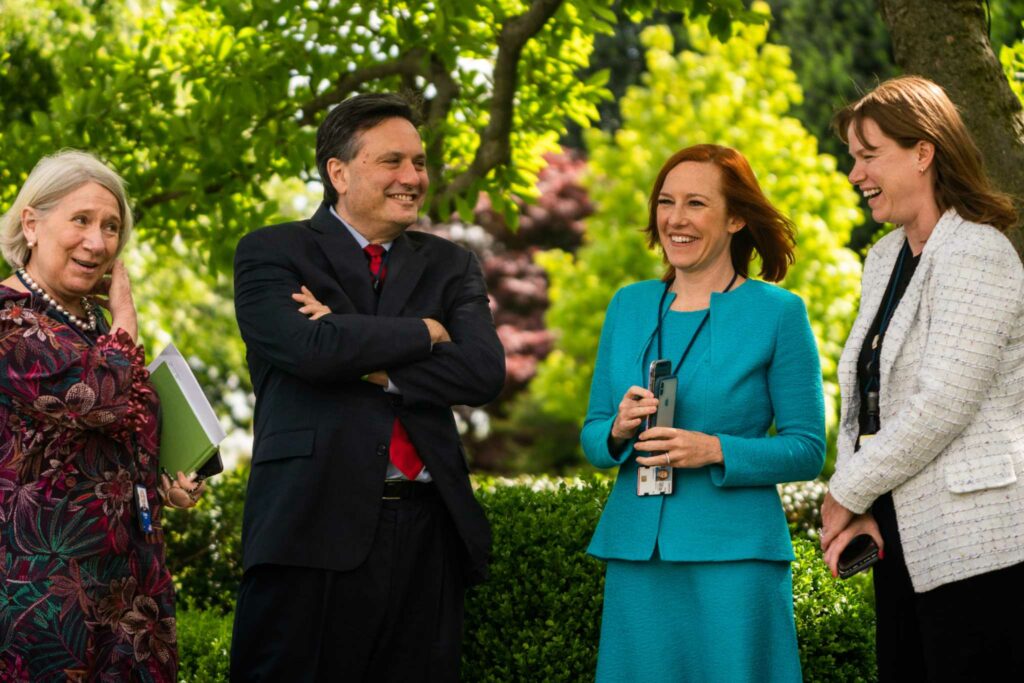 He drew the ire of two key Democrats in Congress, antagonizing Sen. Joe Manchin III (D-W.Va.) and House Speaker Nancy Pelosi (D-Calif.) amid disputes over legislative strategy and policy.
Story continues below advertisement
On the single biggest challenge facing the White House — battling the pandemic — Klain at times irked the administration's top official in charge of the coronavirus response, pushing Jeff Zients and his team to move faster in ways they found counterproductive. (Klain and Zients denied any tension.)
Klain, 60, is praised by many in the White House and on Capitol Hill for his responsiveness and organizational abilities, and most important, is said by close associates of President Biden to retain his confidence. But even some allies suggest that Klain's approach is not necessarily producing the desired results.
"I think that, by and large, he's making the trains run on time — even though some of the boxcars may seem to be empty some of the time," said Sen. Richard Blumenthal (D-Conn.).
Story continues below advertisement
Biden, with Klain's help, secured a $1.9 trillion coronavirus relief bill and a landmark infrastructure package, which Klain's supporters cite as evidence of his effectiveness. But the president also has faced setbacks in taming the pandemic, failed to pass his marquee social spending and climate legislation, and spent much of the year enmeshed in messy congressional negotiations. Along the way, Klain has drawn criticism that he is overly concerned with elite opinion, as reflected in his active Twitter presence, and that he is aligned too closely with Democrats' left wing.
This account of Klain's turbulent year is based on interviews with more than 60 White House and administration officials, Cabinet secretaries, members of Congress and other Klain associates. Many talked on the record, while some spoke on the condition of anonymity to be more candid about sensitive topics and private exchanges.
White House aides have been highly protective of Klain's image. His team arranged interviews for this article with senior West Wing officials whom they rarely make available for articles involving White House policy or political strategy.
Story continues below advertisement
Klain himself, in a wide-ranging interview, appeared to acknowledge that playing an inside-Washington game had been problematic for Biden in his first year, creating an image that the president spends most of his time in political negotiations. Klain vowed that Biden would spend more time on the road in 2022, interacting with Americans and showcasing his trademark style of backslapping empathy.
"We're going to try to find ways to do those [congressional] meetings earlier in the day, later in the day — so maybe during the day he can go out, be in public. He could even travel," Klain said over Zoom, between swigs of Diet Coke. "And just try to lessen the extent to which it becomes the central narrative about what he's doing with his time."
Many allies, and even some of the critics, nonetheless say Klain was the best choice for the job, and they point to the White House's success in creating jobs and vaccinating millions of Americans.
"I find him to be incredibly effective," said White House senior adviser Mike Donilon. "There's enormous confidence in him. And, most important, he has the president's complete trust."
Among the strongest criticisms of Klain come from Democrats who say he has forged an alliance with the party's left that has undercut Biden's effectiveness and hurt his political image.
Story continues below advertisement
Many complaints center on negotiations with Capitol Hill over Biden's agenda this past fall, with many Democrats charging that Klain acceded too often to the demands of the Congressional Progressive Caucus. At a critical juncture, the talks left House Democratic leaders, including Pelosi, feeling upset with Klain, according to a person with knowledge of the situation.
The sore point was Biden's decision in late October not to press House Democrats to vote immediately for his bipartisan infrastructure bill, as Pelosi and her allies wanted. Liberal Democrats, by comparison, preferred to wait until they could ensure that a companion social spending and climate plan also had enough support to pass. Biden's senior staff was united behind his decision to hold off, according to a White House official.
Some Democrats complained about Klain's frequent conversations with Congressional Progressive Caucus Chairwoman Pramila Jayapal (D-Wash.), saying they felt that allowed her to influence the White House strategy in a way that has been harmful to the party. White House officials dispute that notion, and Klain said he pushed clearly for an immediate infrastructure vote during a conversation with Jayapal, in which she warned the votes would not be there.
Story continues below advertisement
One frustrated Democratic member of Congress, speaking on the condition of anonymity to talk more freely, accused Klain of creating "a monster" by empowering Jayapal, using an expletive to underscore the point.
"If he empowered us, it was because we were pushing the president's agenda," said Jayapal, arguing that her caucus was advocating ideas Biden himself had touted.
Klain also had a hand in drafting an unusually bitter statement excoriating Manchin after the senator came out against Biden's Build Back Better social spending and climate bill, according to a White House official.
Manchin has complained publicly about the White House staff, and people close to him say those frustrations largely center on Klain. Manchin has told allies that he believes Klain has pushed Biden to embrace a more liberal policy agenda, adding that Klain must repair the relationship with him if the chief of staff is to be involved in future negotiations.
Story continues below advertisement
A Manchin spokesperson said the senator and Klain have always had a working relationship. Pelosi, in a statement, said Klain has "one of the most difficult jobs in the world" and "brings to it extensive knowledge of the challenges our country faces."
Klain dismissed the notion that he has given liberals more favorable treatment than moderates, saying he "can't help but cater to everyone in the party," given the Democrats' narrow congressional majorities.
He praised both Pelosi and Manchin. "I love her," he said of the House speaker, saying she is "direct" when the two of them speak. While Klain acknowledged "points of disagreement" with Manchin that have created tension, he called the senator a "key ally" and pointed out that Manchin represents a state where Biden was soundly defeated.
Story continues below advertisement
"He obviously represents a very different kind of constituency than the constituency that elected the president nationwide," Klain said of Manchin. "And that's an inherent tension in our caucus, in our coalition."
More broadly, Klain rejected the critique from some centrists that the White House agenda has been too ambitious, turning off swing voters. "I think the challenge here is not that we've tried to do too much — it's that we still have work left to do," Klain said.
Rep. Stephanie Murphy (D-Fla.), a centrist who is retiring from Congress, ridiculed that assertion, saying, "Has he read a poll lately?" She added, "Hopefully we're moving away from progressive aspirations and towards pragmatic results."
Story continues below advertisement
Few chiefs of staff have entered the job facing such daunting challenges, and if nothing else, Klain is credited by many with quickly restoring order to a government that had been engulfed in chaos and recrimination. Given the wreckage left by the Trump presidency, his supporters say, simply reestablishing traditional practices was itself an accomplishment.
Klain was reluctant to rate his own job performance but said the administration's first year amounted to "substantial accomplishments — and then a lot of things left undone."
He said he has no timetable for staying in his position, although he hinted that he could take only so much. He noted that the first chiefs of staff for Presidents Bill Clinton and Barack Obama — Thomas F. "Mack" McLarty and Rahm Emanuel, respectively — left before two years were up. "It is a grinding job, there's no question about it," he said. "It takes a lot of stamina to do it. So we'll see how long it lasts."
Klain is described by White House colleagues as a hard-charging boss who works around-the-clock and responds quickly to texts and emails. One White House official recalled recently receiving a note from him at 3:30 a.m.
On Capitol Hill, Klain is seen as approachable by Democrats across the spectrum. Senate Majority Leader Charles E. Schumer (D-N.Y.) said he has Klain's phone number memorized and casually rattled off the first six digits in a recent interview.
"He's accessible as could be," Schumer said.
Klain is at times emotional, tearing up during a talk with senior staffers at the 100-day mark of Biden's presidency about their work, according to White House officials. He can make cutting remarks to subordinates during meetings or send frustrated, all-caps emails — only to quickly follow up by apologizing for his tone.
Some administration officials questioned Klain's management style, noting that no senior officials have been fired, despite missteps on key fronts. Others complained that Klain's presence on Twitter, regularly retweeting pro-Biden messages or occasionally taking aim at critics, reflects a focus on superficial Washington chatter. Klain said he takes a different view.
"I find being on Twitter useful as an early-warning system of things that, to be honest, reporters are talking about," Klain said. "So, a little way to kind of get a sense of what's out there. What our activists are talking about. What our critics are talking about. What Republicans are talking about."
Some associates said that they do not view Klain as ideological and that his navigation of the party spectrum is more results oriented than anything else. Sen. Cory Booker (D-N.J.) said Klain has been open to his policy input on Biden's domestic agenda, calling him a "fighter without an ego."
Klain's résumé is almost impossibly glittering. He worked for Biden on his first presidential run, in 1987, and graduated that year from Harvard Law School, where he graduated magna cum laude and was an editor on the Harvard Law Review. He clerked for Supreme Court Justice Byron R. White. He served as associate counsel in the Clinton White House and was Biden's chief of staff when he was vice president.
Klain's office sits just down the hall from Biden's. Inside sits a large white poster board, sectioned off as a monthly calendar plastered with sticky notes, which he said he uses during Saturday meetings to map out what the president does.
White House officials say Klain regularly pokes fun at himself and his Twitter habit in meetings, sometimes expressing his opinions with the caveat, "I'm just a middle-aged, overweight White guy." They also regularly give him a hard time about his voracious consumption of soda.
Specifically, Klain is deeply attached to Tab. When Coca-Cola announced in 2020 that it was discontinuing production of the beverage, Klain's wife, Monica Medina, who also serves in the administration, gave him a year-long supply of Tab for Hanukkah.
Klain finished it long before the year was up. "Tab is gone — it's a problem I've been unable to fix in my first year as chief of staff," he joked.
Klain usually arrives early at the White House. At 8 a.m., he meets with a group of seven senior advisers, all of whom spoke to The Washington Post for this article and praised Klain's leadership. At about 8:20 a.m., he leads a larger meeting, still conducted via Zoom, with more top aides from across the White House. Shortly after that session, Klain meets with the president in the Oval Office.
If there is one problem that has dominated the political landscape this year, it's the pandemic, the persistence of which has been a major factor stoking fear among Democrats heading toward the midterms.
Yet tension emerged at the beginning of the administration between Klain and Zients, the White House coronavirus coordinator, over the response to the pandemic, according to three senior administration officials. Some White House officials said Klain — who had served as Ebola czar under Obama — signaled a belief that he could run the response better than Zients.
Zients forcefully denied any tension with Klain. "It's just incorrect," he said. "He has been an invaluable thought partner throughout this, and in any big decision I want his input. I want him to push us."
In a statement, Klain praised Zients as one of his "closest and dearest friends," adding, "He's an incredible leader of our covid response."
Klain now says it is unlikely that the coronavirus will be completely eradicated. "I think it seems likely we will never get to zero covid," he said. "But I do not think the kind of covid we're seeing right now, with hospitals full and 800,000 cases a day, is here to stay."
Among Republicans, Klain has become something of a lightning rod. Aides to Senate Minority Leader Mitch McConnell (R-Ky.) have taken to calling him "the prime minister," a derisive moniker meant to play into the slight that Biden is not up to the job of being president.
Klain argued that such assertions reflect a misunderstanding of how the White House works.
"The biggest misperception of the White House — I think there's way too much focus on me," he said. "I do think this is a team effort. I'm happy to be the person who takes the spears when things go awry or when people are critical. That's my job as White House chief of staff."
Klain's defenders inside and outside the White House say he inherited a mountain of problems, a polarized country and a divided government, and has handled them about as well as anyone could.
Veterans Affairs Secretary Denis McDonough, who served as Obama's chief of staff during his second term, said Klain excels at bringing together the far-flung parts of the government for a unified purpose.
"I could only wish to do it as well as Ron does," McDonough said.
But critics say Klain has to be evaluated by the results, which they say are less-than-stellar for Biden's first year.