Part I – India's Covid Scam: In the name of Charity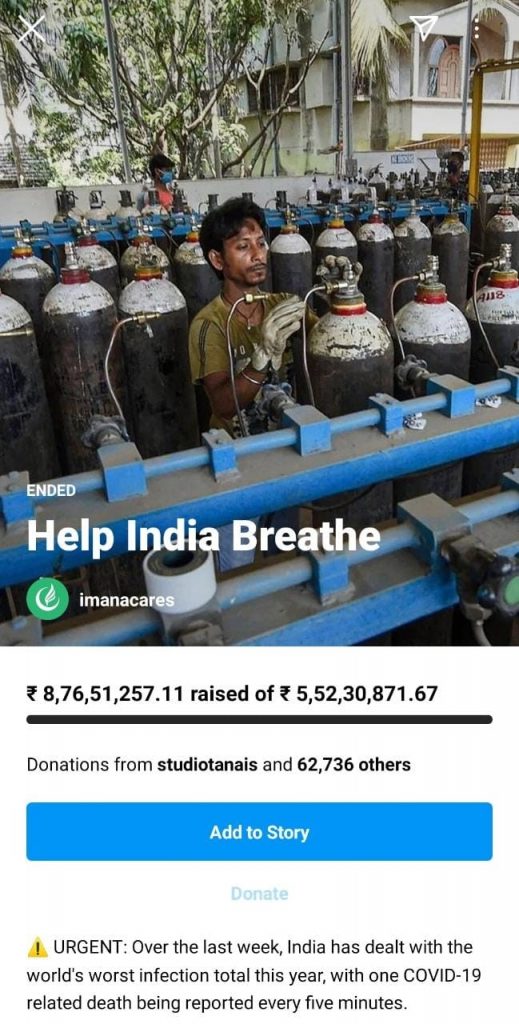 Fund raising and crowd funding is supposed to be for saving lives, however, a few organisations have used the COVID-19 pandemic for their financial gain, shows a detailed investigation carried out by a India based factchecking organisation called Disinfolab.
A few international organizations who had no presence in India – no offices, no branches, nor representatives – started raising funds after American President Joe Biden announced full support of America for India to fight deadly second wave of COVID-19 on April 26th,.
Several fund-raisers were set-up on April 27th and 28th in the US. One of the organizations which was very aggressive in fund collections was Islamic Medical Association of North America (IMANA) which launched a campaign #HelpIndiaBreath on Instagram and was one of the fastest to receive funds. The fund collection was so good that IMANA was also frequently revising its target amount, once the previous was met. But it was one of the least transparent in terms of providing updates.
This fund was not coming on IMANA's branding, but on the goodwill India and Indians have earned world over. The fund collection was planned cleverly. In India they used a map which would be accepted to Indians despite having a Pakistan approved map on their webpage. The India campaign has boosted their credibility more than anything, as their fund collection for Gaza launched immediately after Indian campaign has collected close to $30k.
As per the claims by IMANA on May 7 the, consignments worth $800k (retail value) were ready for immediate shipment from the rented warehouse in Chicago to Delhi via Air India. However, not one of the consignments have landed in India. The first claimed shipment of IMANA Relief of 100 Oxygen Concentrators arrives in India on May 12th from New Jersey via Mumbai (Gandhi Shipping, owned by Aim Gandhi) to Ahmedabad through yet another US based NGO (Saiyed Foundation) in collaboration with US-based philanthropist (Afzal Menon) for a Gujarat based NGO (Gujarat Sewa Welfare Trust-run Shifa Hospital). All these organisations collaborated with one another after summing up their individual fundraiser in the name to help India.
IMANA collected money in the name of Covid crisis in India from all over the world, including from countries where India had sent Covid vaccines, and thereby exploiting the goodwill that India and the Indians have. However, in terms of delivery, till date they could manage 100-odd concentrators (that too in association with Saiyed Foundation which itself was collecting funds for same.) And at the end, the help is sent to GSWT affiliated Shifa Hospital, whose staff was arrested for illegal activities related to essential medicines during the crisis.
As noted, maximum campaigns seem to have been run on Launch Good, which also happens to be the least transparent platform. Some of the major organizations have collected funds on Launch Good include- ICNA Relief Canada, Human Concern International (Canada), Helping Hand for Relief and Development (HHRD), and Islamic Relief UK.
Launch Good gives space to the NGOs who don't provide any transparency in their objective, collaborating partners, organizer details etc. And, there is no feature to report suspicious fund raising! There were 23 organizations that do not have any credible collaborative partner/ vetted local regional NGOs in India. Some local NGOs either did not have proper registration number or were not FCRA approved.
Some NGOs like Human Concern International, Ilm Feed (Islamic Relief UK), and HHRD have been running several parallel campaigns.
Total amount of funds raised in the name of India through these small fund-raisers alone is US$1.2mn or Rs. 8.8 crores (INR). Out of which, US$ 839, 884 (Rs. 6.13 crores INR) has been raised just in the name of COVID-19 crisis in India. The Covid Scam 2021 was not merely a financial fraud. It was a sophisticated operation put in place.
This whole farce pulled out by the so-called charity organizations was not merely a financial fraud but it was crime against humanity at multiple levels. The Sinister designs to target India had been put in place to damage simultaneously from several angles. Most of all, the fund-raising platforms as well as social media platforms need to be more transparent about how do they deal with such activities, while continued to provide means for genuine organizations to do the good work. It is also high time that governments – from USA to India – take note of this terror-funding money making machinery and provide some mechanism to ensure transparency from these groups.
Read the second part of the investigation here.