AJK election: Polling did peacefully amidst complaints of rigging in Punjab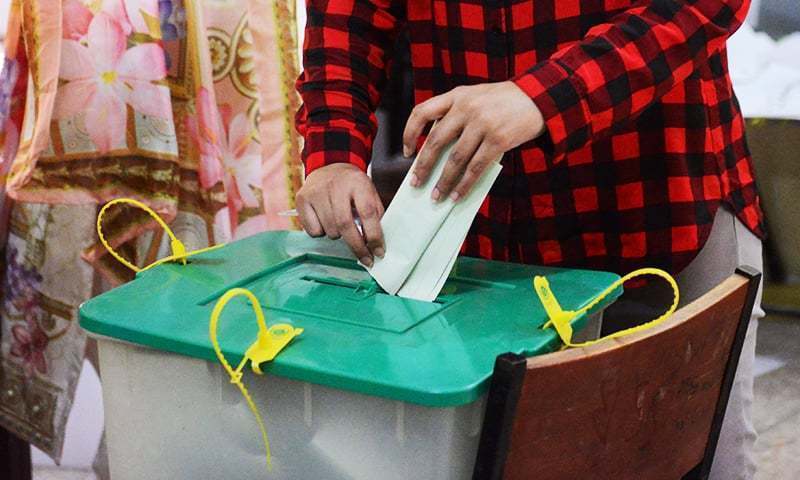 LAHORE: Polling for Azad Jammu & Kashmir Legislative Assembly (AJKLA) seats in Punjab was held on Sunday mainly peacefully.
At least 25 polling stations had been set up in Lahore for two seats – LA-34 Jammu-I and LA-41 Valley-II. The numbers of total votes for the two seats was 9,131.
Stringent security arrangements had been made to ensure a peaceful atmosphere for the voters and 850 policemen, led by six deputy police officers (DSPs), were deployed outside the polling stations.
The opposition parties, however, alleged that the district administration and polling staff helped the ruling party (PTI) rig the polls at many places.
The PML-N alleged that its polling camps were uprooted in Lahore and Rawalpindi. At Sheranwala Gate polling station in Lahore, the party's polling agent was not allowed to enter whereas the envelope containing ballot books was desealed in the absence of the polling agent.
PPP candidate among three injured in clashes; PML-N leader detained by police
At the polling station at the CDGL School Shadbagh, the voters were barred from casting their ballots, MPAs Khwaja Imran Nazir and Mian Marghoob alleged while leading a protest by the party workers. There were also complaints from the voters that despite being listed as voters they were barred from casting their ballots.
Mirza Abdul Qayyum, a voter at Navin Park polling station, said he was not being allowed to cast his vote though he had confirmed his vote and its polling station through the SMS service. He claimed that his name was there in the voters list with the presiding officer but it was marked red for unknown reasons.
At the Home Economics College polling station, the polling process was stopped as PPP candidate Shabbir Abbas exchanged harsh words with polling staff on their alleged pro-PTI attitude. A heavy police contingent was rushed to keep the situation under control and restart the poll.
In Gujranwala, the deputy commissioner entered a polling station and reportedly forced the PML-N and Muslim Conference polling agents to go out. A verbal clash took place between the DC and the PML-N agent. The party's nominee, Ismael Gujjar, alleged that his camp was also uprooted. The DC said he had just removed the polling agents from the polling booth.
Returning Officer Majid Sharif Dogar took notice of the DC's activities and barred him from visiting any further polling station.
The 'banned' religious outfit Tehreek-e-Labbaik Pakistan (TLP) alleged that its polling camps were uprooted and polling agents were detained by the police in Rawalpindi despite court orders in favour of the outfit and clearance by the (AJK) Election Commission.
In Toba Tek Singh, PPP candidate for Jammu-I, LA 34, Sardar Zahid Iqbal suffered an injury to his eye in a clash between his and PTI candidate Riaz Ahmad's supporters at Chak 481-JB polling station in Shorkot tehsil. The voting process was suspended after the incident and it was resumed only after Jhang Additional SP Farooq Hundal arrived at the station with a heavy police contingent. There were 536 voters at this polling station.
Mr Iqbal told a press conference that an attempt had been made on his life a few days ago and he had complained to the Punjab inspector general of police that Waryamwala police was involved in the attack on him. He said he had urged the relevant authorities to declare Chak 481-JB polling station as sensitive but his plea was ignored.
In Shorkot tehsil, six polling stations were established for 2,035 voters, while two polling stations were set up for 200 voters of Toba Tek Singh.
In Rahim Yar Khan, the PML-N alleged that its polling agents were not allowed entry for four hours and during this period, the ruling PTI workers stamped votes in favour of their party's candidates for two AJK seats – Jammu-I and Kashmir Valley-III.
PML-N former district president Khalid Shaheen and lawyers wing president Rana Sher Afghan alleged that PTI women wing district president Saima Tariq and Mirza Shamael entered the restricted polling area with their workers and manipulated the polling process while the police played the role of a silent spectator.
The polling process was stopped for a while as PTI and PML-N workers came face to face.
Ms Tariq said she had an authority letter from the Election Commission but she was not allowed to perform her duties as a polling agent. She said that PML-N workers were making false allegations of rigging.
Two political workers were injured in a clash between supporters of rival candidates at polling camps outside of a polling station in Tanda town of Gujrat district.
Some PML N workers, led by a senior PML N leader Attaullah Tarar, staged a sit-in at the Alipur Chatha Police Station in Gujranwala where Mr Tarar alleged that the SSP operations had attacked the PML-N workers and media persons inside the police station. Mr Tarar and several party workers were detained by police. However, police alleged that the PML N leader and workers had assaulted the personnel in the police station.
Earlier, Mr Tarar blamed Gujranwala Deputy Commissioner Sohail Khawaja of sending a polling agent of the PML-N out in Gujranwala city where polling remained halted for a short time. The polling resumed after the PML-N workers' protest.