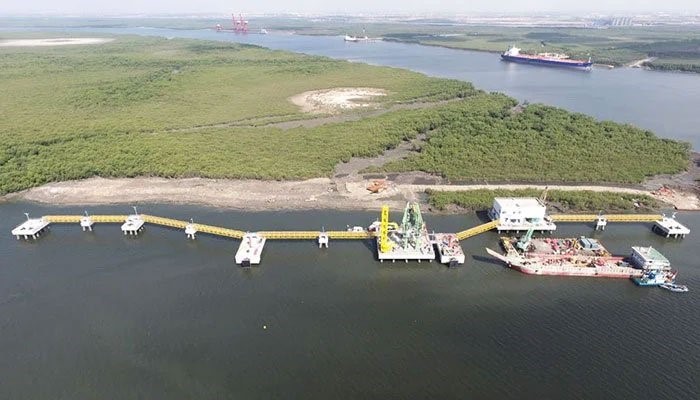 ISLAMABAD: Engro LNG gas terminal is going to be closed from June 29 for dry docking. It is been estimated that the closer of the gas terminal will further increase the gas shortage prevailing in the region of Sindh and Balochistan.
The non-export industry, CNG and fertiliser sectors in Sindh, have been denied gas supply for an indefinite period and their industrial and commercial activities have literally come to a standstill. So much so the export industry in Karachi is also facing low pressure in gas supply.
According to the letter of Sui Southern Gas Company, signed by Sohail Mustafa Jaleel, Deputy General Manager, (coordination), the gas company is facing gas shortage from the gas fields due to general depletion.
But, the situation worsened when Kunnar Pasaki Deep went on Annual Turned around (ATA) for 21 days. In view of the shortage, the gas supply will alone be ensured to the domestic sector while for the industrial (non-export), CNG and Fertiliser sectors the gas supply has been curtailed from 50- 100 percent. The gas supply crisis from June 29 is likely to further worsen when 600 mmcfd gas will go out of system if the dry docking of the Engro terminal takes place.
Under this scenario, the top management of the PGPCL Import Terminal has offered its help through a written communication with SAPM on Petroleum Tabish Gauhar, saying PGPCL terminal holds an OGRA license for regasification of up to 750 mmcfd of gas whereas the contract (now purportedly terminated) with Pakistan LNG Limited (PLL) is for 600 mmcfd only. The availabe capacity can be utilised by the private sector.
In its letter, PGPCL says that its management can privately bring LNG, within 10 days of government approval and sell RLNG to our nominated customers to help reduce the burden on the government by 150 mmcfd of gas. With the injection of 150 mmcfd gas in the system, the industrial activities will again gain the momentum.
The PGPCL has since long been asking the government to allow it to utilise its additional regasification capacity to cater to private sector needs, but the government remained non responsive.
"Now the situation is quite abnormal and the government is unable to provide gas to the industrial sector and the offer from PGPCL can bailout the government frim the impending gas crisis," a senior official of the petroleum division said.