Pakistan and its false executions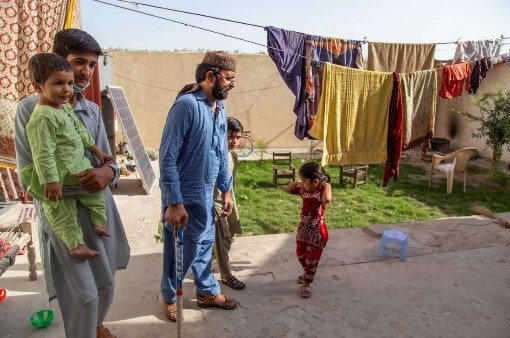 ARIFWALA, Pakistan – Muhammad Anwar was in volved in a group fight which happen to kill a person of his village, he then spent 28 years behind the bars. He was 17 when he was arrested, when he came back home, he brought a paralysed leg and many health problems including heart disease.
Twenty-eight years passed before Anwar was released from prison this spring. The once-healthy teen, now a partially paralyzed man with severe heart problems, returned to a place he barely remembered. Everything felt foreign. He made a list of places to visit, including the house of his older brother, a teacher who died while Anwar was behind bars.
He considers himself lucky, though. A legal advocacy group took up his case and pursued repeated appeals. The country's Supreme Court ultimately commuted his sentence because of his age at the time of the crime.
"Stopping the death warrant . . . was a big task," Anwar recounted last month. "We might not have managed to do it on our own."
Until a gruesome Taliban attack on a high school in December 2014, Pakistan had gone half a dozen years with a de facto moratorium on capital punishment. Although the government explicitly justified bringing it back to fight terrorism, officials resumed executions for other capital offenses several months later.
More than 515 people have been hanged since late 2014, with fewer than 90 of them tried as terrorists, according to Justice Project Pakistan, the organization that managed to get Anwar's execution stayed. The country continues to have one of the world's largest death rows.
"It has led to a perversion of the law," said Sarah Belal, executive director of Justice Project Pakistan.
The same pattern has emerged in sentencings, with researchers contending that the vast majority of crimes resulting in death sentences have little connection to terrorism. Public pushback has been minimal, despite the consequences.
Muhammad Iqbal was 17 when he was found guilty of a killing in his village in central Pakistan. The victim's family later forgave him, which under Pakistani law is enough to resolve certain disputes, and appealed to a court that he not be hanged. That compromise was rejected because he had been charged with murder and convicted under Pakistan's Anti-Terrorism Act.
"It's the tradition of our country that we don't catch the big crocodiles; it's the small ones that they can control," Iqbal, now 40, said recently. "That's how the system runs."
What proved pivotal was his age when the robbery-gone-bad occurred. A 2000 law had barred capital punishment from being imposed on anyone younger than 18 at the time of an offense, and a "presidential notification" the next year made the prohibition applicable to individuals who were already incarcerated.
Like Anwar, Iqbal waited nearly two decades for the judicial system to acknowledge the effect of those developments on his case. His death sentence was finally commuted to life imprisonment in 2020; because he had already served the equivalent of a life term under Pakistan's penal code, he was released.
At the center of much of the activity are Pakistan's anti-terrorism courts, which were created in the late 1990s and intended to secure expedited trials and convictions through different rules for custody, detention and bail. The law governing them defines a broad target and includes threats that "create a sense of fear or insecurity in society."
Yet the issues in the nation's legal system go beyond those special tribunals, according to international human rights groups. Nearly three dozen offenses are punishable today by death in Pakistan, including blasphemy and adultery, and other courts rely heavily on eyewitness testimony and confessions that the groups say are often obtained through coercion or torture.
Pakistan's Ministry of Law and Justice did not respond to repeated requests for comment about the country's renewed use of the death penalty.
Iqbal now says he confessed to murder after being tortured during the police investigation. He was the only person to receive a death sentence in the incident. Several others were sentenced to 10 years.
In the past year, he has tried to move on, relishing both big and little aspects of his days – the feeling of freedom on a motorbike, the taste of watermelon. His nieces and nephews taught him how to use a smartphone. He spends much of his time looking after his family's land, eight green and gold acres patchworked with wheat and sugar cane. After years in a stuffy cell, he considers the dry landscape to be as beautiful as the valleys of Kashmir.
About 3,800 people are currently on death row in Pakistan, down from nearly 4,700 in July 2019. In February, the Supreme Court blocked the use of the death penalty for mentally ill prisoners; soon after, it commuted the sentences of two inmates with schizophrenia. It is unclear how many juvenile offenders still face capital punishment, though one estimate suggests it could be in the hundreds.
Outside forces could shrink death row further. Pakistan is under continued pressure to meet international human rights standards or risk its special trade status with the European Union. No executions were carried out in 2020.
While the country has been criticized internationally for retaining the death penalty – as have more than four dozen other nations, including the United States – its limited internal debate remains a problem, said criminal defense attorney Asad Jamal, who has been involved in high-profile cases, including that of a university lecturer on death row for blasphemy. "Lawyers are not talking about it. Judges are not open to criticism."
Without those conversations, followed by key changes to anti-terrorism laws, Jamal and others worry the courts will have incentives to hand out death penalties, especially during times of violence or uncertainty.
"History does repeat itself," Belal noted in reference to the aftermath of the 2014 school attack in Peshawar. "It's not a question of if, it's a question of when."
Anwar learned about the 2001 presidential order on juvenile offenders from a radio report on BBC Urdu that he heard from his jail cell. As he recalled last month, his subsequent appeals were dismissed despite judges telling him his case didn't merit the death penalty. He had been the only person convicted, although more than a dozen men were involved in the argument-turned-fight. The victim died of his injuries nearly a month later.
The government requires families to cover the costs of food, basic necessities and even medical treatment for a relative in prison, and Anwar's paid around 25,000 rupees ($161) a month to take care of him, according to his brother Sarwar. It was a steep price for a large, rural family with limited means.
Anwar's relatives welcomed him home to Arifwala with handmade signs and home-cooked food. He has been passing the time by playing chess on his cellphone – he learned the game in prison – and fielding calls from former inmates and guards who became friends during his many years of incarceration.
At 45, he walks slowly but deliberately through his brother's house and into the Punjab sun, using a field hockey stick as a cane and his nephew's shoulder for support. Anwar plans to start working as an electrician, which he can do from home despite his limited mobility. He has begun referring other death row inmates sentenced as juveniles to human rights organizations that might take on their appeals.
He speaks with little resentment about his experience. But the amount of time it took the system to resolve his case, and how close he came to being executed, make him question whether the final outcome can be called justice.
"If they had hung me," he asks, "then what could have been done?"