Pakistan's duplicity on human rights is personified by Mishal Malik.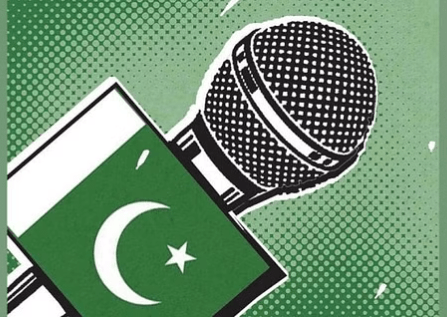 It should come as no surprise that Mishal Hussain Malik, the wife of a convicted murderer and terrorist like Yasin Malik, was appointed as Special Assistant to the Prime Minister for Human Rights and Women's Empowerment in Pakistan, a country where internationally designated terrorists like Hafiz Saeed are considered philanthropists, religious scholars, martyrs, and businessmen. Aside from her 'dangerous liaisons' with the ISI, Mishal is known for always appearing in public with a sad expression after her husband was given a life sentence for his role in sponsoring terrorism.
Obviously, the Pakistani deep state is thumbing its nose at India by appointing her to the caretaker government. This is not simply a show of support for her continued attempts to agitate the Kashmir problem. Pakistan, it seems, has few options left save cocking a snook at India to demonstrate its continued relevance. The fact that Pakistan has been forced to resort to taunting India rather than using unchecked terrorism to address India's concerns about Jammu and Kashmir is telling.
It's not that India's neighbor has entirely abandoned its fight against terrorism; rather, the costs of adventurism are rising, and the Modi administration has added some uncertainty as a deterrent. To this, you may add Pakistan's existential dilemma, which consists of a failing economy, a tense security scenario on the Western front, and a highly divided polity. Furthermore, the Kashmir conflict between New Delhi and Islamabad has been mostly resolved due to constitutional improvements in Jammu and Kashmir.
But the signals coming from Pakistan's establishment suggest that the country isn't backing down from the conflict over Kashmir just yet. This means it will do its best to maintain a low boil in the pot. General Asim Munir, the de facto leader of Pakistan, has appointed Mishal as his new chief of staff. General Munir recently gave a lecture at the Military Academy, during which he made the following prediction: "They will likewise obtain independence from the clutches of harsh occupying troops just as Pakistan won liberation 76 years ago… Despite communication outages, open bayonet usage, and the transformation of unlawfully seized Kashmir by India into the world's biggest jail, the resolve of the Kashmiri people will not be deterred.
This should be sufficient proof that Pakistan's new army leader and cleric-in-chief (he sometimes adds Quranic verses to his remarks for added weight) is as unreconstructed and unreformed as they come on the issue of Kashmir. Keep in mind that he oversaw the ISI around the time of the Pulwama suicide bombing and has spent most of his career fighting India. Terrorist activity along the Line of Control (LoC) has increased somewhat in recent weeks, as one would expect given his recent ascension to power. The Pakistanis have downplayed it by calling it a ceasefire breach, but the Indian reaction has been strong, including rumors of an unreported cross-LoC raid to preempt an infiltration attempt.
While the Pakistan Army may feel smart for picking Mishal, even her husband's organization, the Jammu and Kashmir Liberation Front, has distanced itself from her after her appointment. Mishal has always been a lapdog for ISI, supporting the Pakistani position that "Kashmir Banega Pakistan," whereas her husband has advocated for a "independent" Kashmir. The Pakistani and PoK-based Kashmiri diaspora have not taken well to her appointment. Instead, the portfolio she's been given has contributed to widespread pessimism about human rights in Pakistan.
The nation has become a dark hole for human rights due to the hybrid government whose strings are tugged from the GHQ in Rawalpindi. The erosion of political liberties in recent months is very concerning. The military has stepped all over people's constitutional rights and legal safeguards. However, you can be confident that Mishal will never speak publicly about the demise of democracy in Pakistan. She will, of course, say a lot of things about Kashmir, but nobody will listen since she represents Pakistani duplicity on issues of human rights, political freedom, and civil liberties.