Popular politician and human rights advocate detained during demonstration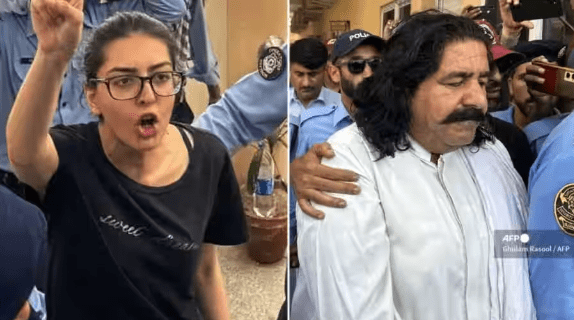 On Sunday (August 20), authorities in Pakistan detained a famous human rights activist and a former legislator for participating in a demonstration against enforced disappearances.
The Pashtun Tahafuz Movement (PTM), which advocates for the rights of ethnic Pashtuns, had its first demonstration in months on Saturday, and it was attended by lawyer Imaan Mazari-Hazir and politician Ali Wazir.
On Sunday, they were brought before a judge in Islamabad, the capital of Pakistan, and then taken into detention. They were charged with a crime under the anti-terrorism statute. Islamabad law enforcement has said that "serious charges" have been filed against them.
The PTM arose in response to what its members saw as excessive use of force by the military during anti-terror operations in Khyber Pakhtunkhwa. Most Pashtuns may be found in the northwest corner of Pakistan. The Pakistani military has often refuted allegations of abuse.
As many as 3,000 people showed out to a rally in Islamabad on Friday. Both Mazari-Hazir and Wazir spoke out against the persecution of Pashtuns. They demanded the safe return of all missing persons.
In a video that went viral online, Mazari-Hazir addressed the masses, "You are being stopped as if you are the terrorists, while the (Pakistani) Taliban have taken over your homes again."
Since the rally in the capital Islamabad, dozens more PTM members have been arrested, according to a representative for the group who talked with AFP.
The Human Rights Commission of Pakistan issued a statement calling the incident "unacceptable" and "pointing to a larger, more worrying pattern of state-sanctioned violence against people exercising their right to freedom of expression and assembly."
0 evidence
Human rights minister Shireen Mazari said that her daughter was kidnapped from their house in Islamabad by ladies in ordinary clothing during the reign of former prime minister Imran Khan. According to Mazari, no evidence was provided.
She said on X (formerly known as Twitter), "My daughter was in her night clothes and said 'let me change,' but they just dragged her away."
Ali Wazir was an original member of the PTM. He has long been an ardent opponent of American military anti-terror efforts in the reconstituted tribal regions bordering Afghanistan.