After the 'Islamophobic' burning of a Quran, Muslim countries are demanding action.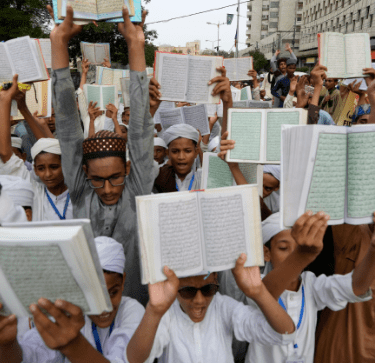 After a series of pranks in Sweden sparked reaction throughout the globe, Muslim countries such as Iran and Pakistan said the destruction of the holy Quran amounted to an encouragement of violence and demanded for responsibility.
In light of the most recent incident last month, a petition was sent to the UN human rights committee on Tuesday, urging nations to examine their legal systems and close loopholes that "impede the prevention and prosecution of acts and advocacy of religious hatred."
Norway's police have stopped a rally that included burning Qurans.
Pope criticizes Quran burning in Sweden, saying, "I feel angry, disgusted."
Following the burning of a Quran, the Houthis in Yemen have banned imports from Sweden.
After the international reaction, most Swedes now support a ban on Quran burnings.
Disagreements have emerged in the United Nations Human Rights Council between the Organization of Islamic Cooperation and Western members over the motion's potential effects on free expression and the threats it poses to established norms for protecting human rights.
Last month, during the Eid al-Adha festival, an Iraqi immigrant to Sweden shredded, burnt, and trampled on the Quran outside a Stockholm mosque, prompting indignation throughout the Muslim world and fierce demonstrations in numerous towns across Pakistan.
Pakistan's foreign minister Bilawal Bhutto Zardari said in a video message to the Geneva-based council, "We must see this clearly for what it is: incitement to religious hatred, discrimination, and attempts to provoke violence." This, he said, was done with "government sanction and a sense of impunity." Hossein Amir-Abdollahian, Iran's foreign minister, called for "urgent and effective measures" to be taken against similar instances by Sweden and other European countries.
The Minister of State for International Cooperation of Qatar, Lolwah Rashid Al-Khater, reaffirmed the gulf state's condemnation and placed responsibility on agendas that "plant hatred and fuel seditions among Muslims and the people of their communities, in addition to provoking the belief of billions of people around the world."
At the @UN Human Rights Council urgent discussion on public acts of incitement to religious hatred, the Qatari minister for international cooperation, Lolwah Rashid Al-Khater (@Lolwah_Alkhater), spoke. Image from Twitter: https://t.co/DFe40UgBQQ
Monday, July 11, 2023 — United Nations Human Rights Council #HRC53 (@UN_HRC)
While many Western countries were outraged by the actions, some stood up for the right to "free speech"
In response to the violence in Sweden, Germany's UN Ambassador Katharina Stasch said, "freedom of speech sometimes also means to bear opinions that may seem almost unbearable."
The French ambassador to the United Nations said that defending human rights meant protecting individuals, not religious symbols.
UN human rights head Volker Turk warned the council that inciting violence against Muslims and other religious or ethnic minorities is "offensive, irresponsible, and wrong."
RIGHT NOW at #HRC53 at @UNGeneva:
To "discuss the alarming rise in premeditated and public acts of religious hatred as manifested by recurrent desecration of the Holy Quran in some European and other countries," the @UN Human Rights Council is convening a URGENT DEBATE. https://t.co/Rp5jDsAkcg
Monday, July 11, 2023 — United Nations Human Rights Council #HRC53 (@UN_HRC)
The 'Sweden' Taliban are aiming for.
After "insulting the holy Quran and granting permission for insulting Muslim beliefs," the Taliban government declared in a statement that it has suspended all Swedish activity in Afghanistan.
It did not specify which businesses would be subject to the prohibition. Since the Taliban seized power in 2021, the Swedish embassy in Afghanistan has been closed.
A Swedish relief group called the Swedish Committee for Afghanistan (SCA) stated it was inquiring with the government for further information.
A government agency in Sweden, SCA is not. SCA vehemently opposes any disrespect of the holy Quran and declares its independence and neutrality with respect to all political entities and governments.
For more over four decades, SCA has respected Afghan culture and Islam by working closely with the rural populace.
In health, education, and rural development, the organization employs thousands of Afghans around the nation. Last year, SCA's health centers served 2.5 million people.