"Pakistan Has Failed To Lead Debate On Islam"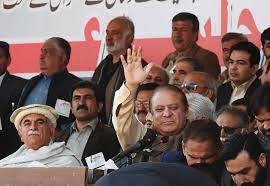 Resisting reforms of any kind that many other Muslim nations have begun to adopt, the Islamic Republic of Pakistan, the world's second-largest Muslim nation, does not figure in the growing debate at all, leave alone lead it, a leading Pakistani analyst has said.
Winds of change that have been blowing in many countries in recent years, have bypassed Pakistan, "the self-declared fortress of Islam, despite the fact that it has the world's largest network of religious institutions and seminaries, Muhammad Amir Rana writes in Dawn newspaper (April 2, 2023).
"One can argue that Pakistan, despite its 40,000 seminaries, 500 public and private religious institutions, and a vast network of religious groups and religious-political parties, has failed to produce minds that can fathom or join in the current debate in Muslim societies."
He points to the "pragmatism realism" displayed by the Gulf nations, mainly Saudi Arabia and the UAE, which "are rapidly transforming and gaining a soft image globally."
Rana warns: "States hesitant to take the path of reform and reluctant to initiate a debate on critical issues are heading deeper into crisis."
This is evident from its hurtling from crisis to crisis that afflicts its seemingly democratic polity which is heavily impacted by the military on one hand and the Muslim clergy on the other, who are not part of the democratic process and hence, immune to any reforms. Individually and combined, the three are responsible for keeping Pakistan where it is.
The debate centres on meeting the challenges in the fast-changing world in the new century where a diligent and consistent pursuit of education and science and technology has become key to the progress and well-being of society.
This point has been repeatedly made by another leading analyst, Pervez Hoodbhoy, who says that education in Pakistan, be it in the madrassas or in private institutions, is resistant to new ideas. Chapters on science and technology in schools and colleges have been replaced by proficiency in the ability to recite the holy Quran.
The methodology employed in religious institutions hinders modernisation in their physical structures and thinking process. That is why, Rana says, a review of what is happening in the Muslim world and how academic and dogmatic debates are changing the state and society may be of help.
He cites examples of leading Muslim nations. In Saudi Arabia, the birthplace of Islam and a major economic partner of Muslim countries, "Islamic scholars and clerics are debating the reform of Islamic jurisprudence on whether or not apostasy is punishable by death under Islamic law."
This is spearheaded by Saudi Crown Prince Mohammed bin Salman has nominated himself as wali al-amr, or Islamic guardian of the state, with the authority to issue the final verdict. "Some commentators in the West have compared him to Mustafa Kemal Ataturk for his bold measures in countering the ritualisation of religion."
Rana cites the case of the Islamist party Ennahda in Tunisia which is often presented as an example of a post-Islamism movement that has brought a massive change in political thinking.
Indonesia, he says, has been contributing significantly to the development of another discourse on Islamic jurisprudence. Nahdatul Ulama, the world's largest civil society movement, has been advocating for abolishing the concept of a caliphate and replacing it with the idea of the nation-state. It has also issued a decree or fatwa to erase the concept of kafir or infidel from Islamic jurisprudence and replace it with the idea of citizenship.
Rana notes that Nahdatul Ulama has initiated a dialogue with the hard-line Hindu Rashtriya Swayamsevak Sangh (RSS), in which Indian Muslim organisations have also been engaged. Even mooting such an idea is 'unthinkable' in Pakistan.
He laments: "It is hard to imagine one initiating such debates in Pakistan; those who had the courage to do so faced consequences."
Pakistan, he says, has "failed to produce minds that can join in the current debate in Muslim societies." He concludes with a warning: "Countries on the path of reform are diversifying their global engagement options. Countries that are inflexible are not only suffering, they are also gradually becoming parasite states." (Ends)