11 people are killed in Pakistan in a food aid stampede.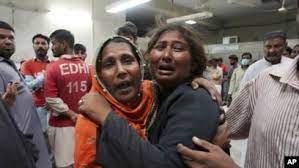 The southern harbor city of Karachi experienced a rush on Friday that resulted in at least 11 fatalities and five injuries, according to Pakistani authorities.
The majority of the casualties, according to local authorities and rescuers in the biggest metropolis of the poor nation, were women and children.
In conjunction with the Muslim fasting month of Ramadan, a delivery center for workers had been put up outside a plant in Karachi, where the rush took place. The majority of the women in the throng of hundreds panicked and began shoving each other for food, some of whom fell into a nearby sewer, according to witnesses and officers.
With Friday's event, the number of people who have died in stampedes at privately and publicly supported food assistance centers has increased to at least 22 in recent days, as Pakistanis battle with skyrocketing food and essential necessity prices.
The 232 million-person South Asian country is going through one of its worst economic disasters in decades.
The government of Prime Minister Shehbaz Sharif launched a program to distribute free wheat at the beginning of Ramadan to assist millions of low-income households in reducing the effects of record-breaking inflation. According to official figures, inflation is at a five-decade high of above 40%, with the price of wheat rising by more than 45% in the last year alone.
Thousands of individuals have crammed delivery sites as a consequence of the government effort. Families claim that in some areas, the absence of adequate infrastructure to handle large crowds has led to fatal stampedes caused by people's anxiety about not being able to obtain the free flour.
As of Thursday, authorities in the regions of Punjab and Khyber Pakhtunkhwa recorded a total of 11 fatalities. According to authorities, thousands of sacks of wheat have also been stolen from vehicles and delivery centers.
The fatal stampede brought home how desperate people are in the face of rising costs, which are made worse by the depreciating currency and the elimination of gasoline handouts. Government spending reductions were necessary for the International Monetary Fund to release the most recent installment of its financial assistance program.
The government has come under fire for starting the project without making the necessary preparations to guarantee public safety.
The fatal stampedes were attributed by Pakistan's independent Human Rights Commission to what it claimed was poor administration of the wheat delivery facility.
In a statement released on Friday, the monitoring group called the event in Karachi especially worrisome and demanded that the government quickly upgrade the nation's delivery system.
The HRCP stated that "this situation is adding insult to injury for Pakistan's marginalized people who are already enduring economic injustice carried out by the elites who dominate the state."