Pakistan will not attend the US Democracy Summit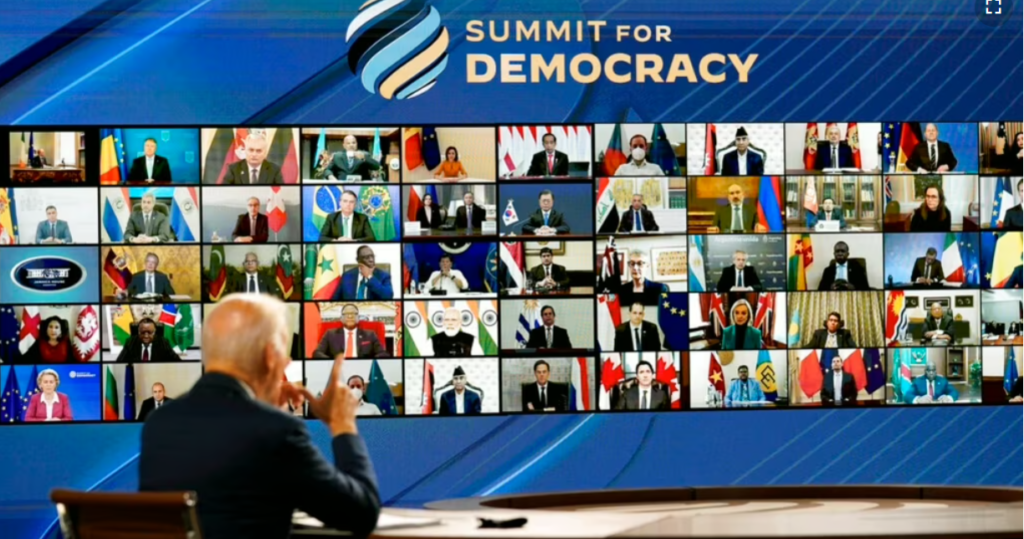 Pakistan announced on Tuesday that it would instead work directly with Washington on democracy rather than join the second Summit for Democracy, which will be held this week.
The Biden administration has extended invitations to 120 nations, organizations representing civic society, and tech firms to join the meeting on Wednesday, which will also be co-hosted by Costa Rica, South Korea, Zambia, and the Netherlands.
A communiqué from the Foreign Ministry in Islamabad expressed gratitude to Washington for the offer but did not give any explanations for missing the gathering. However, detractors claimed that Pakistan's decision to skip the summit, as it did when Biden held the first summit in December 2021, was likely motivated by China's absence from the gathering.
Beijing is Islamabad's "all-weather friend," according to the Pakistani English-language Dawn daily. Islamabad does not want to anger Beijing. The meeting in Washington this week has not extended an invitation to Turkey, which still retains strong relations with Pakistan.
The statement read, "The summit process is now at an advanced level, and Pakistan would interact directly with the US and co-hosts of the summit to support and reinforce democracy principles and values and work toward promoting human rights and the battle against graft.
It emphasized how highly the administration of Prime Minister Shehbaz Sharif views Pakistan's relationship with the United States.
According to the statement, "this connection has broadened and grown significantly under the Biden government.
Former Pakistani envoy to the United States Maleeha Lodhi supported Islamabad's choice to stay away from the occasion.
Correct choice. The American plan to control China is what inspired the meeting concept. Pakistan's inability to participate was made even more difficult by Taiwan's invitation, she claimed on Twitter.
Some in Pakistan saw the U.S. summit as a chance for the Sharif administration to win Washington's support, which is essential for getting the IMF to start lending again to the cash-strapped country as it faces an economic collapse.
Before reviving a rescue program to assist Pakistan in funding its balance of payments, Sharif stated to the senate on Tuesday that the IMF wants favorable nations to meet their foreign financing obligations.
According to Brookings Institution researcher Madiha Afzal, Islamabad's claims of aiming for fair relations with both major powers do not line up with Pakistan's decision to boycott the meeting, which was made "ostensibly because of China."
For a nation that claims to want positive ties with both China and the US, she added, "This doesn't make sense."
Since August 2021, when American and partner forces disorganizedly retreated from the adjacent Afghanistan, and the rebel Taliban seized control of the nation, Pakistan's historically turbulent ties with the United States have deteriorated.
However, the Biden administration has recently stepped up its engagement with the Pakistani government, leading to frequent visits by senior U.S. officials to Islamabad. Washington had long accused Islamabad of covertly supporting the Taliban while they waged an insurgency against U.S.-led international forces for two decades.
China, on the other hand, has recently strengthened its military and commercial links with Pakistan, spending billions of dollars there as part of the Belt and Road Initiative to construct harbors, power plants, and highways.
liberties of people
The U.S. meeting takes place in the midst of claims that the Sharif government is suppressing free expression, prohibiting nonviolent protests, and targeting Imran Khan's opposition party in an effort to quell calls for early elections.
In a report released by Khan's Pakistan Tehreek-e-Insaf on Tuesday, the party claimed that since last April, when Khan was ousted from office by a parliamentary no-confidence vote, hundreds of party leaders and workers had been detained, some of whom had been tortured in detention, and that others had been falsely accused of terrorism, sedition, and other crimes.
The opposition's allegations were supported by Pakistan's impartial Human Rights Commission.
The HRCP issued a statement on Tuesday in which it "denounces the strong-arm tactics and disproportionate use of force by the state as a means of political repression."
The commission said in a statement that it was "deeply concerned to observe that this has involved resorting to the use of colonial laws of sedition, unjustified accusations of terrorism against political opponents, enforced disappearances, and attempts to gag freedom of expression through poorly thought-out proposals and actions through PEMRA."
In its statement, the HRCP made reference to the government-run Pakistan Electronic Media Regulator Authority, which has frequently prevented Pakistani television news networks from broadcasting Khan's addresses and press briefings despite court orders prohibiting such actions.
On Monday, the regulator issued an order prohibiting TV stations from airing live or taped footage of demonstrations or public meetings held by any party, group, or person in the capital of Pakistan.
The broad prohibition was condemned by Amnesty International as "disturbing evidence of how authorities continue to threaten press freedom" in Pakistan. "We encourage PEMRA to overturn this choice right away.