'No Safe Space in Pakistan for Women': Rape Case Roils Islamabad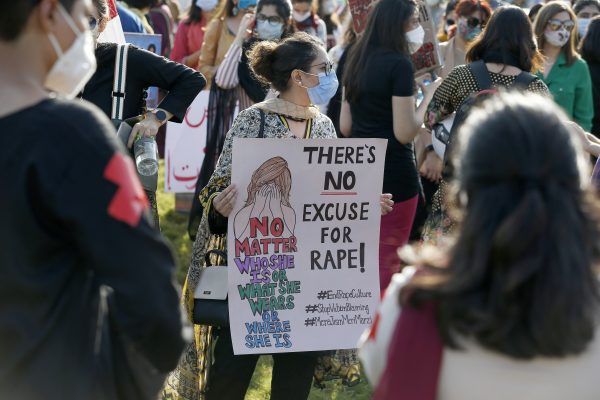 Another year, another horrifying rape case – and still no action to protect Pakistani women.
A recent rape case in Pakistan's capital, Islamabad, sparked massive protests but the uproar soon hushed down – fury is hard to maintain. Meanwhile, developments in the case are nothing short of suspicious.
On February 2, a 24-year-old woman, with her male colleague, was walking in F-9 park, stretching about 750 acres, which is a central feature of the capital. Two armed men attacked them. The colleague was chased away, and the woman was raped at gunpoint.
When the woman tried to resist, her pleas were muzzled by the threat that if she protested, the men would bring "six to seven more people" to assault her.
The attackers then went on to warn her never to come to the park at night, that she shouldn't have been in the park at that time. They gave her a 1,000 rupee note to not report the attack.
Everything about these details suggests the horrifying level of impunity with which Pakistani men can attack women.
On February 16, 12 days after the rape, the Islamabad police released video footage of the suspects and later claimed in a statement that the suspects had been killed in a police encounter.
The suddenness of these developments has activists concerned that, without verification by the victim or a proper investigations, the police might be using scapegoats to get away with the case.
The wife of one of the alleged suspects who was killed in the encounter said that her husband, a father of three from Swabi, in Khyber Pakhtunkhwa province, was picked up by the police from home and killed. The second alleged suspect's mother too said in a video statement that her son was taken from home and killed by the police.ADVERTISEMENT
The Standing Committee on Human Rights of the National Assembly rejected the report of the Islamabad police on the deaths of the suspects involved in the case.
In a press conference, the survivor's lawyer, Imaan Zainab Mazari-Hazir, told reporters that the suspects were in the custody of the Islamabad police and had been arrested on February 15. They had been identified by the survivor.
While being interrogated, the suspects admitted their crime and also admitted committing similar crimes in the past. When asked if they feared the police, the suspects replied "no."
Mazari-Hazir raised questions about the fake encounter story brewed by the police when the suspects were clearly in their custody and said that the survivor's right to access to justice had been snatched.
Dr Farzana Bari, a social activist, was a part of the press conference. She alleged that the suspects had been involved in 50 rape cases prior to this.
These developments raise a lot of fingers toward the police as well indicate weaknesses and loopholes in the country's judicial system and legislation on sexual assault.
Ranking 145th out of 146 on the gender equality index, Pakistan has staggering statistics that expose the rape epidemic in the country: A woman is raped every two hours in Pakistan. The country's conviction rate in rape cases is less than 3 percent.
And that only includes reported cases. It's hard to imagine what the real figures must be. Women around the country are raped, abused, and harassed every day, enduring it incessantly because the state and society has failed to ensure their safety.
Occasionally, a rape case emerges in the media that elicits particular fury and ignites massive protests, while exposing the culpability of the society; the cradle for rape culture, the breeding ground that lets rapists get away by promoting victim-blaming.
Every year there's at least one case of gender-based violence that leaves Pakistanis enraged for a few weeks before the victims become another hashtag. Then the country moves on, carrying our collective amnesia, bottling our rage for the next case.ADVERTISEMENT
Last year it was Sarah Shahnawaz, the year before Noor Mukadam and so on. Now there is another name to add to the list.
Even discussing these cases is difficult. This piece was meant to be published in a local newspaper, but Pakistan is an absurd country where absurd things happen. Pakistan's Electronic Media Regulatory Authority released a statement saying that any broadcast of news reports regarding the rape was "prohibited with immediate effect."
Visiting F-9 park just five days after the rape for this story, I could not help but think how amid all the beauty, the oak trees and the shrubs, with birds chirping, monsters could lurk, not in the dark but in broad daylight and openly.
On that windy day, the park was as busy as ever, though there were relatively few women. Was it because of the fear induced by the incident? Or simply because Islamabad in general sees fewer women in public spaces.
Several of the individuals I approached in the park did not have any idea about the incident. Many were unaware of what had happened, and many were desensitized. "Such incidents had occurred before – what can one say?" was the general response.
However, the few people that were aware and willing to speak presented avowals of the society's guilt.
Yumna Masood teaches Urdu and is a Ph.D. student.
"I got to know about the incident in the morning, my colleague was discussing it and said that 'if girls go alone in parks to sit then this would happen.' I told her, 'no, that's wrong. I myself go to parks and sit and if someone does something wrong to me, it isn't my fault,'" said Masood.
Apart from the victim blaming, which pins the responsibility for rape on the victim, another common point of emphasis is to blame the woman's male colleague for failing to protect her. For Masood, the main mystery was "how could her friend not defend her?"
As a society, Pakistanis have ascribed to toxic masculinity to such an extent that many find it hard to accept that any man is helpless to defend a woman in his presence – even when attacked by armed men.
Two middle aged women agreed to speak on the matter on condition of anonymity.
One of them said, "It is a very unfortunate incident that occurred; it shouldn't have happened. We ought to build an environment in which our girls feel safe going out. Another aspect though is that girls should be cautious. People look up only those who have slight
On the mention of the word "default," her companion interrupted her: "No, we shouldn't be saying that."
Despite this correction, the first woman went on to add: "The girl should have shouted, should have been cautious, I think the girl herself had slight defaults."
Her friend added, "This is not an isolated incident, but everyday cases of rapes are heard of. Even small children are not spared. There is no law and order. Such incidents have occurred before in the park too.
"What happens is that one incident is highlighted, there is uproar and then silence, nothing changes and then the cycle repeats."
After the incident, the Islamabad police showed off with a high-profile presence inside the park, patrolling on horses and motorcycles. When I visited, Ashfaq Ahmed of the Islamabad police was making the rounds of the park on a horse, with a media team filming.
"We are on duty in the park for security. We cannot ask a girl and a guy seen together about their relation to each other," said Ahmed when asked about what measures the police have taken. Ahmed believed surveillance of people in the park might be a solution and pointed out that security on the gate is the responsibility of the Capital Development Authority (CDA).
When asked about other similar cases that have happened, Ahmed admitted, "Yes, such incidents have occurred before. The boundary wall of the park is broken from some places and people can enter from there."
Mrs. Ali, who gave only her surname, was vigilantly walking on the 10 kilometer walking trail of the park when approached for comments. "I was shocked when I heard about the incident, I thought if such an incident had occurred in a park, where should we go for a walk and leisure? I wouldn't feel safe staying back after sunset. When I come to the park, my kids ask me not to go, but I make sure to look after myself although we do not feel secure," she said.
Uraan, a young student from Gilgit Baltistan, was walking with a group of friends. "In parks, public places, almost every hook of this country, gender inequality exists – a difference in what men can do versus what a woman can do," she said.
"I feel every place has some danger for women. Where there are men, there is a very low chance of women being safe."
Almost everyone pointed toward the lack of security in the park.
Hamza Yasreen said, "It is a very unfortunate event; it shouldn't have happened. It is a public place, and everyone should feel safe coming here." Yasreen added that "at the time when the incident happened it was dark, it wasn't reasonable to come here during late hours."
Reiterating the security issues, Yasreen said "The security situation in the park is dismal, only now they have installed cameras, these weren't there before. There should be checking on the entrance."
Many believe that women should learn self-defense for their safety.
"The incident traumatized me and my sister, who was reluctant to come for our daily walk today. Learning self-defense and practicing it is very important for girls these days because there is no punishment for rapists in Pakistan," said Maha Israr who was in the park for a walk with her sister.
"We should have some tools, a knife or a sharp tool, that you can use for your protection because there are no laws in Pakistan."
Farwa Naqvi, a psychotherapist and journalist, said, "To add insult to the injury, there is the victim blaming discourse going on. What's hurtful is that sexual abuse is a norm in Pakistan now. This is a popular belief that she called for it and that there is a perfect victim – 'if she does this, we will rape her.'"
Naqvi added that the park was never a safe space for women, quoting the incident of 2018 when a CDA official, along with some security guards, sexually assaulted a woman who later lodged a complaint in the Margalla police station.
After this incident, many started suggesting shutting the park after sunset. To this Naqvi said, "What does shutting the park after sunset have to do with the rampant sexual abuse and rape culture? F-9 park is not the only place where men rape, they rape everywhere. They rape everyone who is not a man mostly. Other men protect these rapists by giving them impunity by putting the blame on the victim.
"Taking such a measure would be like putting a bandage on cancer. Do they mean that if you come after sunset, we will rape you and it will be on you because it is you who is coming after sunset? What about rapes in broad daylight?"
Commenting on what needs to be done to make the country safer for women, Naqvi added that she doesn't think anyone is interested in making the country safer for women. "Legislation and women representation is very important, but it must start with the eradication of rape culture."
Naqvi believes that everywhere in society there is the same patriarchal structure that perpetuates that girls are "asking for it" and that boys will be boys, so girls need to be invisible.
"Rampant sexual abuse is one of the manifestations of the patriarchal system. Sexual abuse is a power crime, not a sexual one," she added.
A protest was arranged by the Women Democratic Front and the Aurat Azaadi March outside the park on February 6. Protesters hung dupattas, shawls, outside the main entrance of the park with messages demanding change.
Within an hour, the dupattas and the messages were removed by "unidentified men."
Zoya Anwer, a journalist and researcher, has been living in Islamabad for the last 7-8 months. Anwer believes that the city is not friendly for women because of a lack of public transport, which consequently means fewer and fewer women occupy public spaces.
"There is no safe space in Pakistan for women. Fear is inculcated in women since birth that we must protect ourselves and navigate. When this happens, we shrink ourselves to fit into this," added Anwer. She said she is done with the idea that women need to learn combat or self-defense, because the onus lies on men not to rape or assault.
"The problem is entitlement and power. Ensuring women's safety will start from first not shaming the victim," said Anwer.