China is exploiting Balochistan's minerals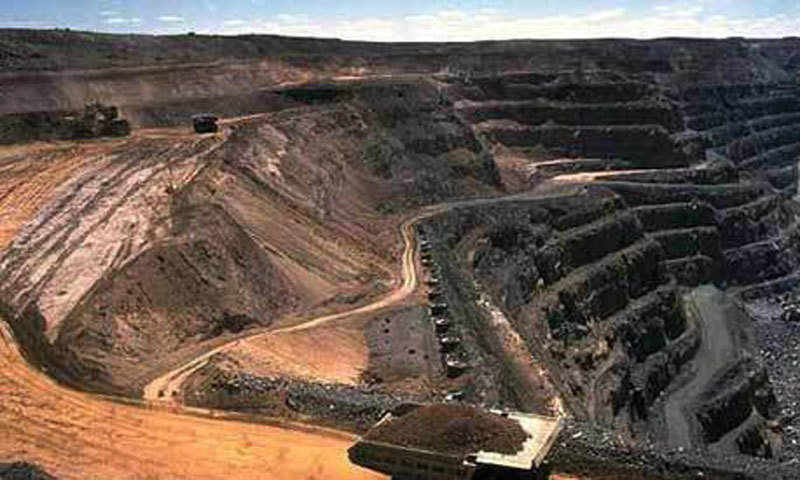 Pakistan's largest province, Balochistan is a treasure trove of natural resources. Despite this, it remains an impoverished area with a per capita GDP under US$1,000. More than the Pakistani state, it is China which is playing a major role in the local economy. How this situation has come to be is the focus of the current narrative. Notably, the Chinese company which mines gold, silver and copper in the Balochistan province has claimed that it made profits of around US$75 million in 2021 (Invest Pakistan,14 January 2022), despite disruption to its operations caused by Covid. A majority of profits will be sent back to China. Supporters of the mine say it has helped to fund better education and health facilities, as well as creating jobs. However, many local people say their lives have not improved much. The reality on the ground is that Balochistan remains an impoverished and neglected province, and the Saindak copper and gold project epitomises the tragedy that Chinese investment has brought with it, while generating profits for the Pakistani state.
In the Balochi language, the word saindak, from which the main town takes its name, means 'black mound'. The China Project has recently (5 January 2023) carried a detailed story of the Saindak project and involvement of the Chinese. The district of Chagai, which contains Saindak, lies close to Pakistan's border with Iran. Copper and gold deposits were initially discovered near Saindak in the 1970s by Saindak Metals Ltd (SML), a company wholly owned by the government of Pakistan, in collaboration with an engineering firm from China. By the end of 1995, SML had set up the Saindak Copper-Gold Project, a company wholly owned by the Government of Pakistan. During trial production in 1995, the project produced 1,500 MT of blister copper and sold it in the international market but due to low prices of copper, the project could not be made operational. Due to this, from 1996 to 2001, the government of Pakistan sustained a loss of PKR 300 million annually.
Subsequently, Pakistan and China signed a deal worth US$350 million for development of the mine, initially a 10-year lease to Metallurgical Corporation of China Ltd. (MCC), a subsidiary of China Metallurgical Group Corporation. The agreement shows that 50 per cent of revenues from the mine go to MCC, 48 per cent to the Government of Pakistan, and 2 per cent to the Balochistan provincial government. The lease was extended (January 2023), for another 15 years, with Pakistan's share of revenue up to 53 per cent, and 5 to 6.5 per cent going to the Balochistan provincial government. According to the revised terms that Pakistan's Cabinet Economic Coordination Committee recently approved, the Chinese company also agreed to enhance rent, royalty, and social uplift payments to the federal and Balochistan governments.
The Chinese government also maintains that the benefits to Pakistanis are significant. HéXùpíng, the general manager of MCC, said that the company had spent hundreds of thousands of dollars to provide clean water to the area, as well as arranging free electricity and improvements to schools. However, Kazim Baloch, a political activist in Chagai told The China Project that the area still has "features of the medieval era". "Mud houses, muddy and unpaved roads, a lack of potable water, poverty, deprivation, underdevelopment and backwardness still rule," said Baloch. Akbar Notezai, an investigative journalist from Chagai associated with Pakistan's leading media group Dawn recently published a story which said that the jobs created for local people were "menial" and the overall situation in the region is "pitiable." "Despite extracting gold and copper for two decades, why has the administration not yet constructed a metalled road? There are roads that lead to the company's sites, but many villages are left without any roads," says Notezai.
Clearly, the odds have been stacked against Balochistan, for it is getting peanuts for minerals extracted from its soil. Activists regard it as unjust that Balochistan Province only receives less than 6 per cent of the profits. "The province wants to decide on investment and, it does not accept that the national government should have a say on the natural resources without the will of the people of Balochistan," Jan Muhammed Baloch, a political analyst told The China Project. He pointed out that separatist groups are waging war against the state for an independent Balochistan and, want to force the Chinese out of Balochistan. Baloch says the national government cannot accept such a demand, given the close political ties between China and Pakistan.
An official Pakistani spokesman, claimed that the mine had created more than 2,000 jobs and has helped to pay for a hospital which uses ultrasound, X-ray machines and other advanced equipment. "More than ten thousand people visit the facility for check-up's, diagnosis or treatment each year," he said. The mountains in Saindak are surrounded by Frontier Corps check posts while all villages, and of course the mining project, are heavily guarded by security forces. While travelling from Taftan to Saindak, for example, journalists from the Dawn (2018) had to pass through around ten checkpoints.
It is ironic that China should be benefiting from natural resources that are owned by the people of Pakistan. Like most Chinese projects overseas, whether under the Belt and Road Initiative or CPEC, the profits are being garnered by Chinese companies. The local population gets little by way of employment or monetary benefits. A similar situation is obtaining in Myanmar, where China has in recent years, been illegally mining in the border areas. This experience indicates that deleterious impact of Chinese activity in extraction of natural resources. The so-called Taliban government in Afghanistan recently signed a deal with China for extraction of oil in the Amu Darya basin. This is the first major deal after the Taliban took over power, in August 2021. The point is that like Pakistan, the Taliban too does not care for its people.
*******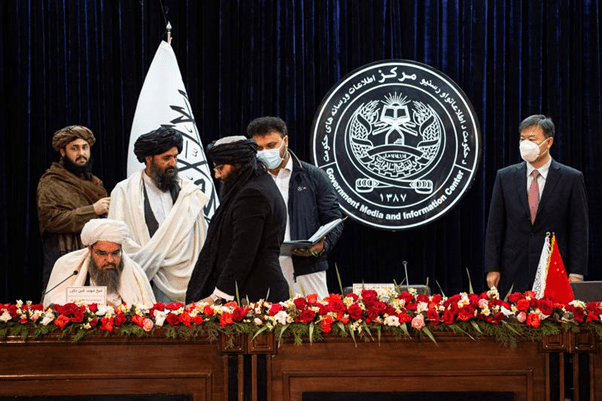 Afghanistan's acting minister of mines and petroleum Shahabuddin Dilawar, sitting left, its acting first deputy prime minister Abdul Ghani Baradar, second left, and China's ambassador to Afghanistan Wang Yu at the signing in Kabul. AFP
Source: https://www.thenationalnews.com/business/energy/2023/01/06/afghanistans-taliban-sign-oil-extraction-deal-with-chinese-company/#:~:text=The%20Chinese%20company%20will%20invest,75%20per%20cent%2C%20he%20added.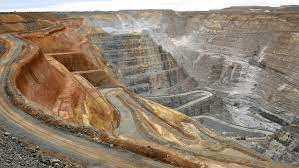 Source: https://propakistani.pk/2022/02/14/shocking-details-of-how-chinas-saindak-copper-gold-deal-is-ripping-pakistan-off/