Demands to join India hurt Pakistan's position on Kashmir dispute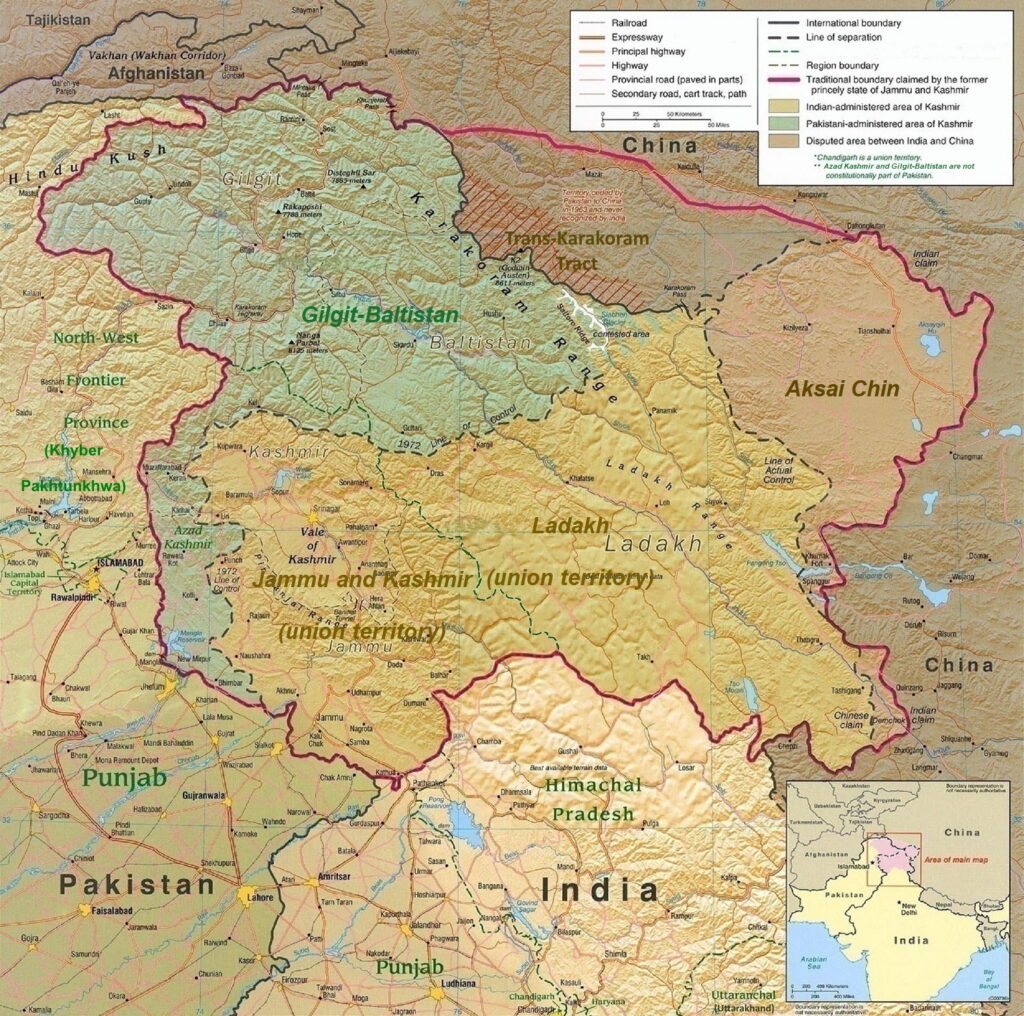 Demands to join India hurt Pakistan's position on Kashmir dispute
The unrest brewing in Gilgit- Baltistan has become a matter of serious concern for Pakistan as the protestors were found talking about uniting with its arch-rival India.Time and again, barring Punjab, every province has sought to be separated from Pakistan. But none desired to go with India. People in Gilgit- Baltistan demanded they be united with India. This can be detrimental to Pakistan's narrative about the whole Kashmir dispute. While India has not responded to these developments officially, it is likely to cite these protests when the Kashmir dispute is discussed in global events.
New Delhi has maintained its claims on Pakistan-held Kashmir as an integral part of India. On the other hand, Pakistan sought the independence of Jammu & Kashmir, which is under India's control, by blaming India for human atrocities. In recent years, reports of atrocities in Pakistan-held Kashmir are resurfacing, thanks to social media. However, the latest development– demand for annexation with India–appears to be a game-changer as it questions the Pakistani government's treatment of people in Kashmir.
The demand helps New Delhi's efforts to convince the international community about its claims on Kashmir which is under Pakistan's control now. The Indian government, social activists, and news media can be seen regularly highlighting the issues in Pakistan-controlled Kashmir. This primarily includes protests over military oppression, lack of basic rights, high inflation, unemployment, and unsustainable resource exploitation among others.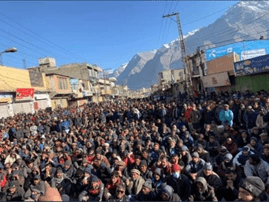 While such protests are becoming more frequent and more severe, the Islamabad government may not have realised that the demands of unification with India may come up.12 While the mainstream news media in Pakistan ignored such protests in Gilgit- Baltistan so far, and did not cover the recent one as well. However, protestors posted videos on social media. One can see the protestors raising slogans against the Pakistan government and army, and demanding their region be annexed to Kargil which falls in India's Ladakh region.3
Shabbir Mayar, a protestor from Baltistan, posted several photos and videos of protests that were held to protest high prices, forceful eviction by the Pakistani Army
and annexation of Gilgit-Baltistan with the Ladakh region of India.4 Sajjad Raja, Chairman of the National Equality Party, said people in Pakistan-held Kashmir were "continuously exploited & suppressed" by Pakistan. In a subtler tone, he demanded annexation with India, saying these people be "given representation in Jammu & Kashmir legislature," which is under Indian jurisdiction.5 The rebel Pakistani politician blamed Pakistan establishment for creating the Kashmir problem by invading the region in 1947 and "illegally occupying" a part of it.6
India has always maintained that the Pakistan-held Kashmir, which constitutes Kashmir and Gilgit- Baltistan, is part of its territory. A few months ago, Indian Minister of Defence Rajnath Singh spoke about the annexation of these areas with India.7 Unification of the entire Pakistan-held Kashmir with India has been the important agenda of the ruling right-wing government in New Delhi. Interestingly, Singh had said in 2019 that his government would take action when there is demand from people in Pakistan-controlled Kashmir about getting freed from Pakistan.8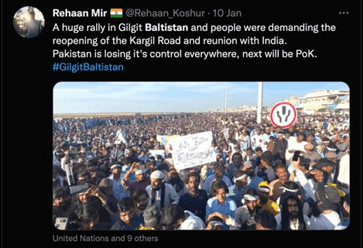 People, social activists, and politicians can be often seen comparing lives in two different halves of the region. There are strong sentiments among people in Pakistan- held Kashmir about their inferior lives and lack of development in their region while those in Indian-ruled Jammu & Kashmir enjoy better facilities.9 Moreover, people in Kashmir and Gilgit- Baltistan often blame the Islamabad government for not treating them at par with the populations in provinces like Punjab and Sindh. Against such a backdrop, it is going to be difficult for Pakistan to rake up issues of the people of Jammu & Kashmir on global platform now. It may have to fix domestic problem first.
End.