Global concern increases on China and Pakistan virus project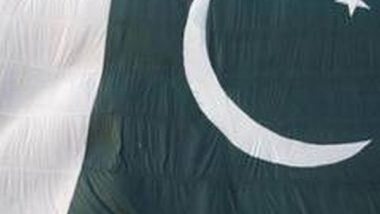 The DSTO is located in Chaklala cantonment, Rawalpindi, and is headed by a two-star General. According to various global media reports, China is creating Covid-like pathogens in Pakistan that have the potential of causing virus contamination on a scale far higher than Covid. China has set up a highly-advanced scientific infrastructure to conduct research into deadly pathogens in Pakistan. The location of the facility remains a tightly guarded secret.
The mystery had deepened further in 2020 when Pakistan first denied such reports. The Foreign Office of Pakistan stated that "there is nothing secret about the Bio-Safety Level-3 (BSL-3) Laboratory of Pakistan referred to in the report. Pakistan has been sharing information about the facility with the States Parties to the Biological and Toxins Weapons Convention (BTWC) in its submission of Confidence Building Measures," the FO said. It added that the facility was meant for diagnostic and protective system improvement by Research and Development on emerging health threats, surveillance and disease outbreak investigation.
The laboratory in question is a "Biosafety Level 4" facility (BSL-4) where the most dangerous and infective agents are tested and developed. Experts say that BSL-4 labs are used to study infectious agents and toxins that can cause life threatening diseases for which there is no vaccine or therapy available. Those in the intelligence and scientific community, watching the developments, warn that by using Pakistan, China had outsourced a highly contagious network of laboratories where antigens hundred times more infectious than the present Covid could be created or `dropped in`. The Wuhan Laboratory has been in the 19 pandemic which has killed over six million persons in the world.
According to bioweapons experts, the joint collaboration between Pakistan's lab, managed by the army, and a series of laboratories and institutions run by PLA, was not for scientific experiments but to weaponise pathogens. The secret project carries the title : Collaboration for Emerging Infectious Diseases and Studies on Biological Control of Vector Transmitting Diseases.
Pakistan set up DESTO in 1963 where clandestine projects in testing and developing pathogens as well as bio-weapons have been going on secretly. In 1996, the U.S. Department of Defense stated that Pakistan "had the resources and capabilities appropriate to conducting research and development relating to biological warfare," and "was conducting research and development with potential biological warfare applications." After the May 1998 nuclear tests, the U.S. Department of Commerce imposed sanctions on chemical and biological facilities suspected of carrying out research on biowarfare programmes. These four entities were: The Center for Advanced Molecular Biology, Lahore; Karachi CBW Research Institute; Karachi CW & BW Warfare R&D Laboratory; and the National Institute of Biotechnology and Genetic Engineering, Faisalabad.
Although Pakistan has consistently denied any such programmes, it is known that Wuhan Institute of Virology have been working with Pakistani scientists since 2015. Five published scientific studies between December 2017 and March 2020 point to studies related to pathogens but do not disclose any links to Pakistan military.The five studies involved taking blood samples from thousands of Pakistani men, women and children; mainly those who lived in remote areas and worked closely with animals. In a report published in October 2018, the Wuhan-Pakistan study took 2,409 human blood samples from four provinces in Pakistan during 2016-17.
4. 200 detained in Tibet's capital Lhasa over COVID protest
Around 200 residents of Tibet's capital Lhasa were detained in the wake of massive protests in the city last week against COVID lockdowns that left many restricted to their homes without adequate food or medical care, RFA has learned.
The Oct. 26 protest included both Han Chinese and Tibetans living in the city, and was Lhasa's largest since a 2008 uprising, later crushed by Chinese security forces by Tibetans calling for greater freedoms under Chinese rule.
Chinese authorities have now detained around 200 Lhasa residents in the wake of last week's protest, RFA learned from Tibetan sources speaking on condition of anonymity to protect their safety.
"Though many of these detainees are of Chinese origin, there are also a number of Tibetans coming from other parts of Tibet and from Chengdu," one RFA source said, referring to the capital city of western China's Sichuan province.
"They are currently being held inside buildings owned by development companies inside the Tibet Autonomous Region," or TAR, the source added.
Also speaking to RFA, a second person said that it has been difficult so far for outside sources to identify the Tibetans currently being held. "But the main allegations against them appear to be that they took a lead role in organizing the protests. Most of them appear to be working-class residents of the city."
"One of my friends is among those who were detained, and I have no information about what conditions are like for them now or even if they have adequate food," the source said.
Most of the Han Chinese detained in the protest were later freed and allowed to return home, and though Tibetan detainees were told they would be freed by Oct. 29, there is no evidence that any have been released, he added.
China's lockdown in Lhasa began in early August as COVID numbers there and throughout China began to climb. Lhasa residents have said on social media that the lockdown order came without leaving them time to prepare, with many left short of food or cut off from medical care.
As of Thursday, 18,667 Tibetans in the TAR have tested positive for COVID according to official Chinese records.
Formerly an independent nation, Tibet was invaded and incorporated into China by force more than 70 years ago. Chinese authorities maintain a tight grip on the region, restricting Tibetans' political activities and peaceful expression of cultural and religious identity.